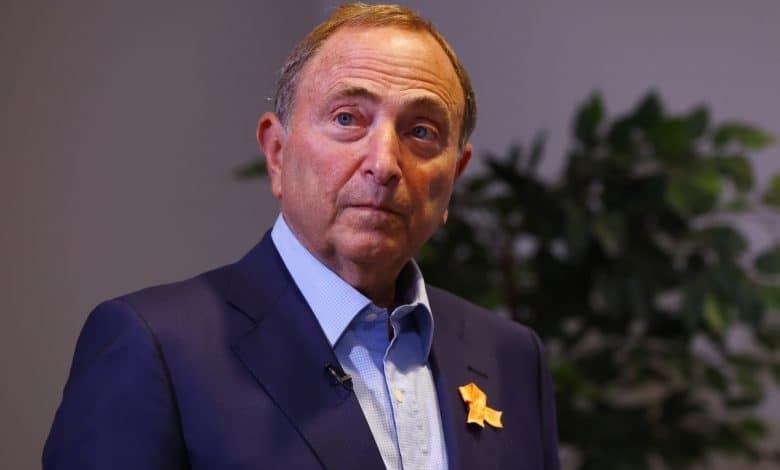 NHL Commissioner Gary Bettman was in New York on Tuesday for a meeting with members of the Board of Governors that lasted more than 4 hours.
According to what Bettman revealed to the journalists present on the spot, the levies in trust claimed from the players (escrow) will "probably" be paid out at the end of this campaign.
These amounts will be collected as compensation for downward fluctuations in the overall revenues of the 32 teams and the league as a whole.
In the event that these in-trust collections materialize in full by next spring, the salary cap will be increased by approximately $4 million for the 2023-2024 season. If so, the cap would only increase by $1 million.
"Revenues are pretty up," Bettman said Tuesday after a meeting of the NHL's board of governors. Business is good, and so things look possible for players' debt to be paid off this year. If we miss it, it will be narrowly and it will be next year. "
The league and union have agreed to keep the cap the same post-pandemic and use escrow payments to offset what players owe owners to split revenue equally. This means the cap remained at $81.5 million for two seasons before increasing to $82.5 million this year.
With new US media rights deals and other revenue streams, that amount could exceed $86 million in the near future.
In addition, Bettman touched on the thorny file surrounding the independent investigation carried out to determine if sanctions are necessary regarding the allegations of gang rape against members of the 2018 edition of the Canada junior team.
"There is no specific timeline as of today for the filing of the report, but we are closer to the end than we were," said Bettman.
Regarding the World Cup of Hockey, the NHL, its players' association and the International Ice Hockey Federation continue discussions on the possibility of holding the event in February 2024.
Bettman admitted that the parties involved are running out of time to meet that deadline.
"We're getting closer to that deadline, whatever it is," Bettman said. We must be able in the foreseeable future to sort out all the issues, otherwise it will delay the World Cup. "
Among the outstanding issues is what to do with Russia, given the war in Ukraine and the number of Russian-born NHL stars. One option is to have them play as a non-Russian entity, but other countries that might be involved have let the league know that's not enough and they don't want Russian players participate.
Gary Bettman after a 4-hour Board of Governors meeting tells assembled media here in NYC that the escrow balance likely will be paid off at end of season by players. And if so, the salary cap will jump this summer by around $4M. But if not fully paid, cap goes up just $1M.

— Pierre LeBrun (@PierreVLeBrun) October 18, 2022
Bettman on Hockey Canada 2018 investigation says no firm timeline yet for NHL's report to be done but that it's closer to the end than it was. But no firm time line to share on NHL investigation.

— Pierre LeBrun (@PierreVLeBrun) October 18, 2022