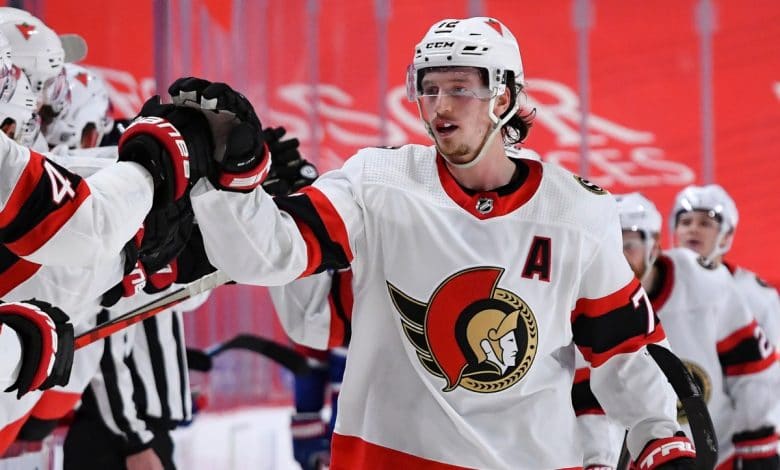 OTTAWA – Thomas Chabot should, in all likelihood, return to action on Tuesday night after a four-game absence. Despite being deprived of their cornerstone on defense, the Ottawa Senators were able to hold their own. This is further proof that the reconstruction is working.
After playing an average of 26 minutes per game in the previous two seasons, Chabot is approaching 27 minutes in 2021-2022. When the 25-year-old defenseman took a powerful but legal hit from Tom Wilson on Feb. 13, it was obvious the Sens were losing a very big chunk.
That said, the Sens limited the damage with three of eight points (1-2-1) in his absence. Chabot admits that it was reassuring to make this observation.
"It's definitely easier, it makes your fitness more enjoyable, you know the team has some success. That says a lot. Yes, we have gone through a more difficult period this season, but otherwise, we have shown that we can compete with any opponent and we want it to continue, "responded the left-hander, Tuesday morning, in front of some journalists. at the Canadian Tire Center.
Chabot is so agile and intelligent on the ice that he is rarely the victim of such a shoulder blow.
"It's true that it doesn't happen that often and it's a blow that I will remember for a long time, it hurt me! Let's just say my body didn't like it too much, Chabot agreed with a smile. But it's part of the game and I can't remember the last time it happened to me," noted Chabot, who tried to continue playing for two shifts before changing his mind.
Incidentally, the skater from Beauce said he appreciated that Nick Paul came to his defense by throwing the gloves against an inconvenient client like Wilson.
Imagine what Chabot will be able to accomplish in two years
Thanks to his next game, Chabot will reach the plateau of 300 games in the NHL. He was quick to render invaluable services to the Senators who sometimes even had to squeeze a lemon with him.
"He's been here through all the tough times. He plays long, trying minutes and probably more than he should have on several nights because we needed him. He is the centerpiece in defense and he loves playing in Ottawa. He got involved in this organization. He is also one of the most physically enduring players, I have seen him play with several injuries that are unknown to people. He will still be a crucial part of the club when things get better," boasted coach DJ Smith.
"Things are progressing very well compared to two years ago. You think of (Tim) Stützle, it's only his second year. The guys continue to develop. We know that it's still going well, but we want to prove that we're taking another step in the right direction," said Chabot.
While waiting for the profits to explode, he intends to savor this 300th match.
" It is special. When you grow up, you dream of playing in the NHL, but you don't expect to play all those games. It is a privilege to play hockey as a profession. The wrinkled has been great so far even if it comes with ups and downs," commented Chabot.
The next few years should allow us to see Chabot's game, a real gem for the Senses, become even more polished.
In the opinion of his coach, his greatest advances in two years have come on the power play.
"You tend to take that for granted when you look at the power play guys, but to be one of the best on the power play, you have to be able to complete every play and he's come a long way on that. . It's not within everyone's reach, there are barely 10 or 12 players in this category in the NHL. That's what he aspires to and he's playing at that level some nights," said Smith, who has seen improvement in his defensive play and his raise.
To progress in this direction, Chabot has multiplied the hours of video to study his game, but also that of Victor Hedman, Cale Makar and Roman Josi whose style he particularly likes and it can be seen with the eye.
His other focus will be to push his defensive game to the next level without compromising his offensive contribution.
"In the last few years, I get a lot out of that. It's not perfect, but the more I continue to work and study, the closer I will get to that goal," said the man who has 3 goals and 21 assists in 45 games this season.
Asked about the same subject, his coach is already happy that he can contribute in all situations.
"He now understands what it takes to win. There are things you have to do to win in the NHL and that's even more true when you're missing good players like we are right now. We hope that what we manage to do with less elements will continue when they return. That's where you become a team that turned things around like the Wild," Smith said as Josh Norris nears a comeback and Drake Batherson remains on the sidelines.
In closing, Chabot found it fun to watch Brady Tkachuk transform into a goaltender for Family Day, but he couldn't lie when a colleague asked about his talent in goal. He cleverly deflected the question.
"He has a good build. It was fun to see how much fun the kids had. I was talking with Nick Holden's kids about how special it was to skate on NHL ice. They would have stayed on the ice for four hours or even all day," concluded Chabot, who seems to have as much fun playing as they do.