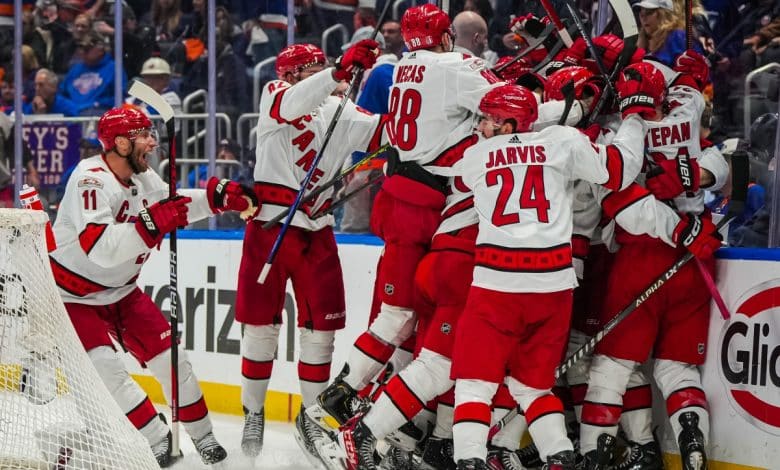 Paul Stastny scored the game-winning goal in overtime and the Carolina Hurricanes eliminated the New York Islanders in six games.
The Canes will face the winner of the series between the New Jersey Devils and New York Rangers in the next round.
For this sixth meeting, Rod Brind'Amour trusted veteran Frederik Andersen to defend the Hurricanes cage. Andersen proved his coach right by making 35 saves. at the other end of the rink, Ilya Sorokin made 39 saves.
In his first playoff start, Andersen was quickly tested. The Finn closed the door in front of Hudson Fasching from the 30e second of play.
Backed up against the wall, the Islanders received a nice gift from the Canes in the middle of the first. Taking advantage of a terrible change on the bench for the Hurricanes, Cal Clutterbuck had all the time in the world to beat Andersen and open the scoring.
The Canes got a great chance to score in the second half. Forgotten in the enclave, Jesperi Kotkaniemi saw his shot end up directly on the post.
The Islanders deployed in a massive attack at the very end of the second engagement. Despite some good chances, the Islanders weren't able to get the puck past Andersen. The 33-year-old veteran had stopped 28 of 29 shots aimed at him after 40 minutes of play.
"That's why we acquired Freddie. It was time to bring him back into action, and obviously that worked out really well for us. He was excellent," responded instructor Rod Brind'Amour.
Unable to outwit Ilya Sorokin after two periods at UBS Arena, the Canes knocked on the door early in the final period. During a three-on-one descent, however, Jesse Puljujarvi came up against the Islanders goalkeeper once again.
By dint of trying, the Canes ended up overcoming Sorokin. Well positioned near the net, Sebastian Aho tied the game with his fourth goal of the series. Carolina outshot 20-5 in the third but failed to score to avoid overtime.
"Our third period and overtime were good, but the rest was painful to see," admitted Aho with a smile. We got the message out in the second intermission to get back to getting the puck deep in their zone, aggressive forechecking and shooting shots to take advantage of rebounds. I thought we did that very well in the final third. "
Virtually unbeatable until then, Sorokin experienced weakness at the worst time. Stastny stunned the Islanders goalkeeper from the goal line to propel the Canes into the next round.
"I certainly think we could have played less on the heels," agreed head coach Lane Lambert. I didn't think we set up our forecheck well in the third. Result: we were more vulnerable than we should have been. There is no doubt about it. "