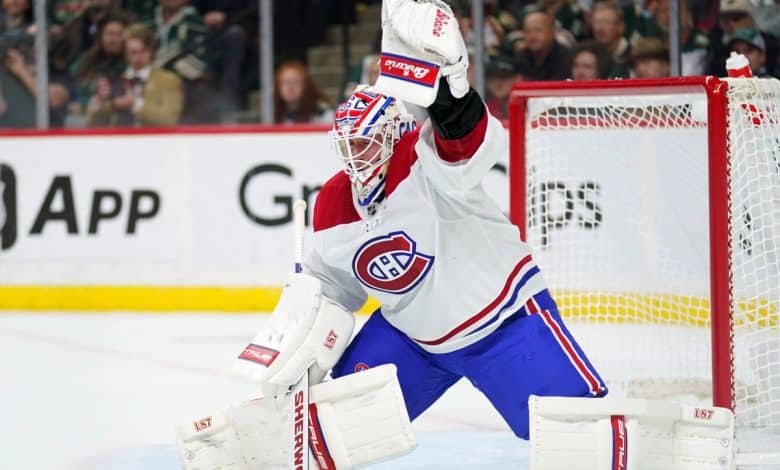 BROSSARD, Que. — Without knowing it, Carey Price may have done well to put away his leggings – temporarily or not – at the end of the last campaign. It's bad times for NHL goaltenders.
As of Thursday morning, according to the site NHL.com, 22 of the 32 NHL clubs (68.8%) averaged three or more goals per game since the start of the campaign. The Montreal Canadiens found themselves just below this threshold, at 2.96 goals per game.
At the Habs, this trend is no stranger to the arrival of Martin St-Louis at the helm of the team last season, breaking with the Montreal club's long tradition of betting on effective defensive play – Price explains , in part, this trend.
The former Tampa Bay Lightning star readily admits that his club is now focused on offense, but that doesn't stop him from acknowledging that he still has work to do on defense.
"I know we have an attacking style, but at what cost? What should we concede in return? It's a balance, something we try to work on. I believe that the more we improve defensively, the more we can then improve offensively. And I think we're starting to improve in those two areas," St-Louis said after practice Thursday morning.
"We don't want to say to Jake (Allen): 'Don't worry, if you give up four (goals), it's because of our style of play'. It's not just Jake's fault," he pointed out.
Allen, himself, is seeing changes in the approach of teams across the league.
"I watch a lot of games, and I see that most teams bet on the 'run and gun' (breathless game focused mainly on the attack). There are still a few clubs that are defensively oriented, physical oriented, but even those are starting to embrace this new trend. So I would say most teams play the same way," said the New Brunswicker.
This reality is notably exacerbated by the formidable efficiency of the power play through the Bettman circuit. Twenty-five of the 32 NHL teams (78.1%) have an efficiency rate above 20% – the CH is 30th, at 16.3%, and St-Louis believes he knows why this is so.
"The talent level in the league is much higher today. There's stick technology, player creativity, concepts, it's all modern," said St-Louis. The 1-3-1 (game pattern) explains that too, although it's not as consistent as it was when it came out. There is more movement in the 1-3-1, and the movement creates confusion, which is difficult to counter.
"Power play patterns vary a lot," Allen said. Players are not static. And when there is movement, then it creates chaos for the defending team. "
In this sense, Allen expected him to be in greater demand in 2022-2023, in particular because of the many changes that were made to the Bleu-blanc-rouge defensive brigade last summer. But never to this extent.
"I discussed it with a few other goaltenders in the league recently. You know, I came to this league in 2011, and between then and now, I don't even know how to describe how much the league has changed. It's probably for the best, from a business and entertainment point of view for the fans, but for a goalkeeper, it's a different story.
"I've never seen such a fast, east-west game. No one is spared from this. Usually at 3-1 in a game it was over. It still happens, but the game is so offensively focused – it's a testament to the quality of young forwards in this league – and the NHL is getting younger all the time. I believe in 15 or 20 years it will be a league dominated by 18 to 24 year olds," Allen continued.
"You will have to adapt; this is our job. It will get harder and harder over the next few years, but it will also be very exciting. It will give us the opportunity to refine our game even more, "he summed up.
As to whether this trend is bad for his stats, Allen didn't mince words: "Stats don't matter."