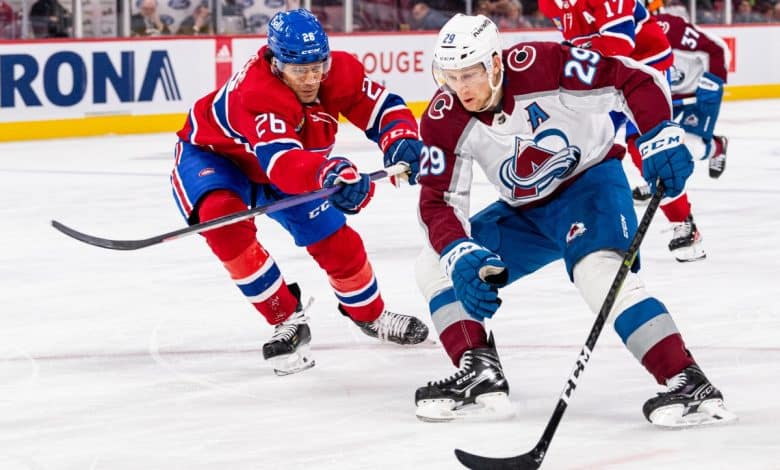 MONTREAL – Especially in the first period, it was not chic in the territory of the Montreal Canadiens. The Colorado Avalanche looked like they were having fun like a bunch of kids at a recreation complex where it ran, jumped, wiggled and stunned the adults.
Captain Nick Suzuki also said that coach Martin St-Louis was not too happy when he stopped in his team's locker room during the first intermission.
"With their style of play and their defensemen, it looks like it's five players walking all over the offensive zone. We were confused several times in our rotations on the players to watch. We talked about it after the first period and we did a little better afterwards," added Suzuki afterwards.
In the opinion of defender David Savard, the mandate was nevertheless within reach of the Montreal club.
"It's a team that deploys a lot of movement, but we are able to defend ourselves against teams that play in this way. It was really our execution that was not good, we were running around which opened up several lines of passes and shots. We didn't do the job," said Savard.
"They deploy so much movement in the offensive zone, it can get confusing. We got away from the way we want to defend because we were so concerned about their movements. But we saw some improvement, especially in the third period," said St-Louis.
"It's hard (to counter them), they are the champions for a reason. As well as we've been playing lately, we've moved away from our tighter defensive game. Against such an opponent, you will pay," agreed Chris Wideman.
But, as usual, the CH coach had decanted his emotions when meeting the media and he did not scratch the pride of his players.
"I just showed them a few things, we had footage to show. We looked at aspects that could help us and decisions that hurt us. There were two periods left, so whether we win or lose this match, it was a great opportunity to see if we could correct the situation during a game, "he explained.
"We discussed it during the second intermission, it wasn't our evening, but we had to show some effort. At least we finished strong," said Josh Anderson.
"We played nonchalantly in the first half. When you're down 4-0, all you can do is put your head down and keep working. I think we did that," commented Suzuki.
The captain hopes his troop will eliminate erratic period starts.
"We haven't been up to par recently. I can't explain it to myself, the players have to be ready as soon as it starts. However, we always have good game plans. But we had too many turnovers against them, we seemed to want to play too cutewe shot each other in the foot," he said.
During this meeting, the Canadian was confronted with what he wants to accomplish in the offensive zone. The result hurts, but it shows that it's a winning recipe.
"They can skate, they read their teammates' intentions well, they draw opponents towards them and another player takes over the space that becomes available. These are many things that we want to execute offensively, we are working on that. It's a learning curve against a very good team," concluded Wideman.