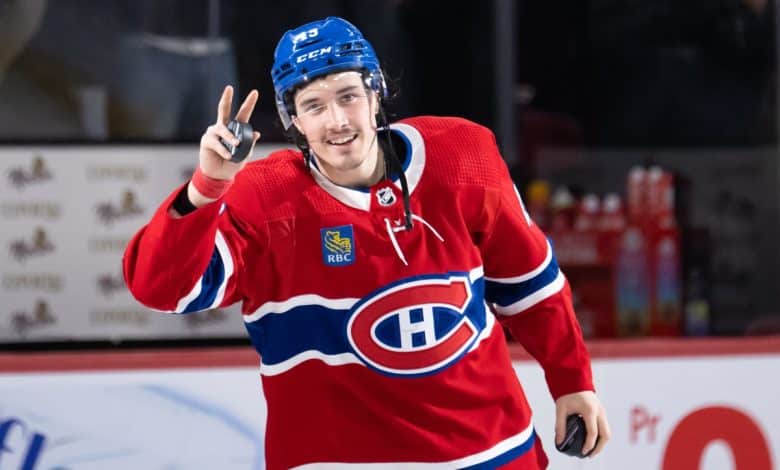 MONTREAL – The least we can say is that Rafaël Harvey-Pinard's 34-game stint last season with the Montreal Canadiens was remarkable. Not only did he introduce fans to the city's newest darling, but the move also allowed RHP to show that he now belongs in the NHL.
A little over two months after the end of the Habs season, the main interested party has not changed his speech in anticipation of the next season. Not even a comma moved. Harvey-Pinard's plan is still to land a full-time NHL job. Passing through Charlemagne for a signing session with the supporters, the Saguenéen confided that he did not intend to take his foot off the accelerator this summer, during his preparation for the 2023-2024 campaign.
"I'm training with the goal of playing with the Canadiens next season. I'm going to have a big training summer, which has already started. I'm working a lot on my skating right now and I'm going to give everything to make my place with the team," Harvey-Pinard told our colleague Gabriel Bouchard.
Author of 14 goals and 20 points in 34 duels last season, Harvey-Pinard certainly succeeded in his audition in Montreal, but as of June 25, he still remains without a contract for the next campaign. Harvey-Pinard will become a restricted free agent on June 1er next July, unless an agreement is reached in the next few days.
"There have been discussions, but there is nothing done at the moment. I'll let my agent handle that, but my goal is to play with the Canadiens next season and my agent knows that. "
Even though he's only 24 and still hasn't played a full season under Martin St-Louis, Harvey-Pinard still admits to feeling a big wave of love from Montreal fans. . On Sunday morning, there were many of them queuing at the premises of TW Prestige to poke fun at one of the crowd favourites, take a few photos and get a signature along the way.
"I feel it more and more [l'amour des partisans]. I also receive a lot of messages when I meet people, they recognize me a little more and they give me positive comments. It's always nice to be able to share this kind of experience with the fans and talk to them as much as possible. "
"It picks me up, especially as a Quebecer who plays with the Canadiens. When I was younger and I went to this kind of event, I was always happy to meet the players and today, it makes me happy to be able to meet the fans in my turn. "
Flowers for St-Louis
The last campaign was also St-Louis' first full season at the helm of the Canadiens. In a young group in full development, the work of the Habs pilot is frequently recognized in the public square by the players and Harvey-Pinard was no exception.
"He is very close to the players, there is a lot of communication. He takes the time to find out how his players are doing and he gives a lot of advice. At this level, he is an excellent coach. Before games in the locker room, it gives a lot of energy. He gives outstanding speeches," boasted Harvey-Pinard.
The presence of St. Louis behind the bench is also of great importance for young players like Harvey-Pinard, who still have a lot to learn if they wish to have a long career in the Bettman circuit.
"With the career he's had, you can't ignore his advice. When he speaks, we listen to him and we apply what he says. "