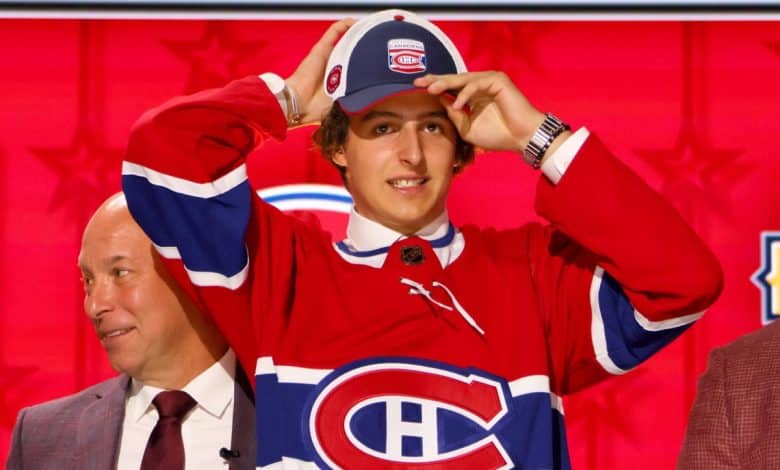 NASHVILLE — EHC Kloten general manager Larry Mitchell met with a Canadiens scout in February and the latter asked him what was going to keep David Reinbacher from ever playing in the NHL.
His answer? "Nothing," he said Wednesday night in Nashville, after the Montreal club had set its sights on the Austrian defender with the fifth pick of the NHL draft.
"This scout watched a few games and practices and then we had coffee a few days later. He admitted to me that he agreed with me," Mitchell added.
Reinbacher was finally unanimous at the Habs, insisted general manager Kent Hughes.
"Of course there were several talented players available and there are some who will ask for (Matvei) Michkov, who we have spoken about several times already. But David Reinbacher is a player who was very, very high on our list, insisted Hughes. Maybe if he had been a left-handed defender, that would have put us off a bit. But on the right side, I think we had less depth. "
The enigmatic Michkov was selected seventh overall by the Philadelphia Flyers.
While some observers claimed he was the second most talented player available after Connor Bedard, the No. 1 draft pick by the Chicago Blackhawks, several factors led some general managers to turn their backs on the Russian forward.
"One factor was the fact that we hadn't seen him play in person," Hughes said, not wanting to get too shady. We strongly believe in video viewing, but it shouldn't just be video. "
Michkov is notably under contract for three more seasons with SKA Saint-Petersburg, in the Continental Hockey League. The geopolitical situation in Russia remains precarious following its invasion of Ukraine. We should also not forget the death of Michkov's father this spring in nebulous circumstances, when his body was found in a river in Sochi.
Hughes noted that he tried to move up a row or a few, but he couldn't find a dance partner. He also said he believes teams that approached him to move up to fifth were doing so with the intention of taking Reinbacher.
Overcome Challenges
Reinbacher tied the game for the selection rank of an Austrian. Thomas Vanek was also picked fifth overall in 2003 by the Buffalo Sabres.
"It's unreal," Reinbacher said. It makes me proud to be Austrian and to show young people that it is possible to be drafted so high.
"I had the feeling that I would be their choice (that of the Canadiens), yes, but I had to not think about it too much and enjoy the moment," he added.
Reinbacher had three goals and 19 assists in 46 games with EHC Kloten last winter, leading the Swiss league in points by a player under 20.
"David has always exceeded our expectations," said Jeff Tomlinson, who was the head coach of EHC Kloten and Reinbacher for the past two seasons. I think he has potential in all aspects of the game. He has improved a lot this season and my expectations are even higher for him. "
Reinbacher named Tomlinson as one of the main reasons he was the fifth player to take to the stage at Bridgestone Arena on Wednesday.
"He made my way to the draft easier, he gave me a lot of confidence," Reinbacher said.
"When I was talking to the scouts, they were asking me what was wrong with his game," Tomlinson said. In fact, his game is so balanced and calm that he doesn't have many weaknesses. But to get to the next level, we're going to have to work in the gym. It will improve his power, which will be necessary to play in the NHL. "
Hughes also said Reinbacher has more potential than just a defensive back.
"He's definitely very good defensively, he's very good with his stick. But he also has a very good skate and he moves the puck very well, mentioned Hughes. He makes good decisions out of bounds with the puck. It's a matter of pushing him to give more on the other side of the red line.
"I'm not sure he'll lead the NHL's first power play unit, (…) but he has the potential to play a lot of minutes for our team," added Hughes.
The general manager of the Canadian also praised the off-ice qualities of the young man.
"The first thing he said at the table was that he can't wait to get to work, to put on his work boots to help us win the Stanley Cup," Hughes said.
"Martin (St-Louis, head coach of the Canadiens) talks a lot about culture. I think he fits well with us. He does not wait for things to be given to him. He will win them," he added.
Last year, the Canadian chose Slovak forward Juraj Slafkovsky first in the draft, presented at the Bell Centre.
This is the fourth time since 2012 that the Canadiens have one of the first five draft picks. He also picked Alex Galchenyuk (2012) and Jesperi Kotkaniemi (2018) in third place. The last time the Canadian spoke at No. 5 was in 2005, when he selected Carey Price.
Price was also to announce the selection of the Canadian, Wednesday evening. However, he had a memory lapse when doing so. Hughes eventually came to Price's rescue.
The draft continues Thursday. The Canadiens will start the day with one third-round pick (69th overall), three fourth-round picks (101st, 110th, 128th), two fifth-round picks (133rd, 144th), one sixth-round pick (165th) and a seventh-round pick (197th).
Reinbacher's analysis taken from Maxime Desroches' classification :
9. David Reinbacher, DD – 6ft 2¼ / 194 lbs – Klöten (Swiss National League)
DOB: October 25, 2004
The variety of opinions about Reinbacher's offensive tools, and his chances of producing significantly in the NHL, is quite wide. Nevertheless, we are talking about an athlete whose rating has gradually risen since last fall, as he took his ease and became an important member of the Klöten squad, which evolves in one of the best professional circuits in the world.
Used profusely by his coaches (he also led his club for the minutes of play at even strength), Reinbacher pulled out of the game admirably, and impressed by his calm in transporting the puck despite his 18 years. Whether it's accelerating in control of the puck or spotting a released teammate before delivering a sharp and precise pass, Reinbacher is a great help in transition.
With Klöten, he has shown that he is not intimidated by the more robust game played among the pros. In fact, the Austrian is probably top of the class at full-back when it comes to his physical commitment. This versatility, combined with a fluid skate for a skater of his size, propelled him inside the top-10 of several rankings, while the comparisons with Moritz Seider began to fuse. In addition to relying on the same kind of powerful and seemingly easy stride as the Wings' No. 53, Reinbacher doesn't seem to slow down or diminish in quality the longer his shifts are.
The next few seasons will help determine if Reinbacher's offensive gear is worthy of a top-line defenseman. His statistics compiled with Klöten (3 goals and 19 assists in 46 games) are amazing considering that his main quality once he arrives in enemy territory is the heaviness of his slap shot.
He can complete simple passes and move the puck well to set up one-timers, but his lack of drive is questionable. To date, Reinbacher offers few signs pointing to a potential power-play quarterback role in his traditional form. Adding an attacking dimension is not a scenario to be completely ruled out, and it could be the difference between a No. 3 defender and a No. 1 defender.
In short, the team that will select the Austrian will add a right-hander who is physically imposing, who can rack up important minutes night after night and who relaunch the attack with serenity and consistency. But in a crop with several potential offensive stars, there's reason to wonder if Reinbacher's place is well inside the top-5, as some reports in recent weeks have suggested.