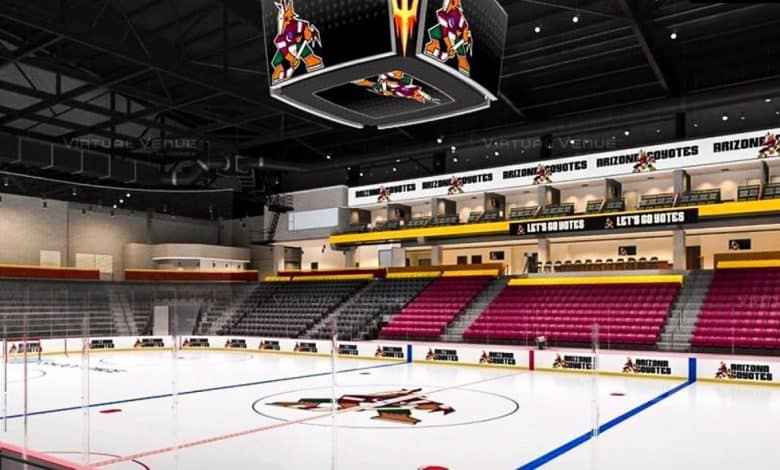 Driving his car this summer, Auston Matthews passed by the new home of the Arizona Coyotes.
The 5,000-seat sports arena, integrated into a university campus, is intended as a temporary solution, for at least the next three campaigns, while the concession is working on a long-term arena project.
Matthews, who grew up in the Phoenix area, wants to see the franchise that sparked his hockey obsession – long before the Toronto Maple Leafs forward scored 60 goals in a single season and earns the Hart Trophy as NHL Most Valuable Player – experiencing success in the desert.
It is also curious to see what this first stop will look like inside the Mullett Arena.
"I think it will be quite pleasant […] the vibe and everything else," Matthews said. It's going to be pretty fun and interesting to be in the NHL and play in an arena like that. "
The Coyotes begin their adventure at Arizona State University on Friday when they host the Winnipeg Jets after a six-game road trip to start their season.
Beginning in 2003, the team played at Gila River Arena in Glendale, but attendance issues plagued the Coyotes almost immediately before suburban Phoenix authorities cut ties with the organization late in the last season.
The Coyotes' home base was in the west section of the Phoenix metro area, while their temporary home as well as where the organization hopes to build a new arena is in Tempe, a city closer to the majority of his main group of supporters.
"Everything is totally new," Coyotes forward Clayton Keller said of the friendly Mullett Arena. We'll see. The atmosphere will be cool. […] There is a standing section behind the net, which no team in the NHL has. It's unique and it brings a different aspect. "
When it was announced that the Coyotes would move to an arena, named after a family of major university donors, which is a fraction of the size of the league's 31 other venues, the jokes did not fail to follow.
However, NHL Assistant Commissioner Bill Daly believes the temporary transfer will help the team now and in the future.
"A building full every night. When you have that kind of environment, it could help the team and the performance of the players," he said.
"It's not a permanent fix, it could never be a permanent fix, but as a short-term fix it'll do. "
There were times when everything indicated the Coyotes were going to leave Arizona, where they settled after moving from Winnipeg in 1996.
However, Daly summed up, when the league enters into a market, "we are engaged."
"The multitude of things that have gone wrong for this dealership over time helps explain why people want [son déménagement], argues Daly. None of [ces problèmes] was out of his control and none of them proved that the market couldn't support the team. "
As for playing games in a 5,000-seat building, some of the NHL's biggest stars have a hard time making up their minds.
"It's definitely going to be different," Edmonton Oilers star center Connor McDavid said. I don't quite know what to expect. I sure hope it will work. "
"I don't know," replied Colorado Avalanche star Nathan MacKinnon with a smile. We'll see, I guess. "
Players with ties to US college hockey are the most enthusiastic.
"Fiery," said Brady Tkachuk of the Ottawa Senators.
"In all of hockey, there are certain college venues that have the best atmosphere," Dallas Stars goaltender Jake Oettinger said. I hope they will sell out and sell drinks at affordable prices. "
Matthews, who grew up in nearby Scottsdale, wants to see this dealership thrive.
" [Les Coyotes] are the reason I started playing hockey," he said. I don't know if I would be here if this team wasn't in Arizona […] I hope that it will work. And you never know when the next youngster will come out of Arizona. "