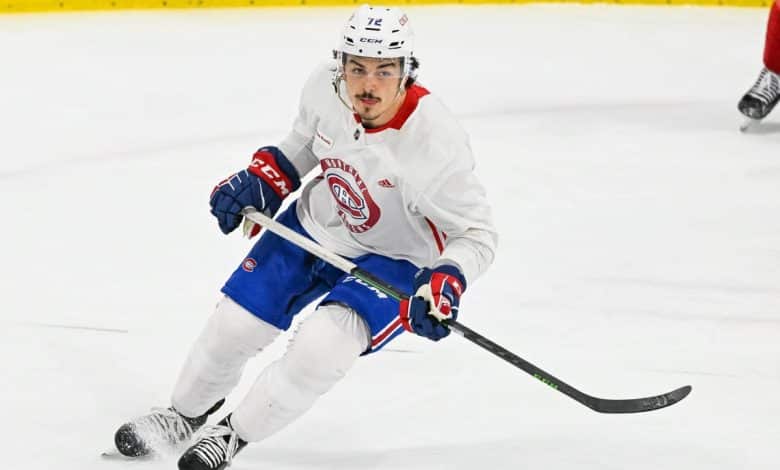 A year after showing up at the Canadiens' camp thanks to a professional tryout, defender Arber Xhekaj really believes in his chances of carving out a place for himself in the Montreal squad.
Xhekaj had progressed day by day last fall, to the point where he left the Habs camp with a contract in hand.
Over the winter, he continued to rise and helped the Hamilton Bulldogs win the Ontario League (OHL) championship. Xhekaj shone so well that his head coach Jay McKee even called him "the most impactful player on the circuit."
Returning to the Canadiens this fall, Xhekaj believes he is ready to make the jump to the NHL.
"I feel comfortable on the rink, with the rhythm of the game. I manage to make plays, to play my game," he said. I believe I have a real chance to carve out a place for myself with the team. "
Several positions are available within the Canadiens' defensive brigade and the candidates to fill them are just as numerous.
Xhekaj looked good at the rookie tournament in Buffalo last weekend, but said he was unhappy with his performance.
"I wanted to show my physical side and sometimes I got out of the game. I didn't feel like I did well, although I heard people say I looked good," Xhekaj said. I don't think I moved the puck well. I want to prove that I can make games. "
As part of the first intra-squad games, Xhekaj was able to better demonstrate his skills with the puck. After all, it would have been frowned upon for him to send a teammate to the infirmary with a good shoulder smack.
"It's strange because historically, guys who play like him don't have his offensive qualities," head coach Martin St-Louis said Friday. For me, to see a big guy like him, who moves like him, who makes plays, who is good defensively and who also scares the opponent, it's exciting. "
"But sometimes these guys know that physicality is a big part of their game and they're going to play too aggressively and forget about everything else and end up in hot water. So it's nice to just be able to see him play hockey," he added.
The 21-year-old Xhekaj has said he wants to model his game a bit on that of another Hamilton native defender: Ben Chiarot, whom he met with the Canadiens during camp last year. He also indicated that he spoke a lot with him during his brief stay in Montreal.
Xhekaj and playing partner Jordan Harris formed one of the best defensive pairings in early intra-squad games. He sees in Harris an ideal partner for him.
"We both like to support the offense, but he never makes bad plays that put me in a bad position," Xhekaj said of Harris.
"We complement each other well and we communicate a lot in the defensive zone," he added. He's a good player and no matter who he's playing with, he's always going to make his partner look good. "
Xhekaj doesn't believe the opposition will try to knock him out of the game in preseason games. He hopes to be able to continue to demonstrate his qualities in recovery and attack and convince the management of the Canadiens that he must be in training for the start of the regular season on October 12 against the Toronto Maple Leafs.
Drouin: "I see confidence"