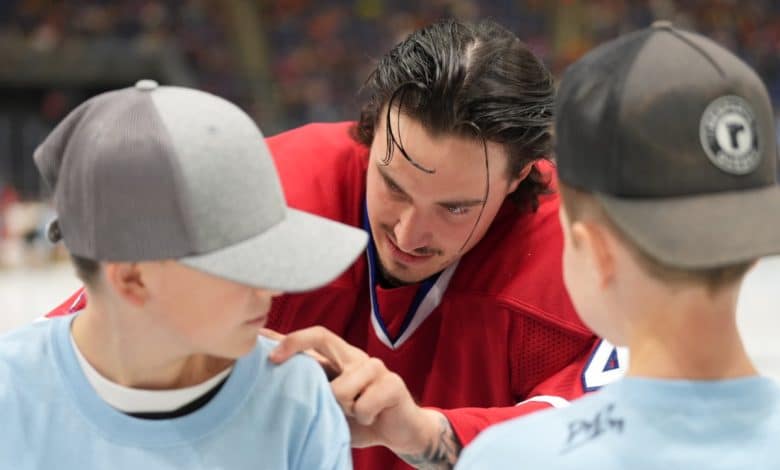 QUEBEC – Samuel Montembeault, Kaiden Guhle and Jordan Harris were all surprised by the transaction completed by Kent Hughes leading to the return – or not – of Jeff Petry to the Canadiens uniform.
As part of the 15th edition of the Pro-Am Gagné-Bergeron, the representatives of the Canadian admitted that they had not seen this blow coming by Hughes and Jeff Gorton.
When Hughes accepted the role of general manager of the Canadiens, we remember that he had mentioned at a press conference that he wanted to maintain good communication with his players.
This transaction is a good example as he took the time to reassure Montembeault who, with good reason, was wondering about the addition of goalkeeper Casey DeSmith to the tricolor organization chart.
"Kent was super correct. Right after the transaction, he spoke with my agent to tell me not to worry. It's fun that he took the time to do that, "revealed Montembeault, Thursday evening.
"I can't wait to see, I had already rubbed shoulders with Casey at the BioSteel camp in Montreal," he added.
The 26-year-old goalkeeper, who has just had his best season in addition to continuing with the gold medal at the World Championship, would still not have bet on this scenario.
"I was surprised, I didn't expect it. I had seen in the morning that Pittsburgh and San Jose were looking for a third team to complete the trade. I did not expect it to be the Canadian. It's a great transaction, I really trust Kent's plan, we're going in the right direction," commented the Quebecer.
A threesome is never ideal in front of the net. So, it's easy to assume that DeSmith will only be passing through Montreal.
But fans are mostly waiting to know what will happen to Petry. The silence about it can only fuel speculation.
"We are all in the same boat, we don't know if anything else will happen with this transaction. At the same time, we lost (Joel) Edmundson so if he starts the year with us, it would be a good presence for a veteran," agreed Savard.
The right-handed veteran believes that the particular conclusion of Petry's stay in Montreal could, if necessary, be written in another way.
"It ended a bit weird, but sometimes with a fresh start and then coming back, his outlook might be different. The team is different precisely, it could be beneficial to have him back, "assessed Savard.
And if we were talking about the silence that reigns, Savard exchanged messages with Petry.
As for Guhle, the southpaw sounds like an athlete waiting for his GM's next domino move.
"I definitely didn't expect that, but I'm excited to have him back. We'll see what happens," he said.
"I try not to think about it too much. Right now, he's a Canadiens player and I'm glad he's in the organization," added Guhle when asked if it was strange to wait for the next step in this file.
A few minutes later, Harris agreed.
"I guess I'm a little curious about this transaction. It's not in my hands, I'm just trying to focus on playing well. Decisions are up to Jeff and Kent. It would be nice to bet on them, we'll see what happens," said Harris, who made the trip to Quebec by chartered plane with a few Boston Bruins players.
Let's finish with the most obvious element of this transaction, the departures of Mike Hoffman and Rem Pitlick create space on offense. But don't go telling Rafaël Harvey-Pinard that it confirms him a position in Montreal.
"Maybe, but that doesn't change my mentality. I will arrive at the camp wanting to prove that I have my place whether there are more or less attackers, "identified the valiant winger.