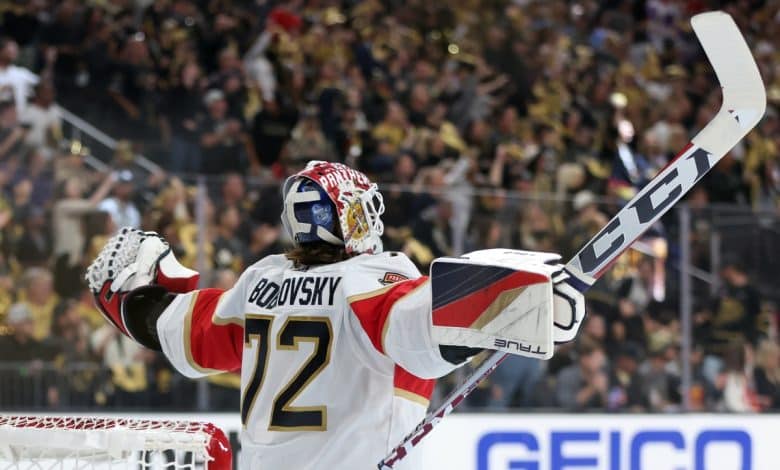 SUNRISE, Fla. – Prior to the start of the Stanley Cup Final, Sergei Bobrovsky was the NHL's goaltender of the hour.
He helped the Florida Panthers win 11 of 12 games and stopped 438 of 465 shots he faced during that streak, posting a 1.95 GAA and .942 save percentage. In two outings in the final against the Vegas Golden Knights, Bobrovsky allowed eight goals in just 87 minutes of play, he was kicked out of his net in Game 2.
Despite everything, and because of what he has accomplished since the start of the playoffs, coach Paul Maurice expressed his confidence that "Bob" will redeem himself in Game 3 on Thursday.
"He was very, very good in the first game, recalled Maurice, Tuesday, before the team returned to Florida. I think Sergei was like the rest of the team in the second game. He wasn't quite himself. We did not help him. Maybe he didn't slow down the opponent early in the game. But we have confidence that he will be able to do so in the next meeting. "
Alex Lyon did little better in relief for Bobrovsky in Game 2, allowing three goals on 15 shots in what became a 7-2 loss for the Panthers and a 2-0 deficit in the series.
Bobrovsky, 34, has rarely been used as much as in recent weeks during his 13-year NHL career. The two-time Vézina Trophy winner has had his best run in the playoffs with 16 outings, including 15 starts, and 11 wins.
He hadn't allowed four goals in a game this spring, before doing so in the first two games against the Golden Knights.
"'Bob' was our best player," forward Anton Lundell said. He is a very important member of our team. We can still trust him, but we also need to help him better. We have to play better in front of him. We gave up too many scoring chances. "
Starting with Bobrovsky, the Panthers will of course have to do much better to hope to come back from behind in this final series. Although he was a little shaky in the second game, but the goals scored against him were quite similar: pucks thrown through traffic or Golden Knights players who mocked the defense to find themselves in front alone in front of the net.
"We can be more solid in front of our goalkeeper," recalled Maurice.
As they prepare to host their first Stanley Cup Finals game since 1996, the Panthers could be without a few important elements on Thursday.
Center Eetu Luostarinen is "not ready yet," Maurice said after the Finn missed the first two games of the series. The presence of robust defender Radko Gudas is also uncertain. Gudas was injured early in Game 2 against the Golden Knights while trying to tackle Ivan Barbashev.
Maurice didn't offer an update on the condition of those players, but he said the Panthers already won a game this spring after captain Aleksander Barkov fell in action.
"It's like that during the playoffs. There are guys who are going to get hurt, Maurice said. But these are great opportunities to seize for those who replace them. "
Forward Zac Dalpe and defender Casey Fitzgerald could play in Game 3 if needed.