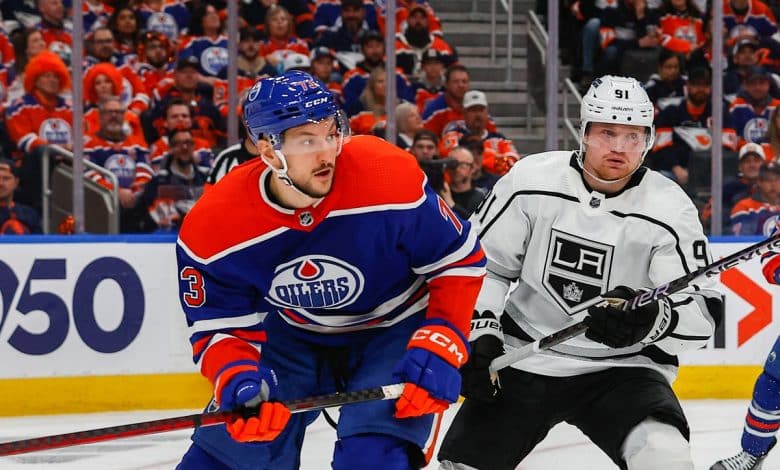 Vincent Desharnais is a regular at the classic KR having participated in eight editions. Over the years, he has been billed as Vincent Desharnais the American college player, ECHL defenseman and American League defenseman. This year, it was Vincent Desharnais the member of the Edmonton Oilers.
"Me, I knew that my goal was to play in the National League. No matter how long it was going to take, said Desharnais at the microphone of RDS. Some will use the path which is paved. Some will use the gravel path. Me, I used the mud path. "
The atypical paths to get to the NHL are numerous and that of Vincent Desharnais is one of the most recent. Since 2019-2020, he has played 37 games in the ECHL and 112 games in the American League and here we are only talking about his professional career.
"I'm happy to have gone through all that because, right now, I'm going through a lot of hardships that are still pretty big. I'm comfortable in that because I've been through all the disappointments and I've kept going the same way. Then, it was long, but I was patient. You ask me for a word, it's patience. At some point, I woke up and was going to play in the National League. "
Now 27, Desharnais finally had the opportunity to play his first NHL game on January 11 in Anaheim against the Ducks. A moment that the Laval skater will never forget.
"I would tell you, I see the scene in my head and I will see it all my life. When I was going to board, my brother had both arms in the air and he was proud as 18. There were my parents a little higher who were holding hands and I saw them. They were emotional. They were in front of me before I boarded. I wanted to see where they were. See them and go "ok this is where it's at". To be able to skate and I saw them. Just that moment, those 5-10 seconds, it was worth it, it was worth all the crying and all the hard times. It was magical as a moment. "
The defender finally played a total of 36 games this season, collecting five assists. Desharnais and the Oilers didn't make it past the second round of the playoffs after being eliminated in six games by the Vegas Golden Knights. He saw action in 12 games and this elimination still hurts him so much.
"Last year, I concentrated a lot for my first game in the National League. It motivated me a lot. There, this year, what is the next goal? The next goal is to win the cup. You see the Connors (McDavid), the Leons (Draisaitl) and you see their reaction afterwards and you go oh, I can't wait for next year. You can see they are angry. You see it's not happening. They have been waiting for this for two, three, four years. You know, it's already backwards. They hit me in the stomach. You know when you're hungry and it hurts. When you lose like that, it's the same thing. You feel it. We're going to feel it until we get back into the playoffs and lift the cup. We're really looking forward to it. "