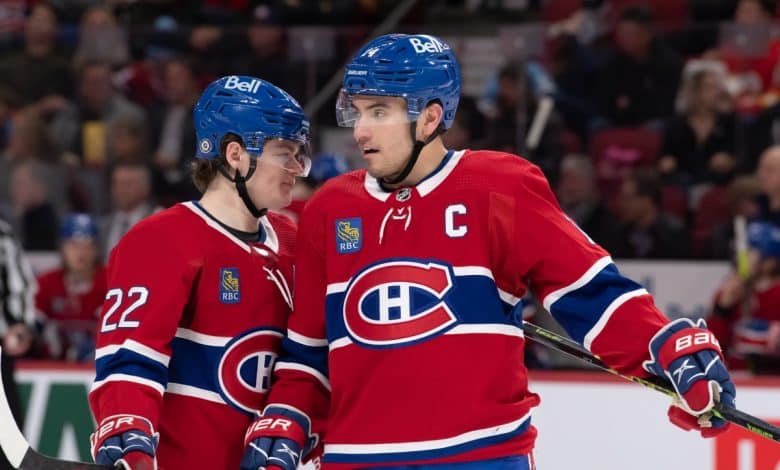 The announcement of the end of the season of Cole Caufield has certainly created a shock wave among supporters of the Canadian Saturday morning, but also in the locker room of the team.
His teammates were well aware that the sniper had been plagued by pain in his right shoulder for quite some time, but several of them had no idea that an upcoming surgery would put an end to his campaign.
"It hurts," lamented striker Josh Anderson in particular. "We were devastated to hear the news this morning. We didn't know what was going on until we were told what the trios were and that [Martin St-Louis] don't let us know. "
This absence, which adds to those already too many in the squad's forward squad, will force the team to once again deploy a roster of 11 forwards and 7 defensemen against the Toronto Maple Leafs tonight at Bell Center.
Anderson and Rem Pitlick will notably be employed on the first line pivoted by captain Nick Suzuki.
"Everyone has to keep moving forward," Suzuki responded a few hours before the game against the Leafs. "He's obviously an important player for us, a big part of this team in the locker room and on the ice. Everyone will have to step up their game to bring the enthusiasm of Cole and all that he brings to the arena every day. "
Enthusiasm before goals. This is what the little No. 22 brings above all to his teammates, said the latter in unison.
"Losing a guy like him is hard on me and the guys, but I know he wants us to keep fighting every night to win as many games as possible. "
"He's always, always happy," confirmed veteran defenseman David Savard. "He has a smile all the time, whether in the bedroom, on the plane or on the road. He is someone who brings so much positive to our locker room. That really is the biggest loss. He is someone who exudes contagious energy. "
The best decision
As sad as they are to have to complete the regular schedule without Caufield, his teammates say they are aware that the decision to undergo surgery immediately was the right thing to do.
"It's the best decision he could make for his future and our future as a team. Everyone knows our situation with all the injuries and our ranking. It looks like last year when we were hit with several injuries. But it's important for our future and the success of the team that Cole is ready for next year," said Suzuki.
"Cole is so young, he's got his whole career ahead of him," Anderson said. That's why it's so important to fix this now, so he can continue to dominate in this league and come back to 100% health. "
In his third season with CH, Caufield scored 26 goals and had 10 assists in 46 games. The power play of the Canadian, on which Caufield scored 7 of his goals, certainly loses its best weapon, but it is only a postponement, consoled St-Louis.
" I'm not worried. When he'll come back, Cole will not have forgotten how to score goals. "