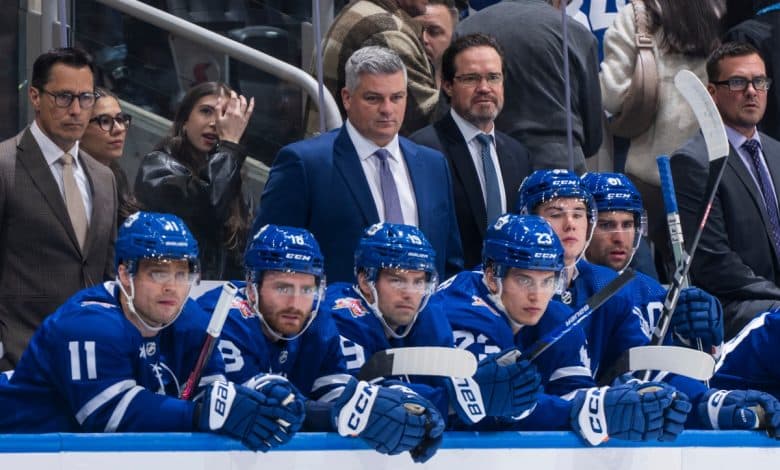 Toronto Maple Leafs head coach Sheldon Keefe said his level of concern about his team's defensive play was "very high" following Wednesday night's 6-3 loss to the Ottawa Senators.
The Maple Leafs have allowed four or more goals in each of their seven home games this season and are averaging 3.62 goals allowed per game, which ranks them as the fifth-worst team in the NHL.
"We have to stick together to keep pucks from going into our net," Keefe said Wednesday. "It's out of control. "
"There is a part of individual responsibility, a part of collective responsibility within the structure and there is the fact that you just have to be more dedicated to the task," he added. "We sit here and celebrate the guys who put up big numbers, but we don't talk enough about what we concede. It is reality.
"We have to prioritize keeping the puck out of our net. "
The Maple Leafs tied the game 3-3 in the third period on Wednesday thanks to Nick Robertson's first goal of the season. But Ottawa scored three goals in just over four minutes to put the game out of reach. Their last goal, the work of Claude Giroux, was scored after a blunder by Toronto goalie Joseph Woll who was trying to play the puck behind the net.
"First of all, I wasn't good enough," Woll admitted after allowing six goals on 27 shots. "I thought we played well and generated offense. […] I know I should have been better in this match. "
Wednesday's loss improved Toronto's record to 6-4-2 this season, with just one win in six games.
William Nylander, who extended his point streak to 13 games since the start of the campaign, a franchise record, tried to put a positive spin on the team's current situation.
"We fought well, we were unlucky on the penalty kill and then we blew it. We face adversity very early in the season and I think that's good for us.
"We need to grow and build. We have a lot of new guys here, so let's build the team together and build around that. "
The Maple Leafs will finish the week with two consecutive home games, first Friday against the Calgary Flames, then Saturday against the Vancouver Canucks.