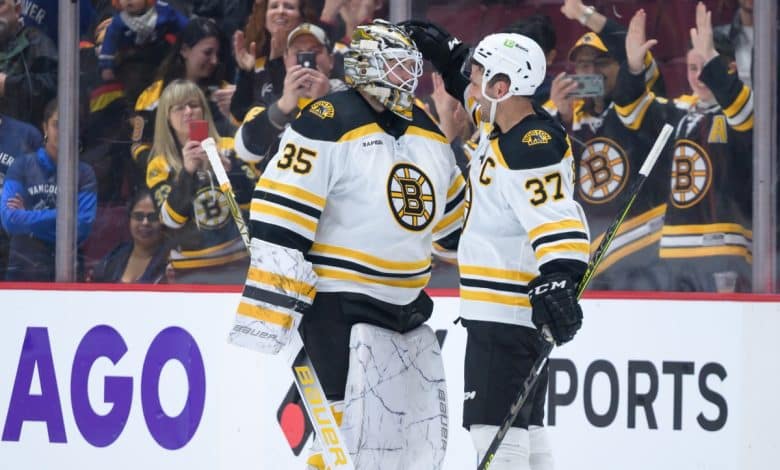 Boston Bruins captain Patrice Bergeron did not practice Friday morning and did not accompany the team to Florida for Game 3 of the series against the Panthers tonight.
Bruins head coach Jim Montgomery has hinted that the Quebecer is likely to return to the game only in Game 5.
The 37-year-old was injured in the last game of the regular season against the Montreal Canadiens and missed the first two games of the series.
The Bruins and Panthers are tied 1-1.
Fiala and Lizotte absent
Los Angeles Kings head coach Todd McLellan has confirmed that forward Blake Lizotte will miss Game 3 of the series between his team and the Edmonton Oilers with a lower body injury.
For his part, Kevin Fiala will also be absent. The Swiss has not taken part in a meeting since April 1 against the Seattle Kraken. A heavy loss for the Kings, who scored 72 points in 69 games this season.
Los Angeles will try to take the advantage by getting their hands on the third duel of the series, Friday evening at 10 p.m.
Bowness believes Ehlers will play Game 3
Winnipeg Jets head coach Rick Bowness is optimistic to see forward Nikolaj Ehlers in uniform for Game 3 of the series against the Vegas Golden Knights.
The Dane trained with his teammates but was out of the first two games with an upper body injury.
His last game dates back to April 11, when he was hit head-on by Ryan Hartman at center ice.
In 31 playoff games since the start of his career, Ehlers has four goals and eight assists.
The next game in the series is Saturday at 4:00 p.m. in Winnipeg.
Alex Lyon leaving
Alex Lyon will get his 11th straight start in goal for the Panthers against the Bruins.
The 30-year-old goaltender made 34 saves in Game 2.
In 15 regular season appearances, Lyon posted a 9-4-2 record, a .914 save percentage and a 2.89 goals-against average.
Romanov trains
Defenseman Alexander Romanov was on the ice Friday for the New York Islanders' morning practice for Game 3 of the series against the Carolina Hurricanes in the evening.
Head coach Lane Lambert said the team will decide just before the game if Romanov will be in uniform. If not, Parker Wotherspoon will replace him.
Romanov missed the last five games of the regular season and the first two games of the series.
The Islanders trail 2-0 in this one.
A departure for Gustavsson
Everything suggests that Filip Gustavsson will be the starting goaltender for the Minnesota Wild tonight in Game 3 of the series against the Dallas Stars.
Gustavsson was the first goaltender to leave the rink after the Wild's morning practice session.
The series is tied 1-1.