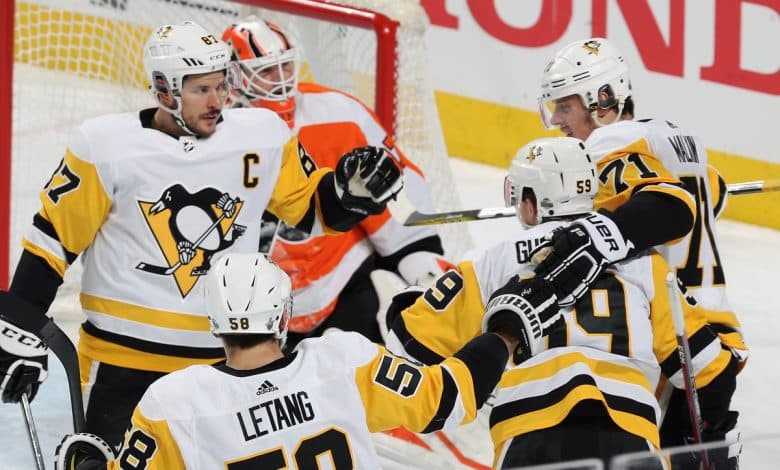 CRANBERRY, Pa. — Pittsburgh Penguins mainstays for more than 15 years, Evgeni Malkin, Sidney Crosby and Kristopher Letang knew the offseason was going to be uncertain.
That the "business" side of hockey could cast doubt on this elite core. They still kept the faith, confident in the benefits of stability.
They were right, insofar as Malkin and Letang's pacts were extended for the long term.
Thursday, the three players took to the ice as the club camp began. They are the benchmarks of a group that believes that despite the long journey already made, the Penguins remain among the clubs that can aspire to the Stanley Cup.
The 36-year-old Malkin signed a four-year contract just hours before potential free agency.
"In my mind, I'm always going to play here," said the Russian, who wasn't overly worried about losing a big-name teammate or two.
"He's a magician on the ice," Letang said of Malkin. He does things that no one else can."
Letang realizes, however, that he, Malkin and Crosby are an exception.
"We see elsewhere in the league that some clubs will rely on exceptional players, but their organization will still take a turn or adopt a new vision," he said.
In Pittsburgh, the new group of owners Fenway Sports wants to continue in the same way. The Penguins dominate North American professional sports with 16 straight playoff appearances.
Forwards Bryan Rust and Rickard Rakell are also back.
In addition, coach Mike Sullivan's contract was extended for three seasons, two years before the end of the current deal.
"We have a great team," said Sullivan, second in NHL tenure behind Jon Cooper of the Lightning. The guys are motivated and they are hungry."
Malkin missed the first half of 2021-22, recovering from knee surgery. He tallied 20 goals but sometimes showed his age when playing five-on-five.
"I'm still a good player," Malkin said. I believe in myself and in my teammates. I am here to win."
Crosby, Malkin and Letang have won three Cup titles, but the Penguins haven't advanced to the second round since 2018.
Last May, Pittsburgh were beaten in seven first-round matches by Rangers, in a series where their net was largely defended by Louis Domingue, following injuries to Tristan Jarry and Casey DeSmith.
Either way, General Manager Ron Hextall has made sure his core of excellence is back.
A group "who have aged without being old," Sullivan said. And a core that looks to the final stretch of their careers with renewed purpose.
"I'm glad we were able to keep those three guys," Sullivan said of Malkin, Crosby and Letang. And I know it's the same for them. I know they want to win again.