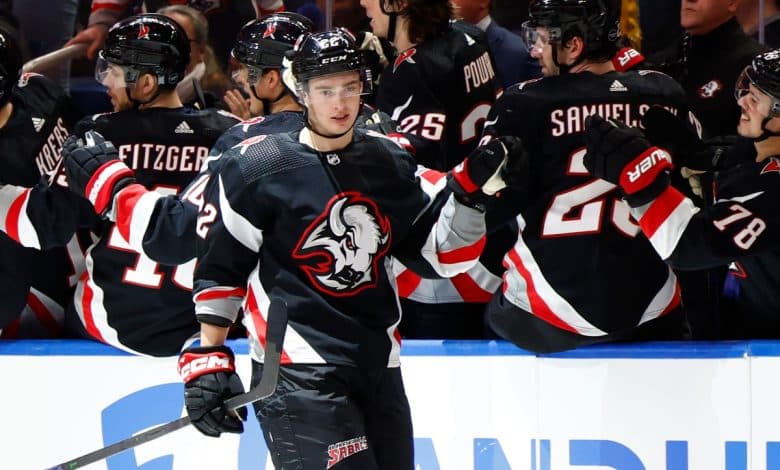 Jack Quinn scored twice, Dylan Cozens had three points in a second straight game, and the Buffalo Sabers beat the San Jose Sharks 6-3 on Sunday night.
Tage Thompson, author of his 16th goal of the season thanks to a cannon shot recorded at 98.4 miles per hour, JJ Peterka, Jeff Skinner and Alex Tuch also scored for Buffalo (12-13-1).
Young goaltender Ukko-Pekka Luukkonen stopped 26 pucks to earn his second victory of the campaign.
Since beating the Montreal Canadiens 4-0 on Tuesday, the Sharks (8-17-4) have suffered three straight road losses, all in regulation time.
Cozens only became the fourth Saber in franchise history to collect three or more points in back-to-back games.
The latter has 24 points (9-15) in 25 games, in his third year on the Bettman circuit.
With two more assists, Rasmus Dahlin came within four points of Erik Karlsson (33) for the lead in scoring among backs.
Dahlin, who has eight goals and 21 assists this season, however, has four more games to play than his compatriot.
Aaron Dell was in front of the San Jose goal. The latter was tested 37 times in defeat.
Nick Bonino, Kevin Labanc and Oskar Lindblom have provided the fightback for the Sharks, who have lost six of their last seven games
David Quinn's squad will have three days off before resuming home action Wednesday against the Vancouver Canucks.
The Wings raised by the AN in Columbus
Dominik Kubalik and Lucas Raymond scored a power play goal and the Detroit Red Wings defeated the Columbus Blue Jackets 4-2.
Austin Czarnik and Andrew Copp completed the scoring for the Red Wings, who finished 2-for-5 on the power play.
Filip Hronek, David Perron and Olli Maatta all set up two goals for Detroit, which ended a three-game losing streak.
Ville Husso added the victory to his record after a performance of 30 saves.
Marcus Bjork and Kent Johnson replied for the Blue Jackets, who suffered a fourth straight loss at home.
Boone Jenner was involved in both of Columbus's troop goals. Joonas Korpisalo stopped 31 shots.
The Hawks never in the game on Long Island
Matt Martin, Zach Parise and Brock Nelson scored in the second period and Semyon Varlamov made 21 saves as the New York Islanders shut out the Chicago Blackhawks 3-0.
The Islanders fired 40 shots at Blackhawks goaltender Arvid Soderblom to end a two-game losing streak and improve their home record to 9-4-0.
On Friday, the Blackhawks ended an eight-game losing streak by winning 5-2 at the expense of the New York Rangers. However, Chicago's squad generated few scoring chances against the Islanders and Varlamov, who recorded his first shutout of the season and 37th of his career.
The Islanders are 4-1-2 in their last seven games against the Blackhawks, including a 3-1 win in their last game Nov. 1 in Chicago.