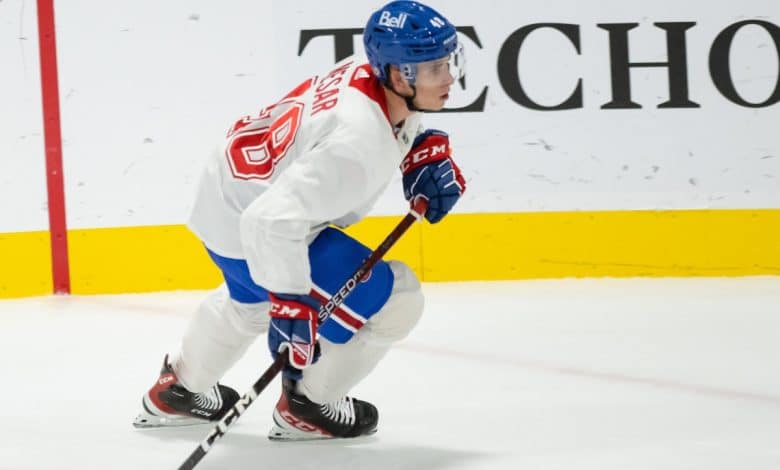 BUFFALO – After the Habs practice, Juraj Slafkovsky and Filip Mesar were quick to get changed to attend practice with their great pal Simon Nemec. But the first clash between Slafkovksy and Nemec will have to wait.
The leaders of the Canadian decided that it was preferable that Slafkovsky not play two games in two nights at the rookie tournament.
"It was very nice, I saw them for the last time four months ago," said Nemec after a few minutes of discussion with his comrades leaving the rink.
"I was a little disappointed (that Slafkovsky is not playing), because it would have been my first game against him," Nemec told us when they were mostly teammates with the different levels of the team of the Slovakia.
Slafkovsky will therefore not be able to "annihilate" his friend Nemec in a corner of the ice rink as he kindly wished. But the Devils defender was quick on the trigger about it.
"But the last time I played against Filip, I demolished him in the boards," Nemec said with a smile.
He said this before admitting that it's harder to do the same with Slafkovsky.
As for Mesar, he had also allowed himself a small point towards Nemec.
"His sense of the game is his best asset, but he's not such a good skater. It's good for me if I go one-on-one with him."
In the end, it will be up to Mesar to take advantage of this game to shine. Excellent in his first outing Thursday night, Mesar will play this time in the center when he has been moved as a winger for two years. He sounded happy to have this audition at this position.
"On zone outings, it's easier for me to deploy my speed and receive the puck in motion. I think well on the ice too ", specified the right-hander drafted in the 26e rank.
"We have several players who play in the center and on the wing. Rookie camp is a good opportunity to watch players in different chairs. For Mesar, we want to see him in the center. He skates well and he supports his defenders skillfully," said coach Jean-François Houle.
Too much pressure?
Having been the Canadiens' second selection in the first round, Mesar finds himself in an intriguing and interesting position. Far from attracting attention, the five-foot-nine, 176-pound right-hander can grow freely.
"I think it's good for me because it's maybe a bit too much pressure for him sometimes. It's probably easier for me. I prefer not to have too much attention, "he judged.
By developing on the subject, we understand that Mesar was not only talking about the pressure in Montreal, but also in Slovakia where Slafkovsky is causing a sensation.
"It was crazy (on their return to Slovakia after the repechage). We have a lot of pressure in our country, but we manage everything well. Juraj is very strong mentally, "said Mesar while Nemec made the same observation.
Coming back to Mesar, the next few weeks will be used to determine the uniform he will wear this season. The choice will be between the Kitchener Rangers of the Ontario Junior League or the Laval Rocket.
"It doesn't bother me, but I think the best option for me would be the American League," Mesar said as his understanding of the game and his obvious skills come into play.
Little information observed behind the scenes of the arena in Buffalo, Nemec gave Slafkovsky a pack of blades for the skates.
"These are very good blades, I believe they come from Finland. I use the same ones," Nemec explained.
Let's see if Slafkovsky will win even more with this tool on Sunday in the Canadiens' third and final game of this tournament.
Moreover, Slafkovsky will not be the only one to benefit from a leave. Justin Barron, Jan Mysak and Arber Xhekaj will act as spectators as well as Kaiden Guhle who could play on Sunday.
Training for the 2e match
43 Simoneau 48 Mesar 82 Condotta
51 Heineman 62 Beck 86 Kidney
89 Guindon 15 Stapley 45 Dubé
93 Francis 76 Davidson 85 John Parker-Jones
59 Northinder 54 Harris
36 Fairbrother 78 Centorame
84 Trudeau 57 Tourigny
Extras: Slafkovsky, Guhle, Barron, Mysak and Xhekaj
"We have a lot of defensive talent here" -Norlinder
Houle wants to give everyone a chance