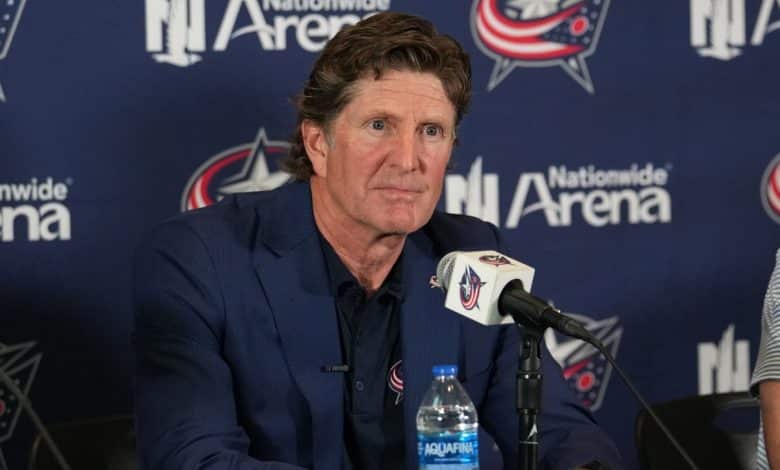 Mike Babcock's practices are already being questioned in Columbus.
The NHL Players' Association is reportedly investigating allegations that the new head coach of the Columbus Blue Jackets explored cell phone photos of some of his players.
Rumors about Babcock were first reported by the popular podcast Spittin' Chiclets, hosted by former NHL players Paul Bissonnette and Ryan Whitney.
Bissonnette cited a player who spoke on condition of anonymity as saying that Babcock called captain Boone Jenner into his office and asked him to connect his phone to a screen in order to explore his photos. The new head coach reportedly repeated the exercise with several players on his team to "determine what type of person they were."
Mike Babcock has allegedly been asking various Blue Jackets to see their phones then AirPlaying their photos on his office TV.

📺: https://t.co/sFJxtm8Pp2 pic.twitter.com/zsiql2uJ5x

— Spittin' Chiclets (@spittinchiclets)
September 12, 2023
A few hours later, the Blue Jackets reacted through Babcock and Jenner.
Babcock admitted to asking his players to share pictures of their families in an effort to get to know them better. He affirms that Spittin' Chiclets depicted "a grossly misrepresentation of these meetings."
"These meetings have been very important and beneficial, not only for me, but also for our players and our staff, and to portray them in this way is irresponsible and completely inaccurate," added Babcock in a press release.
Jenner also denied the rumors put forward by Bissonnette.
"When I met Babs, he asked me about my family and where I was from, my upcoming wedding, and other hockey-related topics," Jenner wrote. He then asked me if I had any photos of my family and I was happy to show him some. He showed me photos of his family. "
"I found it to be a good first meeting and a good way to start building a relationship. It is truly disappointing that this matter has taken on disproportionate proportions. "
Johnny Gaudreau, the Blue Jackets' star and highest-paid player, maintained during the NHL and NHLPA players' media tour in suburban Las Vegas that he had excellent interactions with Babcock, starting with a 45-minute learning session the weekend of Jenner's wedding.
Gaudreau said Babcock asked him for family photos and the coach showed his to get a little familiarity.
"I just think it was a really cool and unique way to get to know your player," insisted Gaudreau. I thought it was kind of a good starting point for us to get to know each other. "
NHL executive vice-president Bill Daly said he spoke with NHL Players' Association deputy CEO Ron Hainsey and the league and union reviewed the situation and They found nothing unusual.
"Reports (from Hainsey) indicate that the players involved had no concerns about the interactions that took place," Daly noted. They were not inappropriate and to the extent that they were suggested, it was a misperception. "
Babcock is back in the NHL after nearly four years away. When the 2008 Stanley Cup-winning coach was fired by the Toronto Maple Leafs in 2019, reports emerged of some polarizing old-school coaching techniques, including having player Mitch Marner do a list of his teammates ranked from hardest worker to least hard worker.
After accepting the Columbus job in July, Babcock said he grew as a coach and learned how to work better with players.
"Change in us takes time," Babcock said over the summer. I think it gave me a chance to get out of my body, take a look, see what I'm doing and understand that you have to change and you have to grow. "
Bissonnette was quick to respond to the Jackets' post on X (formerly Twitter): "Tell Babs to stop his bullshit." It's enough to put guys on the spot in the trainer's room by asking them to plug in their phones to cook them. Tons of players have confirmed this to me. You have to be a little smarter, Babs. Get your statement in the ass. "