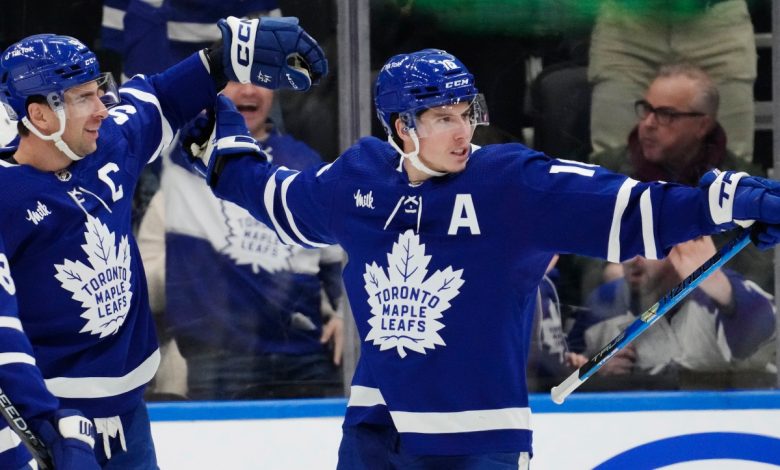 Toronto Maple Leafs star forward Mitchell Marner extended his streak to 23 games with at least one point on Tuesday as his team beat the Anaheim Ducks 7-0.
Thanks to this fourth win in a row, Toronto (19-5-6) extends its happy streak, with a 15th game without a loss in the 60 regulation minutes (12-0-3).
From the first period, Marner set the table for a goal from his captain John Tavares, at the expense of goalkeeper John Gibson.
Thus, Marner is only three games behind Patrick Kane, who holds the mark among active players in the NHL at 26 games.
Kane had achieved this during the 2015-2016 campaign.
The all-time mark, unsurprisingly, belongs to Wayne Gretzky, who blacked the scoresheet for 51 straight games in 1983-84.
Marner added a second assist late in the middle frame, when Michael Bunting scored on the Toronto No. 16's throw return.
On Dec. 3, the 25-year-old Leafs winger passed Eddie Olczyk and Darryl Sittler to score in his 18th straight game, thanks to a brace against the Tampa Bay Lightning.
Heading into Tuesday's game against Anaheim, Marner led the team in scoring with 35 points (12-23) in 29 games.
Worst formation of the Bettman circuit, the Ducks (7-20-3) suffered a third loss in a row in regulation time.
After a scarcity of 22 games without a goal against a goalkeeper – he had managed one, in an empty net -, Alex Kerfoot scored twice in the Toronto victory.
Defenseman TJ Brodie, who hadn't threaded the needle since February, Pierre Engvall, and Joey Anderson completed the scoring.
Very little tested by unfit Ducks, goaltender Ilya Samsonov recorded a second straight shutout, after last Thursday against Los Angeles. He made 29 saves this time.
Halfway through the evening, Gibson felt discomfort and headed to the locker room. Lukas Dostal, who had kept the goals in Ottawa the day before, was called upon to replace him.
In total, the Leafs fired 41 shots on target on the net shared by Gibson and Dostal.
The Leafs return to action Thursday against the New York Rangers at Madison Square Garden.