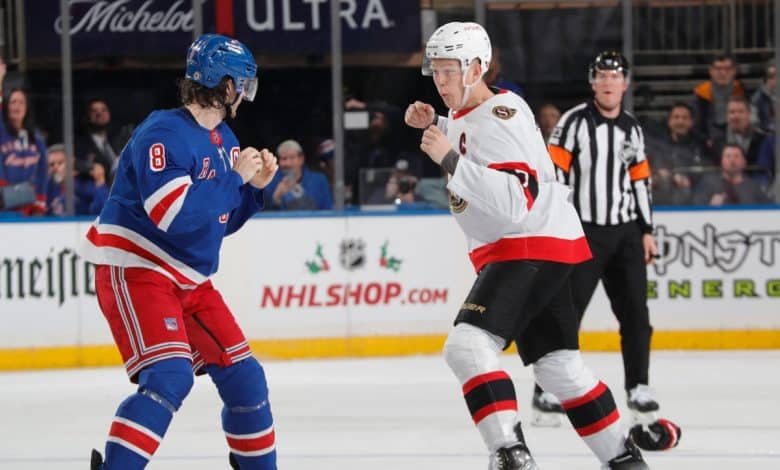 Brady Tkachuk had a Gordie Howe hat trick and scored the game-winning goal in overtime to help the Ottawa Senators beat the New York Rangers 3-2 on Friday.
The Sens therefore rebounded after dropping the flag 3-1 against this same team 48 hours ago.
Tkachuk finished the match with two goals and an assist in addition to taking part in a fight. The captain forced overtime with 49 seconds remaining in regulation time by redirecting Thomas Chabot's shot.
"It will definitely be memorable," said Tkachuk, who was playing his 300th NHL game. "Everyone was up to it tonight. It was a meaningful match for us, a crucial match for our confidence. Hopefully now we will embark on a small winning streak. "
The Sens had a great game and dominated the final third despite trailing until the last minute, but they were finally rewarded for their efforts after heading 37 shots into the opposing net against 27.
The Rangers' first goal hurt Ottawa troops twice in the opening period. Travis Hamonic took the puck to the throat, and while the defenseman was on the ground, Vitali Kravtsov took the opportunity to score his first goal of the season by grabbing his own rebound. Hamonic immediately took charge of the locker room and did not return to play afterwards.
Tim Stützle tied the game in the second period when he managed to grab the puck through a scrum in front of the net before beating goaltender Igor Shesterkin with a backhand on the power play.
Claude Giroux had just had a golden chance when he recovered Brady Tkachuk's throw return. Gerard Gallant, however, contested the goal due to an inbound offside and it was disallowed as the head coach prevailed.
The match was also marked by a furious fight between the captains of each team, Tkachuk and Jacob Trouba, at the center of the ice at the end of the engagement. Barclay Goodrow and Austin Watson did the same soon after.
Mika Zibanejad made it 2-1 for the Rangers at 6:03 of the third period with help from Chris Kreider and Braden Schneider.
"I don't think we played well enough in the first or second (period), admitted Zibanejad. We played a little better in the third but it's definitely disappointing to play like that, especially with Shesty giving us a chance to win. "
Cam Talbot made 25 saves in the win, while Chabot had two assists.