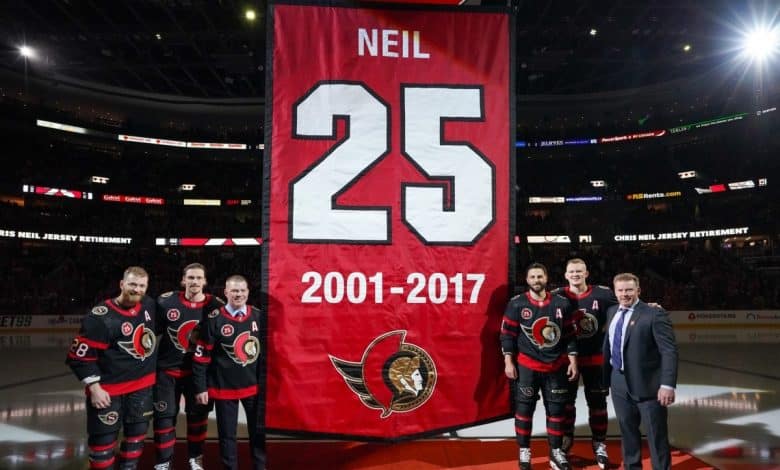 Chris Neil is now an immortal in the Ottawa Senators organization. His No. 25 jersey was retired Friday night before the game against the Chicago Blackhawks.
Selected in the sixth round (161st pick) in 1998, Neil played 1,026 games in 15 seasons with the Senators, ending his career with 112 goals and 250 points.
Known for his physical play, Neil also received 2,522 penalty minutes, sacrificing his body more than once.
He thanked the City of Ottawa for making him so welcome, as well as the family of late owner Eugene Melnyk.
He became the third modern-era Senators player to have his number retired, following Daniel Alfredsson and Chris Phillips.
He listed several of the former teammates without whom he could not have known his career. "I would have liked to name several others, but I've only been given eight minutes for my speech! Playing with these guys made me better on the ice, but more importantly they made me a better person off the ice. "
Neil is one of only two players in NHL history to have played over 1,000 games and recorded over 2,500 penalty minutes playing his entire career with the same team.
Neil laughed about his penalty minutes, but he proudly clarified that he had never been suspended.
A native of Flesherton, Ontario, Neil quickly settled in Ottawa. This is how he met his wife Caitlin, with whom he had three children, Hailey, Cole and Finn.
"One of my fondest memories in this city dates back to 2007 when we beat the Buffalo Sabers to reach the Stanley Cup final. And it's not because we were going to the final, it's because there were 15,000 people waiting for us when we arrived at the airport. "
He also thanked Senators scout Marshall Johnston for believing in him.
He also praised his former coaches. "I've had the privilege of having great coaches starting with Jacques Martin who structured my game. Coaches like Paul MacLean and Dave Cameron who taught me so much. I can't forget my favourite, Bryan Murray who taught me so much on the ice, but also off the ice. "
Last fall, Neil was named vice president of business and business development for the Senators.
Neil has always wanted to find ways to give back to the community, and that didn't change when he retired.