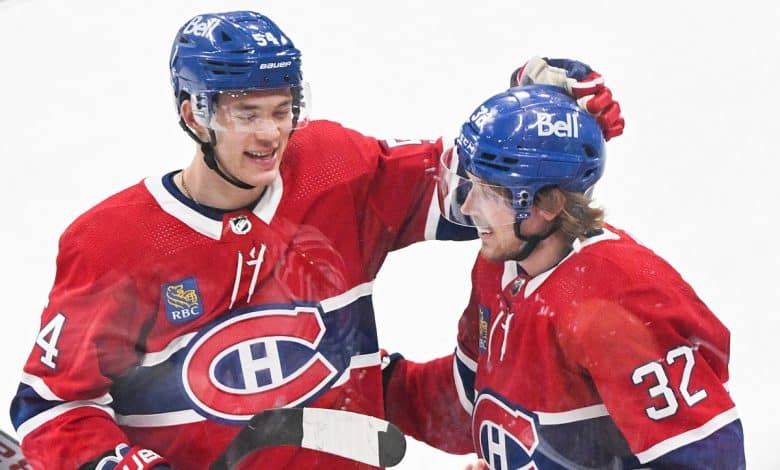 MONTREAL – The Canadiens were already without a panoply of players, but the loss of Cole Caufield could have derailed things. Martin St-Louis rightly used the train analogy to rally his players to the collective cause, while Alex Belzile predicted Rem Pitlick's winning goal.
The author of these lines does not inundate you with puns, but how to avoid the allusion to the fact that the winning goal was scored by the one named Rem. While we are still waiting for the start of the REM in the Montreal region, Pitlick found an opportune moment to score this important goal.
"Belzile is awesome, I was looking forward to seeing it. It's great to know that he has confidence in me, we built a great chemistry together in Laval," reacted Pitlick when he learned of Belzile's happy prediction.
"I talk a lot to the players that we are trying to build a train. Guys will get on and off the train, but those who stay on the train have to take care of it. That's what we did in this game, "said the coach.
"When I go around the formation, I can't find one who hasn't given everything. This result is a big step in the right direction," he added gratefully.
Collective involvement was the only way to save things.
"That's the way we have to see the situation. If everyone answers the call, great things will happen. All the players have contributed, it's encouraging, there's no doubt about it," testified Josh Anderson.
Because, even if the athletes show great confidence in their means, they knew that the Leafs were favorites for this duel. But hard work trumped talent in this game.
"We are not silly either, we knew the formations in place. But it's played on the ice, it's too good a league to play only with talent, "acknowledged Alex Belzile frankly.
"It's good for morale on a beautiful Saturday night like this against the Leafs. There was a wicked nice atmosphere, "he continued.
Caufield's absence will hurt for the rest of the season, but character must hold strong.
"I really liked the response from the guys, we've had a lot of bad news lately. We rolled up our sleeves, we had seen that it did not go to our liking in the first period, "said Samuel Montembeault who is amazing these days.
Certainly, the challenge will be to replicate such an inspired effort during the second half of the schedule.
Obviously, it will take players like Anderson and Kirby Dach to keep pushing the wagons forward. To see Dach shine and play with such ardor while rushing to the net with determination, the train could continue to progress.
"He came to war in this game. I'm happy with what he gives us at the center. When Kirby plays with emotion, he becomes much more dangerous on the ice," admitted St-Louis, who would like to see him punished less often.
"Kirby is so big and powerful, he can do great things in the NHL. He's very difficult to play against when he's playing so competitively," Anderson said.
It will also take players like Pitlick who have a more influential role than since the start of the year.
"He went to Laval, there were too many players and not a good enough chair for him early in the season. He has worked on his game and the circumstances are that he gets a chair that he would have liked to have at the start. It's not always fair in life, but you have to keep pushing," commented St-Louis.
What they said
"I'm happy for him, he has NHL habits in terms of how he behaves on the ice. He goes to the tough places and you can really trust him. He has a high level of competition in his game, I'm happy he got rewarded," St-Louis said of RHP.
"I've been playing with Raf for a long time, we had been going to Laval since the holidays. It simplifies things when you have chemistry with a player. He's consistent as clockwork, he works hard every day and he's talented. He does all the right things," Belzile noted.
"No, I never doubted myself. The seasons are so long, I had to focus on my game. You can't start thinking about when you'll be called up, you won't sleep at night," Belzile reacted to whether he thought it was over. for him in the NHL.
"I found my game and I arrive with confidence. Compared to my games with the Canadiens last season, I was less confident of making plays. I tried more not to make mistakes. There, I play with my strengths without thinking, "clarified Belzile.
"Everyone gave a check mark to replace Cole who is not easy to replace," Harvey-Pinard said.
"Martin is very positive, he saw the good side by telling us 'If we want to win this match, this first period had to be the worst we can do. He didn't need to say more," concluded Pitlick.