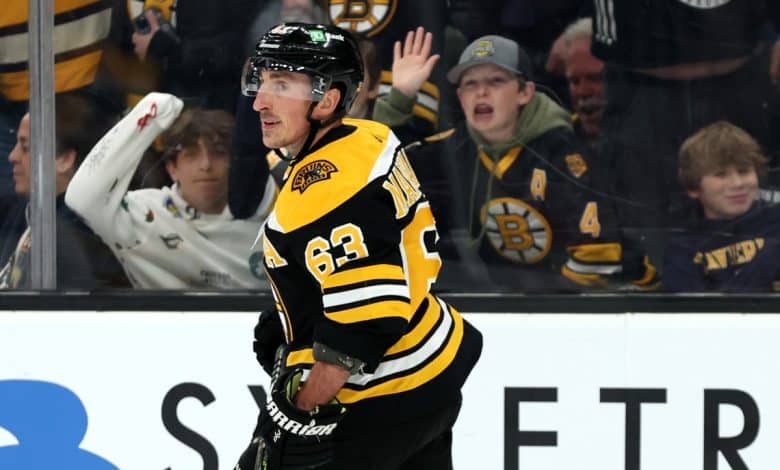 Forward Brad Marchand took part in Boston Bruins practice Wednesday in his usual spot on the first line and is expected to return before American Thanksgiving, according to head coach Jim Montgomery.
Brad Marchand is ahead of schedule. Jim Montgomery says he will play before Thanksgiving.

Will not play tomorrow or Friday.

— Fluto Shinzawa (@FlutoShinzawa) October 26, 2022
Marchand underwent arthroscopy and labrum repair surgery on both hips in May and was expected to miss the first two months of the 2022-23 season.
The star player scored 32 goals and had 80 points in 70 games last year.
Defender Charlie McAvoy also participated in training with his team with a jersey allowing contact. He underwent shoulder surgery last May and was due to be sidelined for six months.
Nicklas Backstrom and Tom Wilson back on skates
Washington Capitals forwards Nicklas Backstrom and Tom Wilson skated with the team for the first time after undergoing surgery after the 2021-22 season, according to Tarik El-Bashir of The Athletic.
Nicklas Backstrom (hip surgery) and Tom Wilson (ACL surgery) skated for a few minutes ahead of today's team practice. First time since their surgeries. In track suits, not gear. Light skate. Take a few shots. By the #Capsit's the first step toward working their way back.

— Tarik El-Bashir (@Tarik_ElBashir) October 26, 2022
Both forwards skated lightly without equipment and the Capitals say it's the first step toward their return to play.
Backstrom underwent hip resurfacing surgery in June and played just 47 games last season due to the condition.
The 34-year-old center had six goals and 31 points in 47 games last season.
Wilson, for his part, underwent knee surgery last May due to a torn anterior cruciate ligament and his recovery period could stretch from six to eight months.
Wilson scored 24 goals and had 52 points in 78 games last year.
Julien Gauthier recalled by the Rangers
The New York Rangers recalled Quebec forward Julien Gauthier on Wednesday.
Gauthier, 25, has played four games for the Hartford Wolf Pack this season, scoring two goals. Gauthier is one of four players on the team to have scored at least two goals this season.
In 2021-22, Gauthier played 49 games with the Rangers, registering three goals and four assists for seven points, personal highs for him in the NHL.
Gauthier was originally selected by the Carolina Hurricanes in the first round, 21st overall, in the 2016 draft.
Kieffer Bellows on waivers
The New York Islanders placed forward Kieffer Bellows on waivers on Wednesday.
The team's former first-round pick in 2016 (19th), Bellows has played only one game with the Islanders this season and was cleared from the scoresheet.
In 45 games last year with the Islanders, the son of former Habs player Brian Bellows scored six goals and had 19 points.
Minor transaction in Philadelphia
The Philadelphia Flyers have announced that the team has acquired forward Evan Barratt from the Chicago Blackhawks in exchange for defenseman Cooper Zech.
Both players will head to the American League. Barrat was the Hawks' third-round pick in 2017, while Zech was never drafted into the NHL.