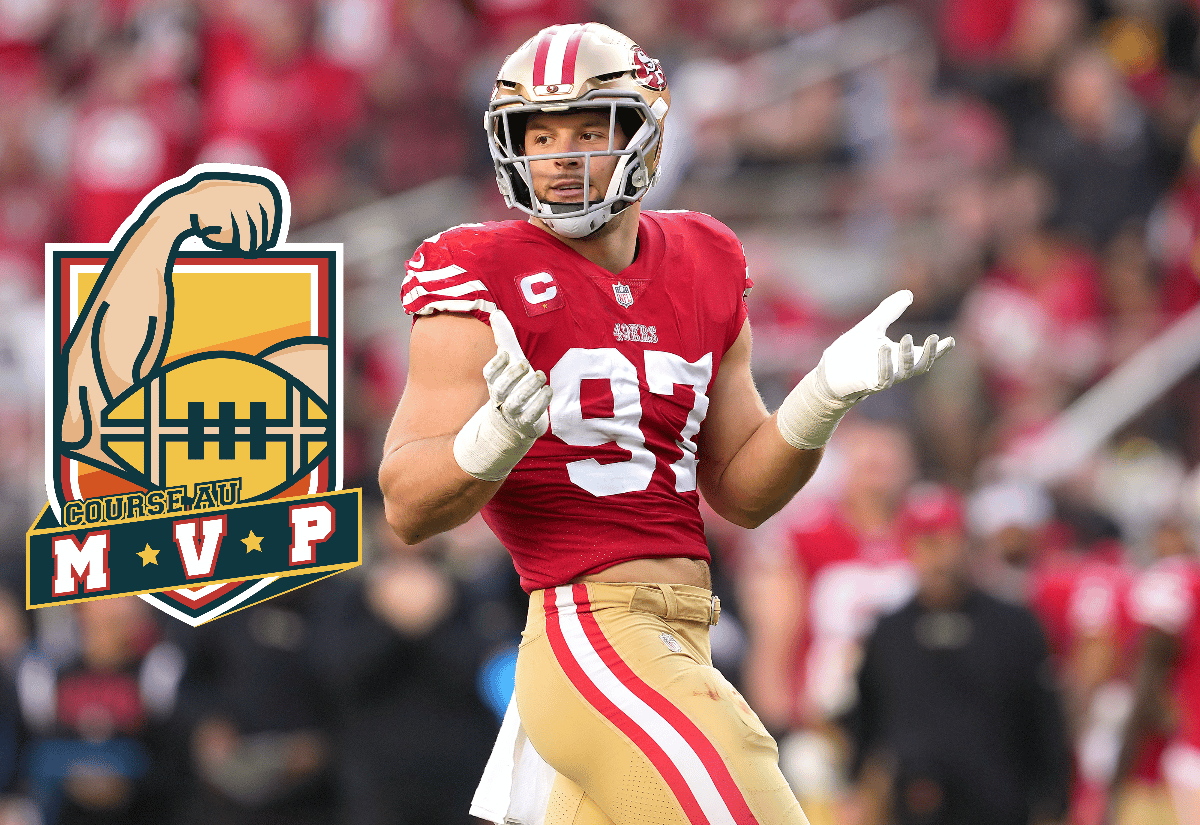 Thursday is MVP! Patrick Mahomes again and again. While most of his competitors have had varying fortunes in recent weeks, the Chiefs quarterback continues to provide the essentials by winning his team. To get ahead of him, Joe Burrow has been giving his all for several weeks and is lining up high-class performances. Jalen Hurts, he will absolutely have to return from injury in the next two weeks to keep a tiny hope. For Josh Allen, on the other hand, the title seems out of reach. But the name of the week is undoubtedly Nick Bosa, another author of two sacks and a forced fumble.
1- Patrick Mahomes (-) Quarterback – Kansas City Chiefs (12-3)
15 games – 4,720 yards at 66.9% – 37 touchdowns, 11 interceptions – 321 rushing yards, 4 touchdowns – 105.1 rating
Author of a very good match against the Seahawks in increasingly bad shape, Patrick Mahomes provided the essentials. With 224 yards and two passing touchdowns and one more on the run, the Chiefs quarterback took another step towards a second MVP title. Fairly wide leader of the NFL in passing yards, he is firmly attached to first place in this ranking two weeks from the end.
2- Joe Burrow (+1) Quarterback – Cincinnati Bengals (11-4)
15 games – 4,260 yards at 69% – 34 touchdowns, 12 interceptions – 247 yards, 5 rushing touchdowns – 102.3 rating
And seven! Superbly led by their quarterback, the Bengals have just chained seven consecutive victories and now dominate their divisions against the Ravens who seem in an opposite dynamic. Joe Burrow continues his rise to power. While he's not the cleanest player, with two interceptions against the Patriots, the offensive firepower he forms with Ja'Marr Chase, Tyler Boyd and Tee Higgins makes them particularly difficult to stop. evidenced by the 13 touchdowns scored in the last five games whether running or passing.
3- Jalen Hurts (-1) Quarterback – Philadelphia Eagles (13-2)
14 games – 3,472 yards at 67.3% – 22 touchdowns, 5 interceptions – 747 yards, 13 rushing touchdowns – 104.6 rating
Injured, Jalen Hurts did not set foot on the field this week.
4- Josh Allen (-) Quarterback – Buffalo Bills (12-3)
15 games – 4,029 yards at 63.4% – 32 touchdowns, 13 interceptions – 746 yards, 7 rushing touchdowns – 96.1 rating
Everything is better for Josh Allen and the Bills. After a big dip in mid-season, the Buffalo team has just chained six consecutive victories. However, Josh Allen is rather on alternating current and only shines in sequences. The favorite at the start of the season has apparently buried his last hopes with a passing performance for 172 yards, two touchdowns and two interceptions. He will clearly have to regain his level from the start of the season to achieve the second and most important goal of his year, a qualification for the Super Bowl.
5- Nick Bosa (+1) Defensive End – San Francisco 49ers (11-4)
14 games – 44 tackles, 17.5 sacks, 2 forced fumbles, 1 pass defended
The leader of the best defense in the league is him. Author of two new sacks and a forced fumble against the Commanders, Nick Bosa has further solidified his status as a favorite to become the defensive player of the year. But can he aim even better? The question obviously seems utopian as quarterbacks are favored in the race for the MVP. But clearly, Nick Bosa's season is exceptional in every way and adds another dimension to the fear that this 49ers defense brings to other teams.
Special Mentions
Tua Tagovailoa (QB, Dolphins) – 3,548 yards on 64.8% completion, 25 touchdowns, 8 interceptions – 105.5 rating
Kirk Cousins ​​(QB, Vikings) – 4,117 yards at 65.7% completion, 27 touchdowns, 11 interceptions – 93.3 rating
Justin Herbert (QB, Chargers) – 4,254 yards on 68% completion, 21 touchdowns, 10 interceptions – 91.2 rating
Justin Jefferson (WR, Vikings) – 1,756 yards on 14.3 yards/reception, 8 touchdowns
AJ Brown (WR, Eagles) – 1,304 yards on 16.3 yards/reception, 10 touchdowns
Stefon Diggs (WR, Bills) – 1,325 yards on 13.1 yards/reception, 10 touchdowns
Tyreek Hill (WR, Dolphins) – 1,632 yards on 14.4 yards/reception, 7 touchdowns
Derrick Henry (RB, Titans) – 1,429 yards at 4.5 yards/rush, 13 touchdowns
Nick Chubb (RB, Browns) – 1,344 yards at 4.9 yards/rush, 12 touchdowns
Travis Kelce (TE, Chiefs) – 1,257 yards on 13 yards/reception, 12 touchdowns
Micah Parsons (LB, Cowboys) – 56 tackles, 13 sacks, 3 passes defended, 3 forced fumbles, 1 touchdown