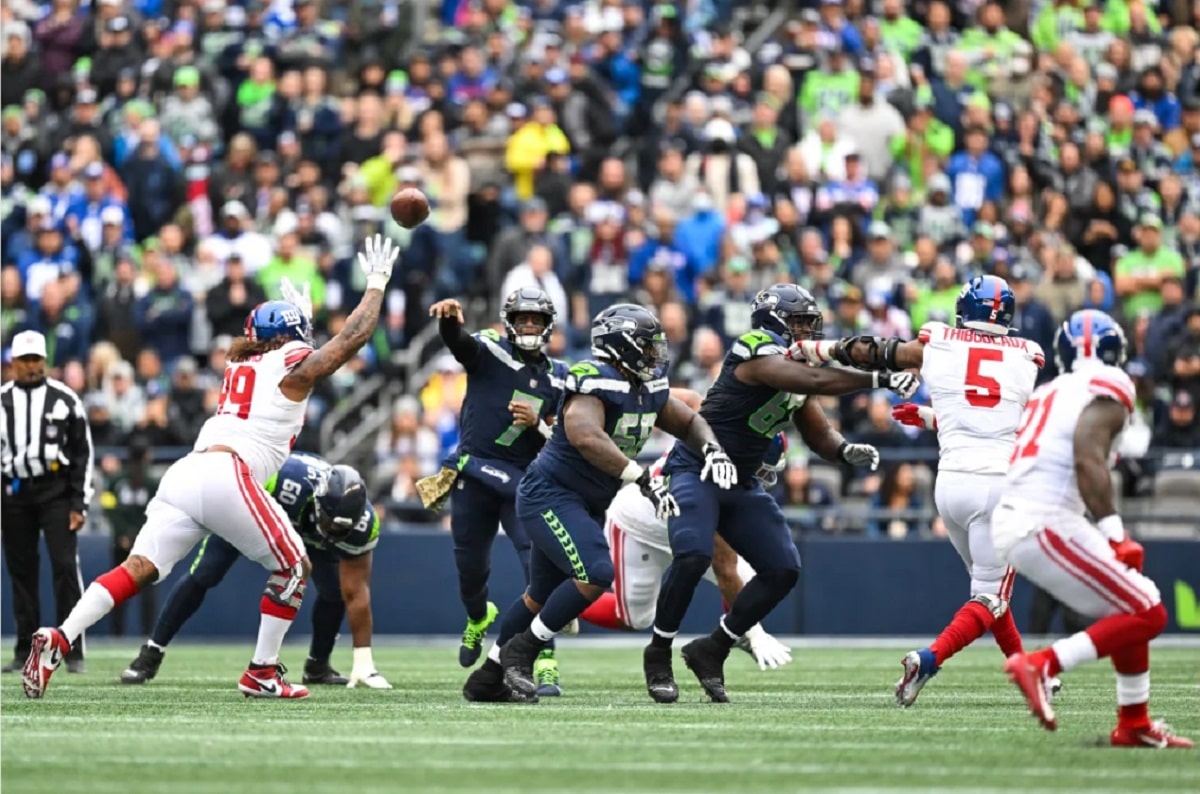 Seattle continues to surprise. The beautiful series of New York stops.
Seattle Seahawks (5-3) – New York Giants (6-2): 27-13
The only confrontation between teams with a positive balance in this week 9, the 2 teams are having a surprising start to the season and have the same objective: to continue their momentum.
And in this game, it's Seattle, carried by a good Geno Smith (23/34, 212 yards, 2 TDs) but also by its special teams which forced 2 fumbles, which can continue to dream of the playoffs in January. Setback for New York which concedes their first loss of the season away from home.
Sequence of stops and fumbles
The match starts slowly with 6 punts. We have to wait for the 2nd quarter to see the first points with a touchdown signed DK Metcalf.
As Seattle began to take over, an unfortunate fumble from Tyler Lockett in his own red zone put New York back in the game. Saquon Barkley (20 races, 53 YDS, 1 TD) does not need to be asked to equalize.
As New York started to get the momentum with notably an incredible sack from Xavier McKinney, New York will also go from its fumble with Richie James on kick return. Unfortunately, Seattle does not take advantage of this and only scores 3 points.
In the first half, the statistics are flattering for New York with only 3 first downs and 17 passing yards for Daniel Jones (17/31, 176 YDS). However, the Giants are only 3 points from the Seahawks, yet dominating (10-7).
Geno finding DK in the back. We're on the board!

📺 #NYGvsSEA on FOX pic.twitter.com/K9tSf0jJ4e

—Seattle Seahawks (@Seahawks) October 30, 2022
Special teams make the difference
After his fumble in the red zone, Tyler Lockett (5 REC, 63 YDS, 1 TD) made a new drop near the opposing end zone on a bright pass from Geno Smith, leaving the Giants still in contact (13-10). A New York team that passes more by air, in particular by involving Darius Slayton (5 REC, 66 YDS) who wins several first attempts.
But, Seattle ends up making the difference with Tyler Lockett who will once again shine, but in a positive way by scoring a touchdown in reception on a pass from Geno Smith. New York attempts to respond but is betrayed by its task force.
Already author of a fumble in the 1st half on return kick, Richie James does it again. The sanction is immediate with a touchdown in the race of Kenneth Walker III (18 races, 51 YDS, 1 TD). The running back breaks 3 tackles to reach the end zone, marking his 5th touchdown this season.
The Seattle defense finished the job by forcing a 4th failed attempt then 2 sacks from Uchenna Nwosu and Poona Ford. A deserved victory in Seattle which occupies 1st place in the NFC West. And that, we had not necessarily seen it coming.
.@Kenneth_Walker9's got that K9 in him. 😤TD @Seahawks!

📺: #NYGvsSEA on FOX
📱: Stream on NFL+ https://t.co/E4IpTg1hqp pic.twitter.com/meJenyCniY

— NFL (@NFL) October 30, 2022