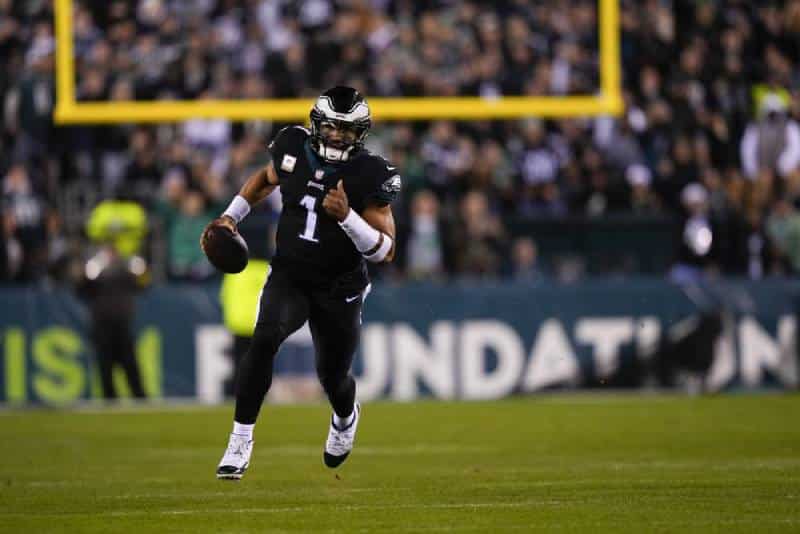 Philadelphia Eagles (10-1) – Green Bay Packers (4-8): 40-33
This time, Aaron Rodgers (11/16, 140 yards, 2 TDs, 2 int) did not wince because of his receivers. It was the MVP's body that tortured him. Hit in the oblique muscles, the MVP was forced to leave his teammates in the third quarter. At this time, Philadelphia leads 34-23, then 37-23 thanks to a field goal.
Jordan Love (6/9, 113 yards, 1 TD) does not disassemble, and finds Christian Watson for a field goal from 63 yards which reduces the gap (37-30). But the Eagles continue to do what they do with almost every offensive: they score points. Still at the foot (40-30). With just over two minutes to play, Love went for another field goal (40-33), but the onside kick was not covered.
If Green Bay had never scored so many points this year, the defense failed to hold up against a raging Jalen Hurts. From the first possession of the game, the Eagles pitcher set the tone, with two runs over 24 yards. With his legs (17 races, 157 yards, record for an Eagles quarterback) or his arm (16/28, 153 yards, 2 TDs), he constantly undermined the opposition.
Cannon start
Philadelphia scored three touchdowns on its first four possessions. Twice by Miles Sanders (17 races, 157 yards, 2 TDs), once for Kenneth Gainwell (8 races, 39 yards, 1 TD). But the surprise is that Green Bay is keeping up! After being intercepted on his first series, Aaron Rodgers starts, and Green Bay scores by AJ Dillon (8 races, 64 yards, 1 TD), then Randall Cobb. Green Bay trails 20-14, and the game gets even crazier. Rodgers is still intercepted, but AJ Brown (4 rec, 46 yards, 1 TD) loses a fumble that puts the Packers 13 yards from the end zone! And Aaron Jones (12 races, 43 yards – 3 rec, 56 yards, 1 TD) took the opportunity to equalize (20-20).
After an exchange of punts, Hurts sends Quez Watkins into the end zone, and Philadelphia leads 27-20 at the break.
You didn't have to slow down
In such an offensive match, the first weak time is sanctioned. It is for Green Bay, who punt after three actions after returning from the locker room. The opposite of Philadelphia, which keeps the foot on the floor, with a touchdown from AJ Brown (34-20). The gap is made, and that's where Rodgers gets hurt. He leaves after a field goal from his team (34-23). Jordan Love is therefore doing his best in relief, but the gap is insurmountable. Especially with a defense that can't get out of stop.
Philadelphia very literally continues its march forward. On the Green Bay side, the injuries that accumulate in Aaron Rodgers, who was already suffering from a broken thumb, could end up giving Jordan Love a chance in an end to the season that seems to be increasingly leading the men of the Wisconsin to a quick vacation.