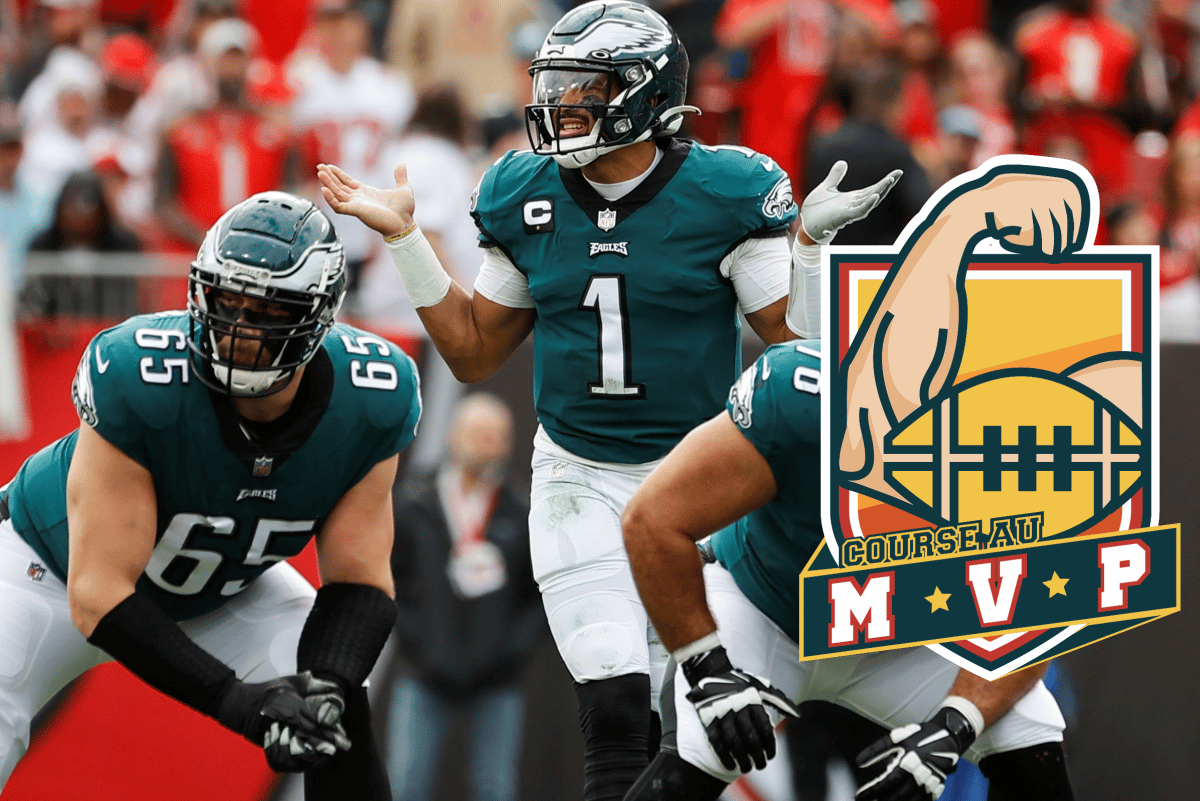 Thursday is MVP! The positive momentum continues for Jalen Hurts! Again very sharp, the quarterback of the Eagles comes back very strong. To the point that he is almost up to a Patrick Mahomes who showed his best but also his worst face this week. Joe Burrow continues to navigate on sight behind the two leaders in front of a still average Josh Allen who almost always finds a way to win. Once is not custom, a non-quarterback invites himself into the rankings this week with a Justin Jefferson, loser, but still as hard-hitting.
1- Patrick Mahomes (-) Quarterback – Kansas City Chiefs (10-3)
13 games – 4,160 yards at 65.8% – 33 touchdowns, 11 interceptions – 280 yards rushing, 2 touchdowns – 103.4 rating
Two-stroke performance this week for Patrick Mahomes. During the first 25 minutes of play, the quarterback of the Chiefs displayed his most beautiful face of MVP, dominating without too many problems an excellent defense of the Broncos. Except that there was a much less brilliant sequel. With two interceptions late in the second quarter and then a third in the second half, Mahomes is really putting his top spot in the MVP race in jeopardy. Clearly, the jury that awards the MVP only appreciates steals moderately and this year, only Davis Mills and Matt Ryan have thrown more than him. That said, the way he recovered from this ultra negative dynamic to get the match shows why he should still be number 1 in this ranking.
2- Jalen Hurts (-) Quarterback – Philadelphia Eagles (12-1)
13 games – 3,157 yards at 68% – 22 touchdowns, 3 interceptions – 686 yards, 10 rushing touchdowns – 108.4 rating
Jalen Hurts is lining up MVP performance right now. With 380 passing yards and three touchdowns against the Titans but also 157 rushing yards against the Packers, Hurts led his attack this time to score 48 points against the Giants. If we mix his numbers with passing and running, the Eagles quarterback is very close to 1000 yards and has offered 9 touchdowns in his last three games. The 123 points scored in that span is an NFL record since 1972. In short, Jalen Hurts is the leader of the best team in the league and is now looking Patrick Mahomes in the eye at the best time.
3- Joe Burrow (-) Quarterback – Cincinnati Bengals (9-4)
13 games – 3,685 yards at 68.1% – 27 touchdowns, 9 interceptions – 234 yards, 5 rushing touchdowns – 102.4 rating
Coping with the Browns' pass rush hasn't been easy for Joe Burrow. While he still finds a way to make big plays, Burrow still hasn't had a big performance when he plays at 7 p.m. This is obviously only a detail but it helps to show the jury that he is not always consistent at his best level. With four games remaining this season, Joe Burrow definitely seems off the hook. But with four performances of which he has the secret, who knows?
4- Josh Allen (+1) Quarterback – Buffalo Bills (10-3)
12 games – 3,553 yards at 63.8% – 26 touchdowns, 11 interceptions – 628 yards, 6 rushing touchdowns – 95.5 rating
For the first time since Josh Allen started, the Bills punted on the game's first five offensive drives. And the quarterback completed his worst game in passing yards of the year with an impressive total of 147 yards. But the conditions between rain and snow did not make things any easier for an Allen who had already been a little porous in recent weeks. However, Buffalo remains leader of the AFC and Josh Allen has a lot to do with it thanks in particular to his connection with a Steffon Diggs firmly clinging to a place as the third best receiver in the league.
5- Justin Jefferson (+1) Receiver – Minnesota Vikings (10-3)
13 games – 99 receptions, 1,500 yards at 15.2 yards per reception, 6 touchdowns – 4 carries, 25 yards at 6 yards per carry, 1 touchdown
Will Justin Jefferson become the first receiver in history to record more than 2,000 receiving yards in a season? Having already passed the 1,500-yard mark in 13 games, Jefferson will have at least achieved a record for a Vikings player with 223 receiving yards against the Lions. In general, to become a serious candidate for the title of MVP, a receiver must show that he is the one carrying his quarterback and not the other way around. For Jefferson, we can clearly consider that this is the case even if the bottom hurts somewhat with only six touchdowns scored. Either way, Justin Jefferson is off to make history this year.
Special Mentions
Tua Tagovailoa (QB, Dolphins) – 3,004 yards at 65.5% completion, 22 touchdowns, 5 interceptions – 108.2 rating
Geno Smith (QB, Seahawks) – 3,433 yards at 71.5% completion, 25 touchdowns, 8 interceptions – 106.8 rating
Justin Herbert (QB, Chargers) – 3,706 yards on 67.6% completion, 21 touchdowns, 7 interceptions – 93.2 rating
AJ Brown (WR, Eagles) – 1,020 yards on 15.7 yards/reception, 10 touchdowns
Stefon Diggs (WR, Bills) – 1,239 yards on 13.2 yards/reception, 10 touchdowns
Tyreek Hill (WR, Dolphins) – 1,460 yards at 14.6 yards/reception, 6 touchdowns
Derrick Henry (RB, Titans) – 1,199 yards at 4.4 yards/rush, 11 touchdowns
Nick Chubb (RB, Browns) – 1,153 yards at 5 yards/rush, 12 touchdowns
Travis Kelce (TE, Chiefs) – 1,039 yards on 12.8 yards/reception, 12 touchdowns
Micah Parsons (LB, Cowboys) – 51 tackles, 12 sacks, 3 passes defended, 3 forced fumbles, 1 touchdown
Nick Bosa (DE, 49ers) – 35 tackles, 6 passes defended, 14.5 sacks, 1 forced fumble