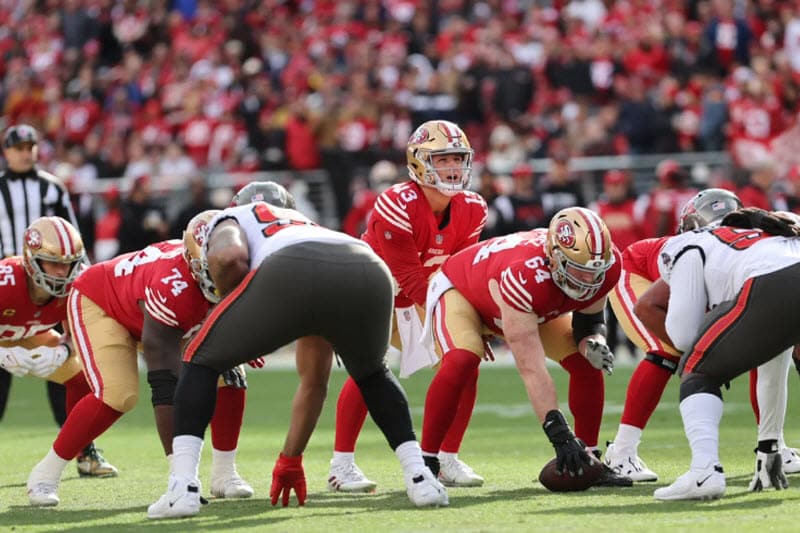 San Francisco 49ers (9-4) – Tampa Bay Buccaneers (6-7): 35-7
First tenure this Sunday for Brock Purdy, the third quarterback to take the reins of the San Francisco attack this season. First victory, but above all what a performance for the rookie, who played with accuracy and made people forget the injury of Jimmy G.
Purdy walks on water
Some might have been impressed to play the first match of their career against Tom Brady, but Brock Purdy is not one of them. 5 months old the day Brady was drafted, Purdy has held the legend high, and that's an understatement: 16/21, 185 yards, 2 TD, 1 TD on the run. Completely uninhibited, mobile in the pocket, making the right choices, the rookie is simply breathtaking.
If the Buccaneers defense (ranked 5th of the NFL before this game) tries to put a lot of pressure on Purdy with massive blitzes from the first drive, they quickly bite their fingers in the face of fast decisions from Purdy who delivers the ball in the intermediate zones towards Brandon Aiyuk ( 2 receptions, 57 yards, 1 TD), but above all a stellar Christian McCaffrey (14 races, 114 yards, 1 TD, 2 receptions, 34 yards, 1 TD). Only (big) downside, an injury to Deebo Samuel who came out on a stretcher.
Tom Brady next to his subject
As often this season, the Buccs' running game is non-existent (63 yards), and everything therefore rests on the arm of the quarterback. He is not the only one to break his teeth on the Californian defense this season, but Tom Brady (34/55, 253 yards, 1 TD, 2 INT) is in complete perdition. The passes are imprecise, lack power. The receivers are not on the same page as him (54 yards for Godwin, 44 for Godwin). The forty-something may gesticulate and vociferate, but above all he is completely annihilated by the ferocious defense of the Niners. In the second half, the child of the country (he grew up 40km from Levis Stadium) even launches two nasty interceptions which he is not used to. In the second half, he manages to avoid the supreme humiliation of being fanny by scoring 7 points, but the opponents are very far away. The victory gained, San Francisco even allows itself the fantasy of aligning Josh Johnson as quarterback and the rest of the substitutes.
Combined with the victory of the Panthers (5-8) against the Seahawks (7-6), this match especially allows the 49ers to soar at the top of the NFC West division. On the side of the NFC South, the Buccs are more than ever in danger of seeing the playoffs escape them. Unthinkable at the start of the season.