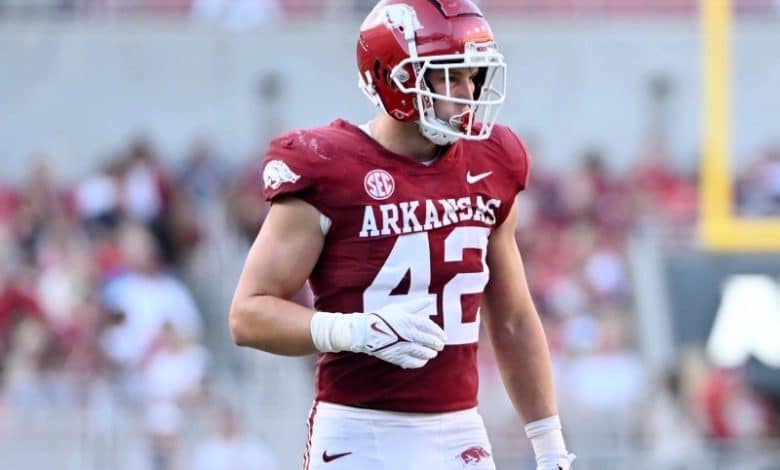 Watch out for attackers who want to escape, Drew Sanders will do anything to catch you.
Drew Sanders – Linebacker – 21 – Arkansas – Junior
Height: 1m93
Weight: 107kg
2022 stats: 12 games, 103 tackles (including 13.5 for loss), 9.5 sacks, 3 forced fumbles, 1 covered fumble, 1 interception, 5 defended passes
Estimated position in the draft: End 1st – Start 2nd round
NFL Comparison: Anthony Barr
After 2 seasons in Alabama, Drew Sanders was transferred to Arkansas for the 2022 season where he fully expressed his potential. First used as a pass rusher in Alabama, he was then converted into a pure role of linebacker, where his versatility in this position will probably appeal to many NFL teams.
Strong points
Drew Sanders has the ideal prototype to play linebacker in the NFL with a good wingspan, which he used very well during his last year of university in Arkansas. This is reflected in his production with more than 100 tackles and 9 sacks.
A good athlete, Sanders is distinguished by good mobility, an explosive first step and a big burst of speed, allowing him to cover the area where the attacker will be.
Weak points
Regularity at tackle
Power
Blanket
Despite his season with more than 100 tackles, the linebacker has limited technique in this area. His angles of attack are often not good, which often leads to a successful tackle, but without losing the ball, or worse, a missed tackle synonymous with danger for his team.
Being physical does not mean being powerful. Sanders lacks strength, especially to get rid of the blocks of the opposing offensive linemen. He can also be obsessed with his first reading, and thus be quickly overwhelmed, especially in the racing game.
Finally, he lacks experience on the cover, especially in man to man. He hasn't been tested in this area often at the Razorbacks, but he's still conceded 73% of the passes he's been targeted for.
Possible destinations
Philadelphia Eagles, Buffalo Bills, Houston Texans, Los Angeles Rams, Carolina Panthers
Drew Sanders is expected to be a starter in week one of next season. In NFL, his best role is going to be middle linebacker (MIKE). The system in which he will be best suited is the 3-4, with another linebacker at his side to strengthen himself.
Aligning him in a 4-3 or 4-2-5 system is not excluded, but his primary qualities will not be highlighted. With that in mind, a team like the Eagles or the Rams would be ideal for him.
The Bills just lost Tremaine Edmunds and Drew Sanders is the perfect replacement. The Panthers are looking for their new Luke Kuechly and the Texans lack quality and depth at the position. These 3 teams mentioned use a 4-3 system. Not ideal for a player just starting his professional career, but Sanders has the potential to become a future NFL leader.
Video DNA of Sports