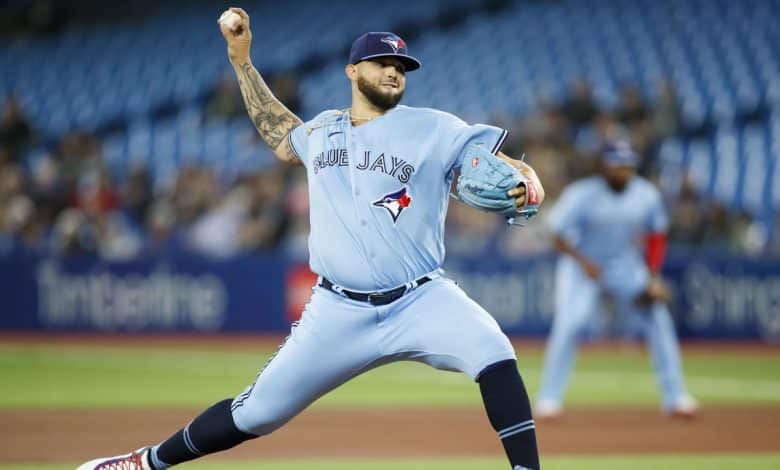 While pitchers and receivers got their start in spring training camp, Blue Jays pitcher Alek Manoah is working hard for the next season.
The Cy Young Trophy finalist in the American is "on a mission" to help the Blue Jays win their first World Series since 1993.
It must be said that the main interested party had a long time to digest the setback he suffered at the hands of the Seattle Mariners in the last playoffs.
He did, however, put his "finger on the sore" when it came to what earned him the Game 1 loss to Seattle.
"I've led the pitchers for hit hitters the last two years. I started the meeting by reaching Julio (Rodriguez) and another time thereafter. He came to score two out of four points. In the playoffs, you can't afford this kind of situation. You have to be more focus ", he explained to Scott Mitchell of TSN.
While Manoah's response portends mature greatness, he must continue to work on several aspects of his role to allow his team to achieve greater honours.
"I was in a one-ball, two-strike count before I hit Julio (Rodriguez). I immediately thought to myself that I had to make sure that I withdrew it rather than focusing on the fine details of my motion. I was already thinking about the reaction of the crowd, the excitement of having succeeded rather than thinking about the present moment. It would have changed things completely, "he imagines.
Can he still aspire to be a Cy Young Trophy finalist in 2023? Can he win it?
One thing is certain, Manoah will be an important part of the formation if he executes the small details as he intends to do.
Carlos Beltran is back in the Mets environment.
Tomorrow, Jacob deGrom will be on a mound.
Albert Pujols is fine in Anaheim.
Miguel Andujar wants to find his way back to the Majors.
The former Blue Jays prospect is feeling good.