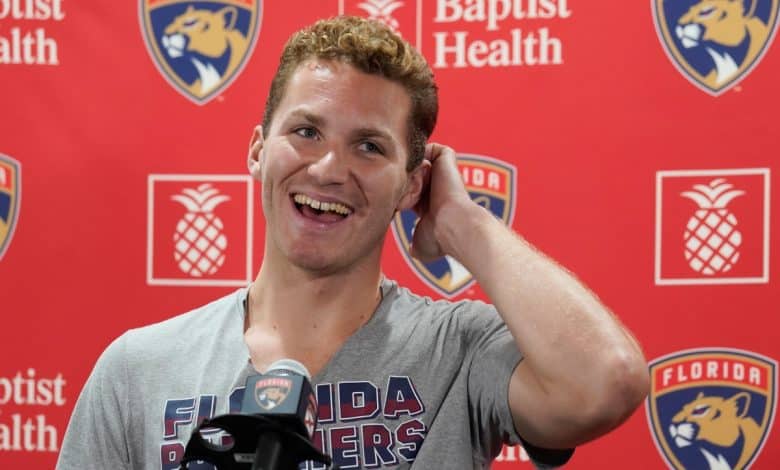 CORAL SPRINGS, Fla. — Aleksander Barkov was sound asleep at his home in Finland when the mega-deal for the Florida Panthers to get Matthew Tkachuk was made official, which is no wonder since it was around 4 a.m. in that region of the world at that time.
He woke up and read the many text messages from his friends reacting to the transaction.
And it didn't take too long before he got a message from Tkachuk.
"The first message was 'f****** right,' and he said he was looking forward to being in Florida," Panthers captain Barkov said during media day on Wednesday. "Let's take another step, and be a winning team for many years to come." He's that kind of guy. He wants to win. He wants to bring that kind of attitude to our organization. And I think it's already influencing her."
Just with that, Barkov was reassured.
And after a few weeks of getting back into shape, the Panthers will finally get their first glimpse of the player they acquired on Thursday, as a camp curtain raiser – the first under new head coach Paul Maurice.
"Everyone has been here for a few weeks already," admitted Tkachuk. I started my training camp a few weeks ago. So it's not very different from my daily life of the last few days. I was able to meet everyone… so it's time for serious things to begin. I'm tired of training and preparing. I want to play games. It's the same for everyone."
Maurice was hired this summer, inheriting a team that won the Presidents' Trophy last season before being held back in the second round of the playoffs. It was the first time the Panthers had made it past the first round since making the Stanley Cup Finals in 1996.
And he's as excited as his players are for his first formal training, calling it "our first Christmas together¸".
As part of the July 22 deal, Tkachuk, 24, agreed to an eight-season, $76 million deal. This transaction, however, cost the Panthers much more; they also had to let go of forward Jonathan Huberdeau, the franchise's all-time leading scorer, and defenseman MacKenzie Weegar. In return, the Calgary Flames traded a left winger who set career highs last season with 42 goals and 62 assists.
"I wish 'Huby' and 'Weegs the best of luck,'" Barkov noted. They're nice guys. We all loved them. We can't fault them. It happens, it's obvious, because it was in the best interest of the team and the organization. We turn the page, and we prepare for a new season."
The Panthers will start their camp with 56 players – 31 forwards, 19 defensemen and six goaltenders. This group includes brothers Eric and Marc Staal. Marc Staal joined the Panthers as a free agent in July, while Eric Staal has accepted a pro tryout.