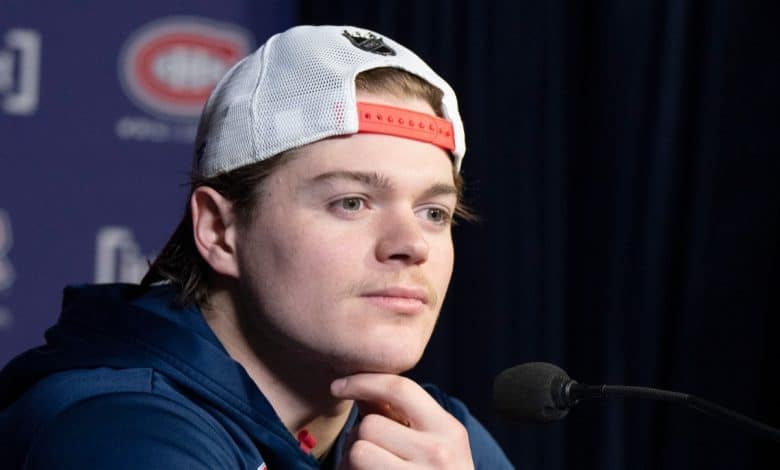 If it were up to him, Cole Caufield would still be playing. His season would not be over. And he would still practice on the ice alongside teammates he already misses.
But for his own good, it was better to stop everything right away. And hide his sticks. Just in case…
"They did it for real. With my skates too," laughed the Canadian sniper on Friday, as he answered questions from journalists for the first time since the club announced last Saturday that an operation on his right shoulder put an end to his campaign.
"If we were in the hunt for the playoffs, there's no doubt in my mind that I would still be playing. It wasn't up to me to decide to stop playing, but under the circumstances, I think it's the best long-term decision. It's hard to come to the conclusion that it's for the best, but for the long haul, it was the right thing to do. "
Caufield, who will undergo surgery Wednesday in Vail, Colo., revealed his first injury Dec. 23 when he fell during a game against the Stars in Dallas. He says he then suffered a dislocated shoulder, but after "putting it back in place", he felt he was still able to play and was not worried about the severity of his injury.
"It wasn't that bad," he said.
But another crash during a game, this time in Nashville against the Predators on Jan. 3, prompted the team to undergo further testing that revealed the risks the star player was exposed to by continuing to play.
"The risk factor is hard to accept, but I didn't want to hurt myself even more and have even longer term effects. Coming to this conclusion was easy because there are people around me that I trust who assured me that this was the best option. It will be fine. "
Caufield, who obtained the opinion of three doctors, also assured that the ongoing contract negotiations between the organization and him had no impact on the decision to give up or not on the current season.
"What is most important is my health and getting back to 100%. They know the kind of player I am. We had discussions about where my game is, but for me, for them and for my agent, the important thing is the long term.
"The contract has nothing to do with me stopping playing, it's just about being healthy and 100% when I'm on the ice. "
" I'll catch up "
Without confirming the exact nature, Caufield hinted that he had suffered the same injury as his teammate Josh Anderson (a tear in the upper labrum), operated on in the spring of 2020. Caufield will also be operated on by the same surgeon, Dr. Peter Millett.
If Anderson's rehabilitation was spread over seven months at the time, Caufield limited himself to repeating that he will be back in time for the start of the next Habs season.
"If I was at the end of my career it might be different, but I want to feel 100 per cent for the future and work as hard as possible to be back as soon as possible. The important thing is that I feel good and that I am at my best for my teammates. "
Canadian fans, don't worry. Cole Caufield the natural scorer, the one who was heading for a season of 40 goals, or even 50 for the most optimistic, will be back.
"I'm going to make up for all those pucks that won't be thrown. "