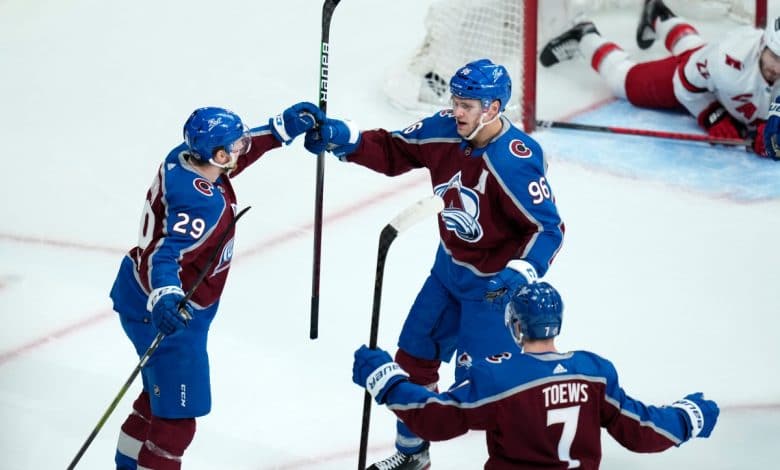 Nathan MacKinnon and JT Compher scored braces in the Colorado Avalanche's 7-4 win over the Carolina Hurricanes. Injured, Frederik Andersen left the match at the end of 3rd.
With this victory, the Avalanche secures first place in the Western Conference. The team sits atop the NHL standings with 116 points, two points away from tying the organization's record. The record was set by the 2000-2001 edition which then won the Stanley Cup.
The Avalanche dominated the game from start to finish, taking a 4-0 lead early in the second period. In his first game on the Bettman circuit, Ben Meyers scored his first career goal to make it 4-0 in favor of Colorado.
The Hurricanes showed signs of life through their captain Jordan Staal. The veteran hit the target twice midway through the second period to cut the lead in half. Staal, however, was unable to finish the game after being hit hard by Cale Makar.
Alex Newhook and Sebastian Aho added two goals before the end of the second period.
The Avalanche gave the Hurricanes no time to get back into the game in the final period, as Mikko Rantanen gave the Avalanche a three-goal lead with his 36th.
The Canes aren't one of the best teams in the NHL for nothing. On a power play, Andrei Svechnikov found the back of the net for the 30th time this season.
MacKinnon came to put a stop to this comeback for Carolina by scoring the Avalanche's seventh goal in this game, which could have serious consequences for the Hurricanes.
Frederik Andersen had a bad fall in his semi-circle and was unable to stay in the encounter. The loss of the Danish goalkeeper could be catastrophic for the Canes in view of the playoffs.