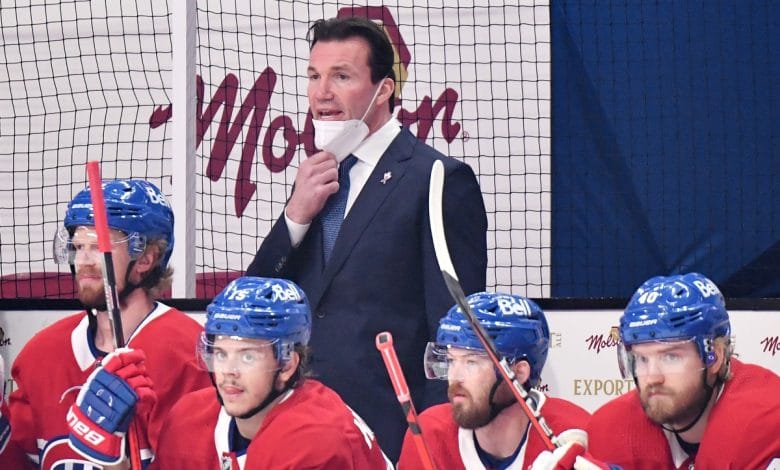 The Montreal Canadiens are still mired in a miserable streak that seems endless, and questions are mounting about the level of player commitment. Assistant coach Luke Richardson assures that this is not the case.
"The players are frustrated with the situation we are in, as are we coaches. But "Dom" (Ducharme) is a fair coach, and all his assistants have a good relationship with everyone in the team. That's not what I see (discouragement). We are trying to establish an environment conducive to learning, emphasizing what is lacking, so that we can win the next game, and so on, "Richardson first mentioned by videoconference. Wednesday.
"There is no sign of discouragement; I believe there are signs of mutual respect. It is only the frustration that is expressed. We have to find our rhythm, get one win, then another and ride that wave. Eventually, all this will disappear, "added the coach responsible for CH defenders.
Defender Chris Wideman is one of those who cannot afford to ease off this season. Wideman's one-season, US$750,000 deal will expire at the end of this campaign, and the American is well aware that if he doesn't perform then he could find himself on the path to shoulder.
"We cannot wait for next season, for many reasons. Me, for example, I fight to keep my place. If I don't play well by the end of the season, then I might have to pay to play hockey next year in a garage league. This is my approach to the current situation. Every guy has their motives for continuing, but in the end it always comes down to personal pride. (…) This is our job, and this is all we have," explained the 32-year-old player.
Which brings us to the case of veteran Jeff Petry, downright unrecognizable this season. His name has been circulating regularly in transaction rumors involving the Canadian for a few weeks. Richardson assures that the 34-year-old American is still as devoted to the Bleu-blanc-rouge.
"Jeff is in a slump right now, like most players on our team. But he was on the ice very early this morning, working on his shooting lines – in short, on what has made him so good in recent seasons. It's a good sign, in my opinion," said Richardson.
The former NHL defenseman, now 52, ​​said he had talked to Petry and the other team defensemen to bring them back to base.
"Jeff is a mainstay in our defense, and I know he's not happy with the state of his game. Sometimes in situations like this, you try to do too much. Sometimes the best way to deal with this situation is to simplify your game, not run around the rink, do your job and expect others to do the same. What will help Jeff, and all the other defensemen, is that they communicate more on the ice. Especially when things are going badly and you're in trouble," Richardson said.
The absence of Shea Weber and that of veteran Joel Edmundson, who was Petry's partner on the blue line last year, also played a role in his troubles, according to Richardson.
"Jeff had a very good season last year, in terms of play and statistics. He had a more consistent playing partner in Joel Edmundson – a big guy, very strong, focused on physical play and defense – who communicated a lot on the ice. We obviously miss him, as does Shea. They stabilized the defense, communicated a lot and played very physical against the opposition, which allowed the other guys to do what they had to do, "continued the coach.
However, Petry still seems to be a very respected player in the CH locker room, according to Wideman.
"It's the same guy (as last year). I'm not very close to him, but I was inspired a lot by his game when I was in the university ranks. He works tirelessly, even if sometimes the results are difficult to obtain. I believe in him a lot, I respect him a lot and I like him as a teammate. Things will eventually go back to normal. It's not the end of the world; he's a great player."
Wideman also concluded by assuring that Petry was still very involved with the group.