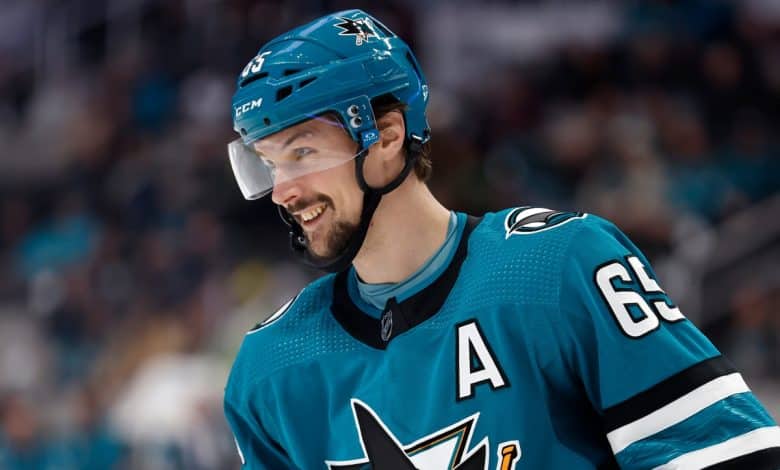 Kyle Dubas has made his first big move as general manager of the Penguins.
Pittsburgh has acquired defenseman Erik Karlsson from the San Jose Sharks in a three-team trade involving the Canadiens.
TRADE ALERT 🚨#SJSharks have acquired Mikael Granlund, Mike Hoffman, Jan Rutta, and a 2024 Draft selection from Pittsburgh, in exchange for Erik Karlsson, Dillon Hamaliuk, and our 2026 third-round selection.

—San Jose Sharks (@SanJoseSharks)
August 6, 2023
San Jose also retains 13% ($1.5 million) of Karlsson's $11.5 million contract. This means that Karlsson will account for $ 10 million on the payroll of the Pens for the next four campaigns.
Forward Dillon Hamaliuk and a 2026 third-round pick are heading to Pittsburgh, as is forward Rem Pitlick.
In the end, the Penguins sent the Sharks Mikael Granlund, Jan Rutta and a 2025 first-round pick (top-10 protected). Pittsburgh also sends Jeff Petry, Casey DeSmith, Nathan Légaré and a second-round pick to the Montreal Canadiens.
"Although it's always difficult to trade a player of the caliber of Erik Karlsson, this transaction is good for us," said Sharks GM Mike Grier. "She adds to our roster two forwards who are capable of producing in the NHL, and solidifies our defensive group. Also, getting another first-round player allows us to improve our development system, in addition to giving us financial flexibility to acquire other players in the future. "
"We would like to thank Erik for his contribution to San Jose over the past four years and congratulate him on an outstanding 2022-23 season. "
Drafted by the Ottawa Senators in 2008, Karlsson is a 920-game veteran of the Bettman League, and he had 178 goals and 761 points with the Senators and Sharks. A Norris Trophy recipient in 2022, Karlsson recorded 101 points last season with the Sharks. He became the first defenseman to score more than 100 points in a season since Brian Leetch with the New York Rangers in the 1991-92 season.
As for Mikael Granlund, it is therefore a short stint with the Penguins, he who had been acquired at the trade deadline of the Nashville Predators. The Finn had 41 points in 79 games last season, but only five points in 21 games after joining Pittsburgh.
Granlund, who has 750 games behind the tie, will receive an annual salary of $5 million for the next two seasons. The 31-year-old also played for the Minnesota Wild in his first seven seasons on the Bettman circuit. He has 145 goals and 339 assists for a total of 484 points.
Rutta's experience in Pittsburgh was limited to 56 games. In his first and only season with the Penguins, the 33-year-old defenseman had three goals and six assists. Never drafted into the NHL, he also played for the Chicago Blackhawks and the Tampa Bay Lightning. Rutta will receive $ 2.75 million for two more seasons, so until 2025.
Hamaliuk was limited to six games last season, all in the ECHL with the Wichita Thunder.