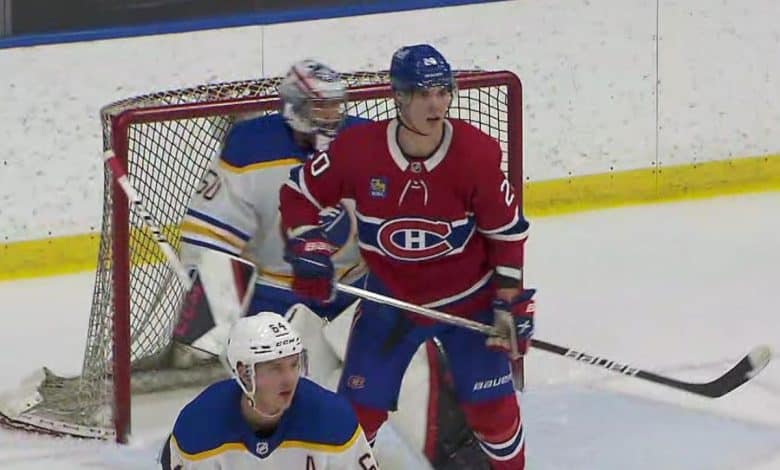 BUFFALO – We thought we'd tell you about goaltender Joe Vrbetic's performance in the Canadiens' first game of the rookie tournament, but a certain Juraj Slafkovsky caught the attention of fans, scouts, managers and journalists.
Of course, it's a joke because all eyes were on Slafkovsky who was promising himself for this first match and he started his evening with a bang. The first choice in the 2022 draft has amazed many with his speed, but above all the conviction he displays when he goes at high speed to create attack.
From his first appearances, he got involved everywhere on the rink. He made good defensive withdrawals, he attacked the center of the offensive zone, he collected pucks along the boards. In short, he seemed in a class of his own in the face of this opposition.
A game just proved it. While shorthanded, he raced down the rink in fascinating fashion to get to the puck before his opponent. And, in such an easy way, he spotted his buddy Filip Mesar in front of the net who concluded the sequence with a very nice fake.
At that time, the Canadians were leading 2-0, but the Sabers' hopes turned things around by taking advantage of a few Habs blunders and a few deflected shots to win 4-3.
Slafkovsky was involved in a confusion with Justin Barron on the power play and this turnover led to the fourth goal for the host team.
This is one of the reasons why Slafkovsky was not satisfied with his performance.
"Not really, the first part is always a bit difficult. I made some reversals and mistakes, "he reacted immediately.
"I wouldn't say I did anything wrong. It's rather that it was the first match and we have to get back into the swing of things. I know myself, when I play more, I'm better," added the Slovak, admitting he dared too much on a few games.
Overall, coach Jean-François Houle had a more positive analysis than his young protege.
"He's a good skater, he played a very good game on second base. Sometimes it's normal, he tries to do a little too much. But it will come with time and he is trying to demonstrate what he can do," Houle put it into perspective.
"One of his strengths is that he can go for the puck without any fear. He has to go to the trying places and it will be difficult for the opponents to counter him. It's a good thing that he is on our side, "he continued.
Like everyone present at the game, the players sitting on the bench were sometimes absorbed in the temptation to watch it.
"Oh yes and I think he still has a lot more to show. He's a very good player and he's fun to watch," said Emil Heineman.
Heineman, Beck, Trudeau, Harris and Simoneau won points
Among the other players who have won points, we must first mention Heineman. In addition to scoring with a superb shot in the top of the net, he threatened a few times and launched Owen Beck on a breakaway for Montreal's third goal.
Emil Heineman opens the scoring in Buffalo!
"It was my eighth game since I played in Sweden before coming here and it helped me a lot. It's a smaller rink, but it was useful," Heineman explained.
"I liked his speed and he has a very good shot. He was one of the good players in this game. He stood out," agreed Houle.
The only snag in his case is that there is still doubt about where he will play this year. A return to Sweden is not impossible.
"We continue to talk about it and we will come to a decision," said Heineman, who is always cautious when talking about this file.
Heineman stood out thanks to Beck who lived up to his reputation as a crafty, hard-working player.
"He is a very intelligent and responsible player. He won both face-offs at the end and he showed great speed on the goal on the breakaway," noted Houle of the second-round choice of CH this summer.
The chemistry between him and Heineman was evident.
Without being such a big name, defenseman William Trudeau seized the opportunity to stand out. He managed his offensive involvement well and he managed to counter several Sabers plays thanks to his positioning.
"Personally, I think I played a good game. I was active on the ice and I had good raises. It's flat to lose, but we made a great effort, "commented Trudeau.
"He created more attack than I would have thought. He did very well, I liked his game," Houle boasted.
As for other defenders, Jordan Harris has been more solid than Justin Barron and Mattias Norlinder. Coming back from injury, Barron has been faltering on more than one streak. As for Norlinder, he played well from the moment he got more involved in the action and he will have to get rid of his tendency to fade from the game one day.
Speaking of defensemen, Houle wasn't sure he could bank on Kaiden Guhle in Game 2 on Friday. Everything will depend on the morning training.
Let's finish with the name of Xavier Simoneau who, despite his small size, caused a lot of trouble for his opponents and he won several confrontations.
Slafkovsky showed what he can do
Owen Beck escapes and closes the gap