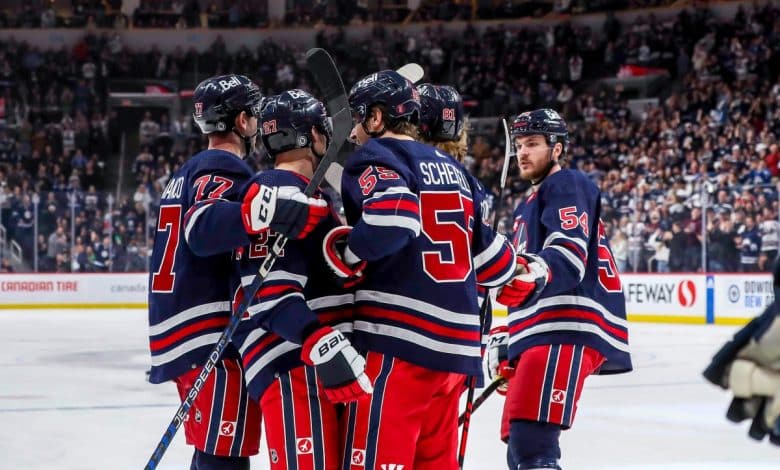 Josh Morrissey and Mark Scheifele each scored twice in the third period and the Winnipeg Jets came from behind to defeat the St Louis Blues 4-2 on Monday in the only game in the NHL between two clubs that were thirsty for victory.
The Jets (32-19-1) snapped a three-game losing streak and will enter the All-Star Game break in second place in the Central Division.
The Blues (23-25-3), on the other hand, suffered a fifth consecutive defeat and are sixth in the division.
It was also a game charged with emotions, after the death of a great in the history of the Jets, Bobby Hull. The organization paid tribute to the late Hall of Famer ahead of the game.
Hull amassed 303 goals and 335 assists in 411 games while the Jets played in the World Hockey Association between 1972 and 1979.
The Winnipeg Jets have been struggling to find the back of the net lately and it continued today as they were particularly frustrated with some great saves from Jordan Binnington. The goaltender also stood out in recovery by providing an assist on Jake Neighbours' goal, his fourth of the season. On the power play, Binnington returned the puck to Torey Krug, who handed it to Neighbors to break away from Connor Hellebuyck when he came off the bench and beat him on the backhand.
Nikita Alexandrov doubled the lead at 2:02 of the third period.
Only 40 seconds later, however, Josh Morrissey finally got the Jets on the board by solving the Binnington mystery on his squad's 34th pitch.
Halfway through, Mark Scheifele hit the 30-goal mark this season and Morrissey came back on the charge in 21 seconds to put the Jets ahead for the first time in the game. Scheifele put the finishing touch in an empty net with his 31st.
Hellebuyck held the fort until the last sound of the siren with 24 saves in the victory.