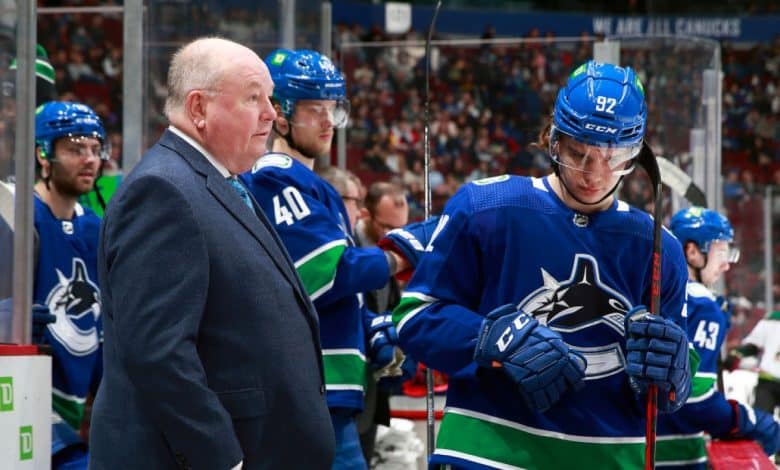 An emotional Bruce Boudreau politely ended his Friday media availability, after being asked what leading an NHL team means to him.
Rumors emanating from Vancouver continue to point to Boudreau's impending dismissal.
"I'll talk later," said Boudreau before stepping away from the podium.
The Canucks coach's future has been in question for weeks now, and President Jim Rutherford's revelations on Monday did nothing to help his fate.
Rutherford admitted that the organization discussed Boudreau's position with various hockey men.
Speculation shifted into high gear Friday when Boudreau sat out morning practice ahead of games against the Colorado Avalanche and Edmonton Oilers over the next two days.
The 68-year-old coach teased the reporters somewhat, saying he had "gotten them good".
Boudreau agreed that it is impossible for him not to be aware of the circumstances surrounding his job security.
"I'd be a fool to say I don't know what's going on," he said. But like I said before, you show up to work realizing every day what a great sport it is. "
He added that the players also know what it is about.
"They know," he said, pointing to the locker room. There are a lot of members of the media here. There's my wife who calls me, asking me: 'You're not on the ice? Is everything okay?' You make sure the news gets around. It's hard to ignore it, but I love what I do. That's how I manage to leave those things aside; my love of hockey and my total commitment to my players. "
Boudreau is in his second campaign at the helm of the Canucks. He came on in December 2021, replacing Travis Green in a major reshuffle that also saw general manager Jim Benning lose his job.
After starting the 2021-22 season with an 8-15-2 record, Vancouver followed that up with a 32-15-10 record under Boudreau, still missing the playoffs by five points.
However, the excellent performance of the Canucks under his command earned him a one-year contract extension last May.
The name most often associated with the Canucks has been former Arizona Coyotes driver Rick Tocchet, who recently terminated his deal with the American network. DTTfor which he worked as an analyst.
TSN insider Chris Johnston touched on the strong possibility of Tocchet ending up in Vancouver on Thursday night at Insider Trading.
"It now appears to be a 'when' rather than 'if' quality for Rick Tocchet to succeed Bruce Boudreau as coach of the Canucks," he said.
Ranked 27th overall in the NHL, the Canucks are 18-23-3, three games after reaching the halfway point of their schedule.
Tocchet, who played 18 seasons as a Bettman player with Philadelphia, Pittsburgh, Los Angeles, Boston, Washington and Arizona, compiled a 125-131-34 record during his time with the Coyotes.