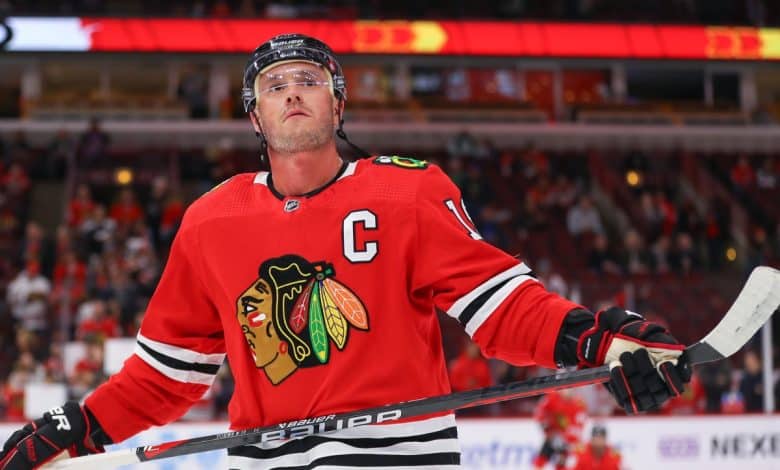 CHICAGO — The Chicago Blackhawks said Thursday morning they won't be making a new contract offer to captain Jonathan Toews, confirming the end of a chapter in Illinois franchise history.
"I spoke with Jonathan several times during the season about his future with the Blackhawks, and recently we made the difficult decision not to present him with a new contract offer during the summer season," the manager said. Hawks general Kyle Davidson in a statement.
"He (Toews) has done so much for this organization, and no matter where he takes his career, we are happy that our fans have the chance to show one last time how much he means to them," he added. .
Tonight will be Jonathan Toews' last game as a Blackhawk❤️ pic.twitter.com/di4fTbr3g6

—Chicago Blackhawks (@NHLBlackhawks)
April 13, 2023
Toews, who will become an unrestricted free agent at the end of the season, will put on the Hawks uniform for the last time Thursday night, during a game against the Philadelphia Flyers.
The 34-year-old has so far scored 371 goals and 511 assists in 1,066 career NHL games, all with the Blackhawks. He also won three Stanley Cups with them, in 2010, 2013 and 2015.
He won the Conn-Smythe Trophy, awarded to the playoff MVP, in 2010, when the Hawks ended a 49-year drought. He also won the Frank-J.-Selke trophy, awarded to the best defensive forward, in 2013, as well as the Mark-Messier award, awarded to the player who demonstrated the most leadership, in 2015.
Toews, who is currently in the final year of an eight-year, US$84 million contract with the club, has however been plagued by numerous health issues in recent years, which has slowed him down considerably.
This season, Toews has scored 14 goals and 16 assists in 52 games. He had to be absent due to long COVID and chronic immune response syndrome from January 28 to April 1. This syndrome also forced him to miss the entire 2020-21 season.
The Franco-Manitoban was selected by the Hawks third overall in the 2006 NHL Draft. They made him their captain when Toews was only 20 years old.
His departure, combined with that of star player Patrick Kane at the March 3 NHL trade deadline, means the end of an era for the Hawks.
"I don't really have an answer right now," Toews said Monday when asked about his future. I'm just trying to enjoy the last few days of the season with this group. "
The Blackhawks have been in all sorts of trouble over the past few seasons, missing the playoffs in five of the last six seasons. Going into Thursday's games, they're 30th in the league with 58 points.