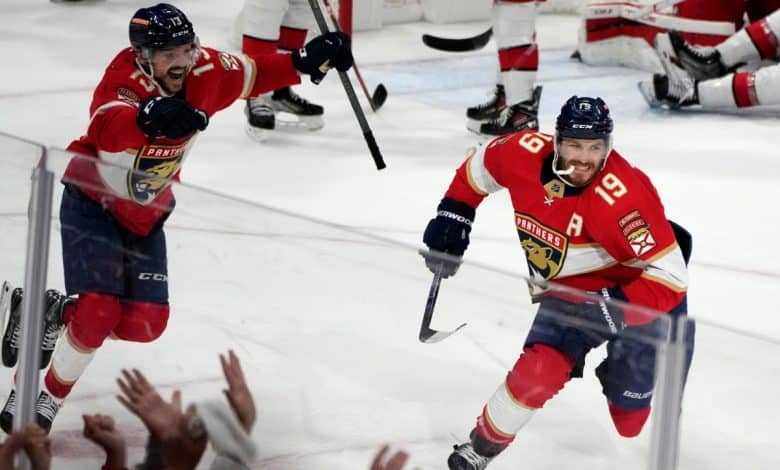 Three game-winning goals in four Association final matches. Before Wednesday night, only one other player had accomplished that feat in NHL history. Matthew Tkachuk can now boast of sharing that mark with Dustin Byfuglien.
Mike Bossy (4 game-winning goals in six games in 1982-83 and three in six in 1983-84), Jeff Friesen (3-for-7 in 2002-03) and Sidney Crosby (3-for-7 in 2015-16) also played big roles in pushing their team to the Grand Final with three game-winning goals (or more in Bossy's case!), but all three men accomplished it as the streak stretched beyond the sweep.
Of the lot, only Bossy in 1983-84 did not take top honors in the next round. The Islanders' four-time Stanley Cup push being halted by a certain player wearing number 99.
While the names associated with Tkachuk on this list are some of hockey's greatest, Anthony Duclair poured in the praise for his teammate following the Panthers' win on Wednesday night.
"He's a big player and he makes big plays at the right times. Honestly, he's an amazing player. These are legendary games he makes. It's our leader since game number 1. His strength, his leadership, just the way he stands at each of his appearances and he wins his battles. Hats off to him and everyone else too, "said Duclair.
And it's not just Duclair who's impressed with Tkachuk's exploits. These teammates are certainly impressed, but not surprised, as his involvement on the ice and his ability to get up in the big moments have become second nature to him.
"I'm not even surprised [de voir Matthew Tkachuk inscrire le but de la victoire], he does everything, hinted Aaron Ekblad after the meeting. He works hard on the forecheck, he makes the right plays defensively, he's willing to do the little things, block shots and he scores big goals. I take my hat off to him, to him, to Bob, to Barky, all the players in the lineup are working hard, but there are still some ahead of us. "
"It's incredible, we showed our resilience," explained goaltender Sergei Bobrovsky, himself a major story in this series against the Hurricanes. It's a huge goal, we're lucky to have chucky. He's been good all season and in the playoffs he knows how to score big goals, we're lucky to have him. "
Meanwhile, captain Aleksander Barkov praised Tkachuk's impact off the ice upon his arrival with the Panthers.
"He's amazing," Barkov said, laughing, a little uncomfortable answering the question next to his friend. He arrived and from his first message, it is as if he had been with us for 10 years. He's an incredible addition to the team. Everyone sees what he brings on the ice, but what he brings outside the ice is incredible," added the man who became the first Finnish captain to lead his team to the final. Stanley Cup in NHL history.
In the face of the shower of praise from his teammates and members of the media, Tkachuk wanted to redirect the attention to his team by giving credit for the winning goal to his teammates.
"I gave the puck to Reinho and he fired a pitch that hit the shoulder and then Barky made a nice feint to freeze everyone for a moment and give me an opportunity. It's real teamwork. It was easy for me to complete thanks to their work, "assessed the hero of the hour.
Even in the Hurricanes locker room, respect for Tkachuk was on a few lips, including that of captain and unfortunate late-game penalty taker Jordan Staal.
"He was very good. We see that he can score goals and make our mistakes pay. He stays near the net longer than some and he reads the game well. He also has good hands to complete the job, "noted the one whose third minor penalty during the playoff run of his team will have been one too many.