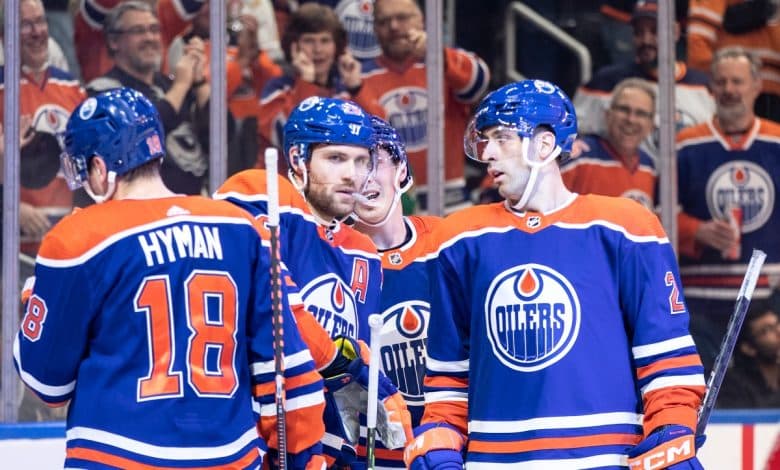 Leon Draisaitl scored a hat trick to reach 50 goals and help the Edmonton Oilers qualify for the playoffs with a 6-0 win over the Anaheim Ducks.
The German reaches the 50-goal mark for the third time in his career. He completed his hat trick late in the third period with a perfect wrist shot to get the crowd going in Edmonton. His three goals give him 120 points, continuing to improve his personal mark.
Draisaitl became the first player in Oilers history, and fifth in NHL history, to score 30 power-play goals in a single season. The record of 34 belongs to Tim Kerr.
Zach Hyman and Connor McDavid got their hands dirty, each adding a goal and an assist. Mattias Ekholm has been instrumental in two goals for his team and Darnell Nurse has scored a fourth goal in his last eight games.
Getting a rare start in front of the Oilers goal, Jack Campbell was smoking hot and made 35 saves to earn his first-ever shutout with the Oilers. John Gibson was kicked out of the game after allowing five goals on 36 shots.
The Oilers are two points behind the Vegas Golden Knights and first in the Pacific Division.
Rantanen puts Avalanche ahead of Stars
Mikko Rantanen had a goal and three assists for the Colorado Avalanche in a 5-2 win over the Dallas Stars.
Nathan MacKinnon scored two goals and Alexandar Georgiev made 26 saves for the Avalanche (45-24-6), which have won four of its last five games. With this victory, the Avalanche now have 96 points this season, the same number as the Stars. Colorado, however, has a game in hand.
Tyler Seguin and Joe Pavelski each scored, and Jason Robertson had two assists for the Stars (41-21-14), who had won back-to-back games. Jake Oettinger made 27 saves in his second start in as many nights after a 5-2 win over the Arizona Coyotes on Friday.
Valeri Nichushkin scored in an empty net to make it 4-1 at 16:55 of the third period, but Pavelski deflected a Jason Robertson point shot on the power play to bring the Stars back to two gap goals. Rantanen, however, made his victory a reality by adding another goal in an empty cage. Logan O'Connor was the Avalanche's other scorer.
The Avalanche are now just one point behind the Minnesota Wild and first in the Central Division with a game in hand on the Wild.
The Knights maintain their lead
Laurent Brossoit made 29 saves for the Vegas Golden Knights, who maintained their Pacific Division lead with a 4-1 win over the Minnesota Wild at T-Mobile Arena.
Chandler Stephenson had a goal and an assist and Jack Eichel had two assists for Vegas (47-22-7), ending a short two-game losing streak.
Matt Boldy scored his 10th goal in his last seven games and Marc-André Fleury made 39 saves for the Wild (44-23-9), which had won three straight. Dean Evason's men had also collected at least one point in their last six outings.
Ben Hutton, Zach Whitecloud and Chandler Stephenson, in an empty net, found the back of the net for the Knights. Vegas completely outshot the Wild 21-4 in the final period.
Fiala celebrates his comeback with 2 points
Kevin Fiala had a goal and an assist on his return from injury to help the Los Angeles Kings defeat the Seattle Kraken 3-1.
Fiala, who leads Los Angeles with 72 points (23 goals, 49 assists) this season, was back after forfeiting the Kings' 2-0 loss to the Edmonton Oilers on Thursday. The Swiss also missed six games between March 9 and March 26 with a lower-body injury.
Pheonix Copley made 25 saves and Alex Iafallo had two assists for the Kings (44-22-10), who had lost two straight after a 12-game point streak (10-0-2).
Oliver Bjorkstrand scored and Martin Jones made 16 saves for the Kraken (41-26-8), who have been unable to pick up back-to-back wins in their last eight games.
Sean Durzi and Carl Grundstrom beat Jones in that duel, while Fiala completed the scoring in an empty net late in the third period.
Hat trick for Gregor; Karlsson is approaching 100 points
Noah Gregor scored his first NHL hat trick, and Kyle Criscuolo and Danil Gushchin each scored their first NHL goals for the San Jose Sharks in a 7-2 win over the Arizona Coyotes at Mullett arena.
Erik Karlsson was sensational in the win with four assists. The defender now has 95 points this season, while the Sharks still have six games to play before the conclusion of their campaign.
Logan Couture had a goal and an assist and Nico Sturm had two assists for the Sharks (22-39-15), who won three in a row for the first time since a streak between Nov. 11-15. Kaapo Kahkonen made 29 saves to sign his first victory since February 12 (0-8-2).
Milos Kelemen also scored his first NHL goal and Ivan Prosvetov made 24 saves in his first loss in four starts this season.
The Coyotes (27-37-13) are 0-5-2 in their last seven outings after an eight-game point streak. Clayton Keller saw his 14-game point streak (11 goals, 12 assists) come to an end against the Sharks.