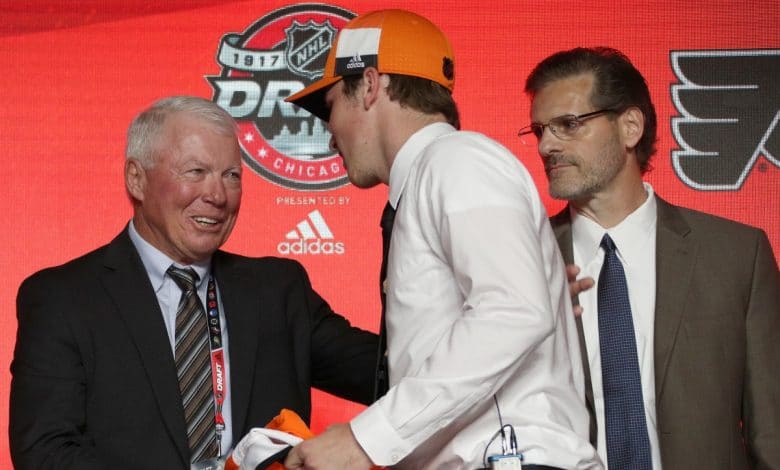 If the Philadelphia Flyers are getting so many, it's because of the many mistakes made by former general manager Ron Hextall, says organization legend Bobby Clarke.
This is what the latter said in an interview to the podcast. Cam and Strick podcast, hosted by former NHL player Cam Janssen and journalist Andy Strickland.
Clarke blames Hextall for making several crucial decisions for the future of the club without even consulting his colleagues, including the decision to draft striker Nolan Patrick in the 2e rank in 2017.
"He alienated everyone from the start. He closed the doors and locked them… He was the boss. No one else was involved in the process. We had the second choice in total and we ended up picking up Nolan Patrick. None of our scouts wanted Nolan Patrick. I don't know where Patrick should have ended up after his performances at Brandon. He's a very good player, but they wanted [Cale] Makar, who of course was drafted right after. He's a superstar now, while Patrick doesn't have big stats. Hextall made this decision on his own, "said Hextall, who at the time served as senior vice-president for the Flyers.
Bobby Clarke "None of our scouts wanted Nolan Patrick" also says Philly could've had Ryan O'Reilly. Full episode avail now. Have@CamandStrickHave #LetsGoFlyers pic.twitter.com/PYA6LFa7wW

– Andy Strickland (@andystrickland) January 11, 2022
After three modest seasons with the Flyers, Patrick was traded to the Vegas Golden Knights in a three-team trade last July. Since making his debut on the Bettman Tour, Patrick has a record of 31 goals and 42 assists in 206 games.
"And he made other picks in our draft that we are paying the price for," added Clarke, who is now a senior consultant with the Flyers. We have two or three first-round picks that will never play. That's why we're in trouble, Hexy made big mistakes. "
Clarke, among other things, still struggles with Hextall's decision to trade Brayden Schenn to the St. Louis Blues in the 2017 draft for forward Jori Lehtera, a 2017 first-round selection (Morgan Frost) and a conditional choice in 2018.
"It's also worse. Nobody knew it, he did it alone. Our scouts were in the draft and they were so angry that Hexy did that. We also had the chance to get [Ryan] O'Reilly [des Sabres] from Buffalo and we didn't. It was obviously a decision that fell to the director general, but it is another for which the scouts were not consulted."
The Flyers, who have missed the playoffs three times in the past five seasons, fired Hextall in November 2018 after four and a half years of service. He has since been named general manager of the Pittsburgh Penguins in February 2021.
Currently 24th overall, the Flyers fired head coach Alain Vigneault and his assistant Michel Therrien at the beginning of last December.