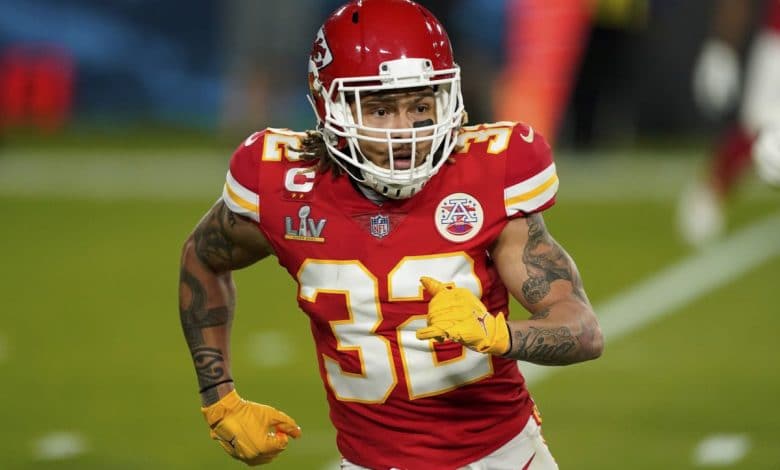 Before the free agency, DNA of Sports offers you its traditional Top 5 free agents which will be available at each position on March 16. We continue here with the back lines.
There's something for everyone this season. The abundance of good will reassure the franchises for this cuvée. Regardless of the profile sought, it should be with the free agents. It remains to be seen whether they will want to pay the price. However, we note a clear domination of quality safety for this 2022 version of the transfer market.
Generals from the bottom of the field have great qualities to display and three of them are in this Top 5. Cornerbacks are not forgotten with two representatives of this position. The first place is even occupied by one of them. One of the best players available in March, all positions combined.
1 – JC Jackson – 26 years old – Cornerback
2021 stats (17 games played): 8 interceptions, 1 TD, 23 passes defended, 58 tackles and 1 forced fumble.
And if it was the best player of this vintage to change team? The players who could have been considered better than him (although in different positions) such as Davante Adams or Chris Godwin for example, have all been tagged or retained by their original franchise. In the case of JC Jackson, the Patriots have so far not flinched. Sign that the future of cornerback is far from New England? Certainly.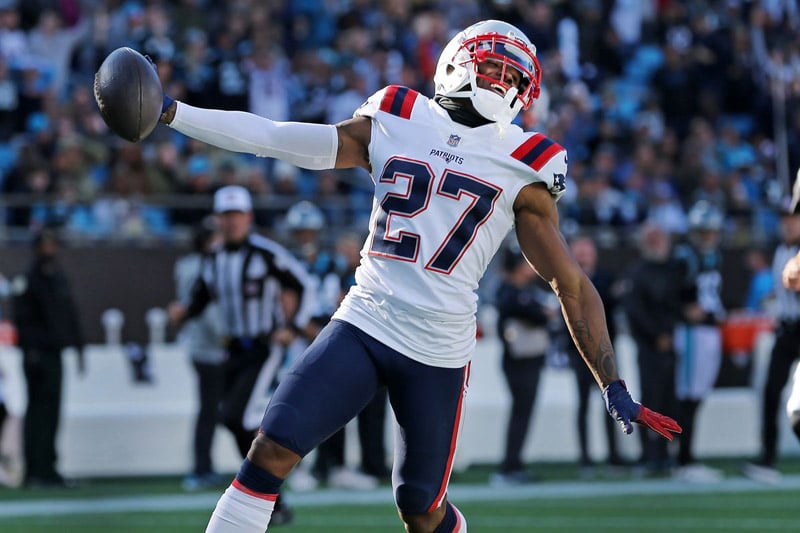 It must be said that its price is likely to be very high. Given the new salary cap and especially his qualities, the defender can probably claim a salary between 18 and 20 million dollars per season. For him, the goal is to be around what Jalen Ramsey is currently earning. He could also become the highest paid cornerback in the league. His ability to follow a receiver man to man, his reliability and his qualities as interceptors make him a defensive back that many teams would dream of paying for.
The ideal destination: New York Jets

After earning "only" 5.6 million since joining the league, Jackson is now looking for a huge contract. The key figures will certainly not be far from 5 years and 100 million dollars. Not sure, however, that a title contender can afford this kind of madness. It is then necessary to turn to teams with a lot of available money and big defensive gaps.
New York is the perfect candidate. The Jets could rebuild their back lines by making JC Jackson their base man. And then if they can also steal a nugget from the rivals of New England, it's even better. Whatever happens, Jackson will have plenty of suitors. The Jaguars, for example, could be one of them.
2- Tyrann Mathieu – 30 years old – Safety
2021 stats (16 games played): 3 interceptions, 1 TD, 6 passes defended, 76 tackles, 1 sack, 2 tackles for loss and 3 fumbles covered.
At just thirty years old, Tyrann Mathieu has already had a major impact on three different franchises. Whether in Arizona, Houston or the Chiefs, he has always established himself as a defense boss. But his leadership is not his only quality. Its versatility is very pleasing. It must be said that since his arrival in Kansas City in 2019, he has already played more than 600 snaps aligned as a safety in the back of the field, more than 600 aligned in the box and more than 600 positioned in the slot. Hard to beat.
Unlike JC Jackson, he has already gone through the "transfer market" box, even twice. His bank account is already well stocked and he could give priority to the sports project. Just to get a second personal ring. His contract could still be around 15 million dollars per season over 3 years. Figures similar to the one he signed three seasons ago when he arrived at the Chiefs.
The ideal destination: Kansas City Chiefs

There is no real reason for the two parties to change horizons. On the one hand, the Chiefs need their anchor in defense and should have enough money to offer him a decent contract. On the other, the Honey Bager is performing in Kansas City and knows he has as much of a chance of winning a championship here as anywhere else in the league.
The leaders of the 2019 champions have in any case decided to place the franchise tag on Orlando Brown. Sign that they are confident for the resignature of Mathieu? Or that they abandon the idea of ​​keeping the player?
3 – Marcus Williams – 26 years old – Safety
2021 stats (16 games played): 2 interceptions, 8 passes defended, 74 tackles and 1 forced fumble.
Many remember Williams as the player who was humiliated during the "Minneapolis Miracles" against Stefon Diggs. Fortunately for him, this action is far from summing up his career in the league. Quite the contrary. Since 2017, the safety has been one of the sure values ​​​​of the defense of the Saints. Above all, it is constantly progressing. He therefore poses at 26 as a contender for a big contract which should make him one of the highest paid players in his position.
Especially since the bids could go up. Particularly comfortable in a two-safety system in depth, Marcus Williams has the ability to fit into most defensive schemes in the league. After playing under the Saints tagg franchise in 2021, he is on his way out of Louisiana. New Orleans is in a very complicated financial situation and should not have the means to keep it.
The ideal destination: Los Angeles Chargers

Who wouldn't be excited to line up the duo Marcus Williams and Derwin James? Los Angeles may have the opportunity here to field one of the best safety tandems in the league in 2022. The Chargers have huge defense needs and have the ability to pull out the checkbook. Brandon Staley would be happy to take advantage of a good player in all areas for his defense.
For its part, a departure in California could be a very good thing for Williams. Financially first, as we have said, but also sportingly with an arrival in a franchise with a young project with enormous ambitions. A bit like him.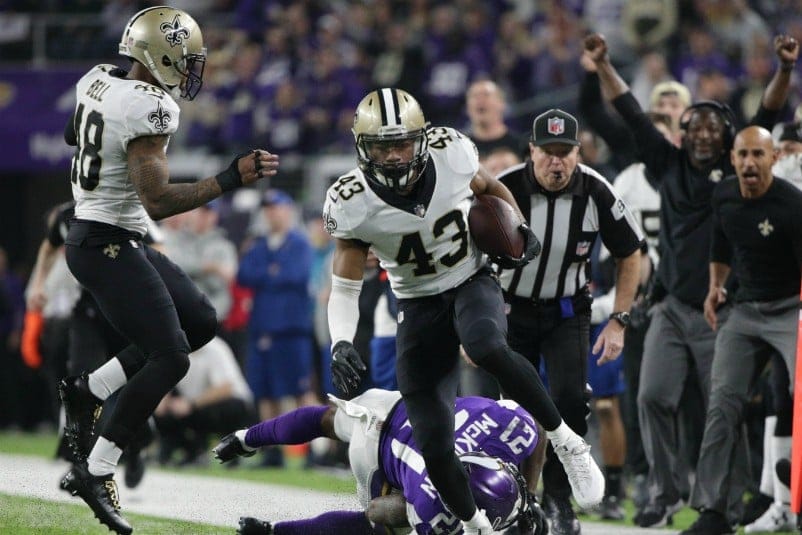 4 – Carlton Davis – 25 – Cornerback
2021 stats (10 games played): 1 interceptions, 11 passes defended, 39 tackles, 2 tackles for loss and 1 fumble covered.
Carlton Davis is one of the few cornerbacks to have made his way through all these safety to find a place in this top 5. His age was initially one of the determining factors. The Tampa defender is only 25 years old and has barely finished his rookie contract. But above all, it is her qualities that have brought her so far. Carlton Davis has a rare ability: that of being able to follow a receiver man to man all over the field. Fewer and fewer cornerbacks have this profile, which makes the Davis option attractive.
In any case, he has the build to be number 1 in his future franchise. However, you will have to pay accordingly. It's hard to imagine him signing a contract under $16 million per season. That's good, there are many franchises lacking presence at the cornerback position who will not hesitate to offer him such sums. Now it's up to him to choose.
The ideal destination: Arizona Cardinals

The Cardinals are just one of those teams lacking in quality in these cornerback positions. Arizona was very worrying in this sector last year. Moreover, Robert Alford is a free agent, the rookie, Marco Wilson, did not convince and Byron Murphy found himself in more trouble than usual.
The leaders would then be well advised to add a solid presence in this defense group. Quit paying the price. The opportunity also to catch up with the signing of Malcolm Butler last year who had retired just a few months later.
5 – Quandre Diggs – 29 years old – Safety
2021 stats (16 games played): 203 carries, 918 yards, 4.5 y/carries and 8 TDs + 28 receptions, 213 yards and 2 TDs.

In 2021, he was the Seahawks' top safety. Paradoxical when you know that in this group of players there is one who cost Seattle two first rounds. And yet, it was Quandre Diggs who came forward. Former cornerback repositioned in safety, the defender has kept his old habits. Since 2019, he has intercepted 21.6% of the passes thrown in his direction. A total of 11 balls captured which makes him the 3rd best safety in this area over the period.
Behind big names like Mathieu or Williams, that of Diggs is perhaps a little less dreamy, but the team that will sign him will recover an athletic, reliable and instinctive player. Three qualities driven to excellence that allow it to find its place in this top 5. After the trade that shook the NFL, Seattle seems to have entered a reconstruction phase. Not sure that Diggs and the Seahawks are winners in extending the adventure.
The ideal destination: Dallas Cowboys

It looks like the entire Dallas safety squad is free agent. Damontae Kazee, Jayron Kearse and Malik Hooker will notably enter the transfer market. It is therefore an understatement to say that the Cowboys have needs in this position. The problem for Jerry Jones and his executives is that the franchise is already struggling to stay within the salary cap.
The Texas team will therefore not be able to get a superstar for this position. She could therefore fall back on a player of the profile of Quandre Diggs. The defender would then join his namesake Trevon Diggs in a defensive backfield that could do some damage.
Other interesting names in cornerbacks: Stephon Gilmore (CB), Kyle Fulle (CB), Chris Harris (CB), DJ Reed (CB), Darious Williams (CB), Rasul Douglas (CB), Bryce Callahan (CB) , Casey Hayward (CB), Donte Jackson (CB), Patrick Peterson (CB), Charvarius Ward (CB), Kevin King (CB), Joe Haden (CB)…
Other interesting names in safety: Marcus Maye (S), Landon Collins (S), Devin McCourty (S), Kareem Jackson (S), Rodney McLeod (S), Keanu Neal (S), Anthony Harris (S) , Jabrill Peppers (S), Xavier Woods (S)…