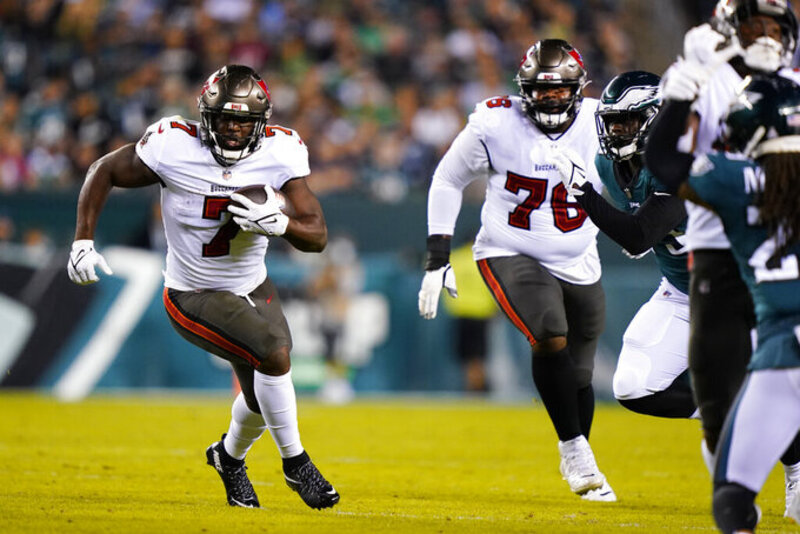 Before the free agency, DNA of Sports offers you its traditional Top 5 free agents which will be available at each position on March 16. We continue here with the runners.
As often in this position now, you will not find a player here capable of drastically changing a franchise. Over time, the position loses its value, but the very good runners are retained by their team. Leaders in need will therefore have to be smart to make THE good move on the transfer market.
Placed in the right conditions, these five players can be very good acquisitions for their buyers. It's also up to them to choose the ideal place to express themselves, because we know that the production of running backs also depends a lot on their environment.
1 – Leonard Fournette – 27 years old
2021 stats (14 games played): 180 carries, 812 yards, 4.5 yards/carries, 8 TDs + 69 receptions, 454 yards and 2 TDs.

Since joining the league in 2017, Leonard Fournette's career has been on a rollercoaster ride so far. The runner alternates between very good seasons and less productive seasons, riddled with injuries. His cut on the side of the Jaguars also remains a black spot on his CV. This departure, however, allowed him to rehabilitate with the Buccaneers and win a title. "Lombardy Lenny" was decisive in the quest for the title in 2020.
A ring on his finger now, he may be looking for a big check. Given his performance and his age, he could claim a contract of up to 8 million dollars per season. Certainly the most expensive runner during this off-season. On the ground, Fournette remains an effective runner, capable of performing well in aerial play. He could bring his background to a backfield looking for experience.
The ideal destination: Miami Dolphins

Since the beginning of his career, the runner has known two franchises (Jacksonville and Tampa Bay), but only one state (Florida). The streak could continue with a new move even further south: Miami.
The Dolphins have a lot of money to spend this year and need to find a solution at the running back position. Fournette could be the answer. Mike McDaniels would certainly be delighted to field an experienced rider alongside Tua Tagovailoa.
2- Cordarelle Patterson – 31 years old
2021 stats (16 games played): 153 carries, 618 yards, 4.0 y/carries and 6 TDs + 52 receptions, 548 yards and 5 TDs.

This is one of the big surprises of the season: the resurrection of Cordarelle Patterson. He who lugged his sentence from Minnesota to Chicago via New England and Oakland, never exceeding 627 total yards and 7 TDs in a season, has just delivered the best year of his career. 1166 total yards, 11 touchdowns and the unofficial title of best offensive player in the Falcons. In Atlanta he found a coaching staff who understood how to use him to become a true consistent offense.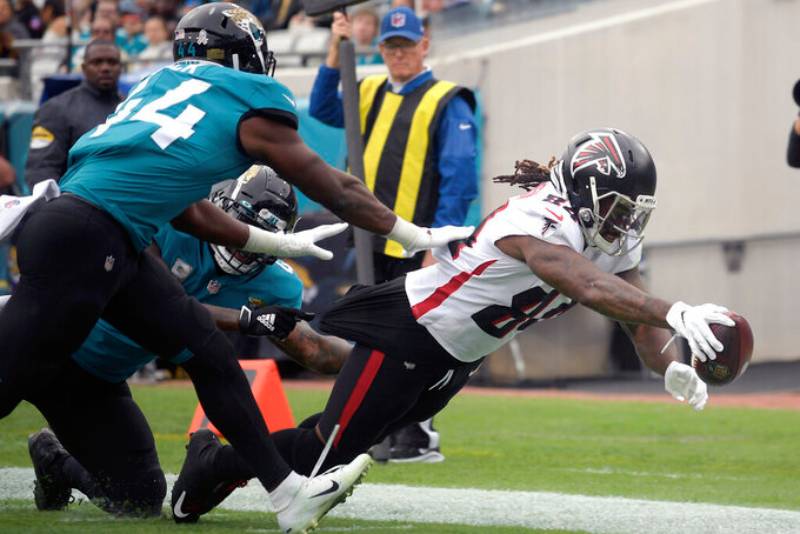 Its very atypical profile, on the other hand, can put off. He is not a classic runner and some franchises could pass their turn not really knowing how to make the most of his atypical qualities. Patterson should have several suitors, however, because in the NFL versatility is always a sought-after commodity.
The ideal destination: Atlanta Falcons

In 9 years of career and five or six coaching staff, only Arthur Smith and his staff have managed to blow up Cordarelle Patterson. The smartest solution for both parties would be to stay in Georgia.
Cordarelle Patterson knows he can thrive there, the Falcons know they can have a productive player. Why change? Money maybe…
3 – James Conner – 27 years old
2021 stats (15 games played): 202 carries, 752 yards, 3.7 y/carries and 15 TDs + 37 receptions, 375 yards and 3 TDs.
Cordarelle Patterson aside, James Conner is certainly the most versatile pure rider in this vintage. This season he has done a great job for Kyler Murray whether on the ground or as a credible option in the passing game. James Conner is, however, the perfect example to support the theory that running is also and above all the product of its environment. Good in Pittsburgh in his early years behind a strong offensive line, he lost productivity as the Steelers line (and entire offense) tumbled.
Arrived in Arizona, he gave a boost to his career with an offensive scheme that suited him. Morality, if he moves, he will have to find the ideal situation for him. The team that recovers it will in any case get their hands on a running back capable of playing on all downs.
The ideal destination: Tampa Bay Buccaneers

The Buccaneers may have to completely revamp their running back squad this spring. Leonard Fournette, Ronald Jones and Giovanni Bernard are free agents. Leaving the only Ke'Shawn Vaughn as a credible option in the backfield. Signing James Conner would bring a presence of experience while leaving room for the player drafted in 2021 to develop.
For the former Steelers, he would arrive behind a more than correct line (although under reconstruction) and would remain in a "committee" scheme which suited him well in Arizona.
4 – Rashaad Penny – 26 years old
2021 stats (10 games played): 119 carries, 749 yards, 6.3 y/carries and 6 TDs + 6 receptions and 48 yards.

Rashaad Penny is one of those players who explode just before becoming free agents. Him to push the vice even further by being really productive in the last five games. But what a performance! He topped 135 yards four times between Week 13 and Week 17 averaging 7.8 yards/carries and 6 touchdowns scored. He also finished in apotheosis with a match at 190 yards against the Cardinals.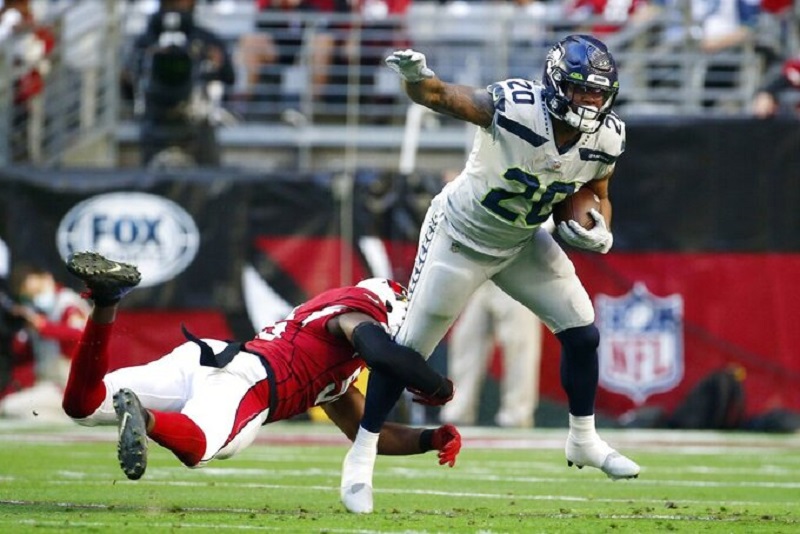 The problem with this kind of player is that we don't know how to evaluate them. Is this blow of heat a flash in the pan or the start of a huge fire that could burn all the defenses of the league? Which Penny will have its future franchise? That of these first three years or that of these last months? He certainly has an answer to all these questions, but his future employer must find the truth. One thing is certain in any case, he has proven that he can do it. It remains to be seen whether he can do this in the long term.
The ideal destination: Arizona Cardinals

While intra-division trades are sometimes rare, free agent signings from one division rival to another are not. Opponents prepare and play against these players twice a season which can sometimes allow them to see the qualities. Cardinals side, we can not miss those of Penny. Arizona allowed 190 running back yards in Week 17.
The Cards need a runner, especially if James Conner and Chase Edmonds pack their bags, and might fall for their tormentor. So, Stockholm syndrome for Kliff Kingsbury?
5 – Melvin Gordon – 29 years old
2021 stats (16 games played): 203 carries, 918 yards, 4.5 y/carries and 8 TDs + 28 receptions, 213 yards and 2 TDs.

He may no longer be the player capable of attacking the ground on his own, but Melvin Gordon remains a quality running back. Once placed in a committee or in a tandem like in Denver, he is a powerful weapon. While we thought he would only be a defender of Javonte Williams at the Broncos, the veteran did not let himself be walked on. Results, the two men finished the season with 203 carries and just over 900 yards each. Difficult to make more equitable as sharing snaps.
Statistics that also show that Melvin Gordon still has it under his belt. A little less versatile than his backfield friend, he proved in San Diego and then in Los Angeles that he also knew how to be a threat in the air and an aid for his quarterback. A team looking for a No. 1 runner is unlikely to pick up their phone and call Gordon. A franchise that wants a number 1 bis on the other hand could be tempted.
The ideal destination: Buffalo Bills

In Buffalo, Brian Daboll, the offensive coordinator, does not yet seem to have complete confidence in Devin Singletary and Zach Moss. Yet the Bills have invested 3rd round draft picks for these two players in 2019 and 2020 and must therefore continue to develop them. Signing Melvin Gordon would bring security to that backfield while leaving room for one or the other to ramp up.
For the former Charger, this destination would offer him the opportunity to play for the title and the assurance of touching balls without being overexploited.
Other interesting names: Raheem Mostert, Chase Edmonds, Sony Michel, James Conner, Marlon Mack, James Wite….