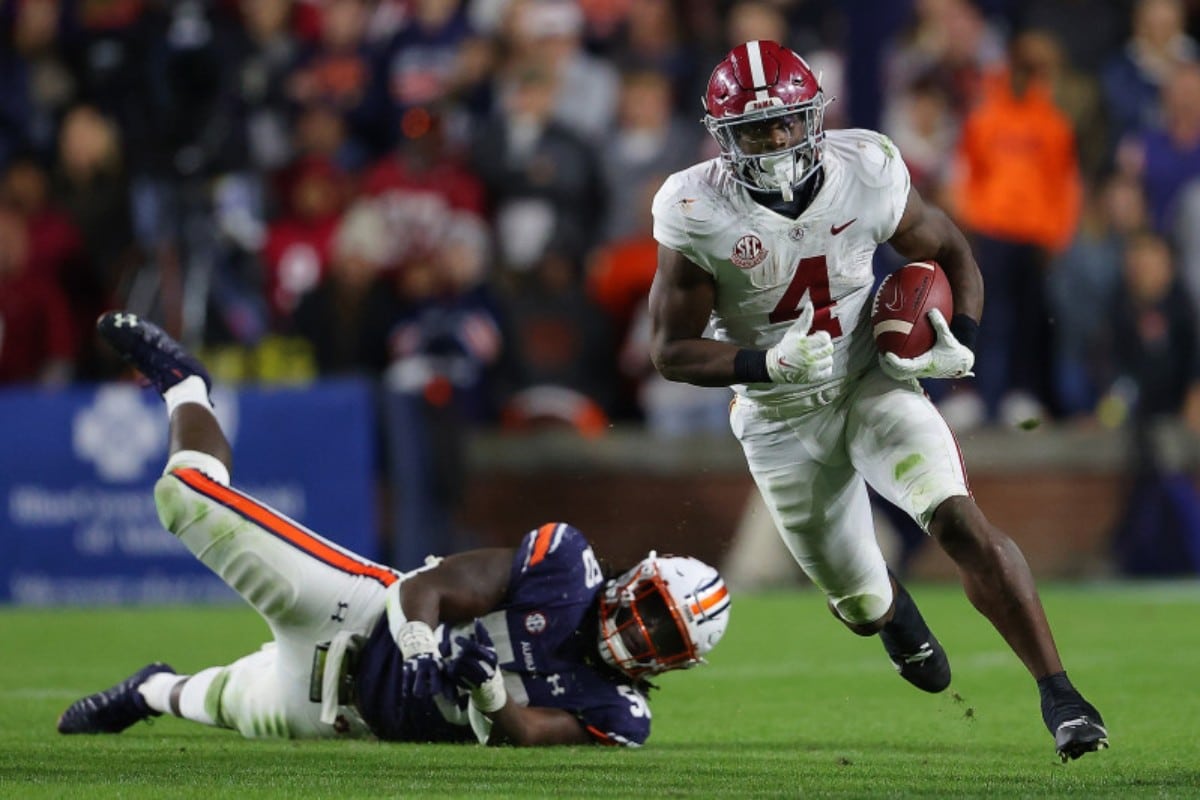 The runner from Alabama had to bide his time, but arrives with serious achievements in the big league.
Brian Robinson – Running Back – 23 years – Senior – Alabama
Cut : 1m85
Weight : 102kg
Estimated draft position: 3and round
Stats 2021: 271 carries, 1,343 yards, 14 touchdowns, 35 receptions, 296 yards, 2 touchdowns
NFL Comparison: David Montgomery
Strong points
– Physics and efficiency in short-yardage
– Patience and vision of the game
– Reliable hands and relative freshness
It is an understatement to say that Brian Robinson will have been able to bide his time! Like every year (or almost), Alabama releases a star prospect for us as a running back, the one who has long been a luxury backup on the Tuscaloosa side, behind Josh Jacobs, Damien Harris or Najee Harris. However, in 2021, when we had to call on him, Robinson rarely disappointed. Endowed with a beautiful physical amplitude, the number 4 is a real bulldozer in motion and knows how to take advantage of his aptitude for dueling and his science of sharpening by an unfailing patience and a formidable ability to read. The objective is clear: find open spaces to make one-on-ones unplayable for opposing tacklers. His good performance made him a constant threat on short-yardage and against more permissive front sevens (against Ole Miss or Cincinnati), the runner had a field day with 375 yards and 4 touchdowns on these two outings alone. . If he is a difficult player to master on the ground, he can also be valuable out of the backfield. His hands are extremely reliable (no fumble and two drops out of the thirty balls thrown in his direction in 2021) and his game intelligence allows him to quickly propose a solution to his quarterback. Interesting data to hope to be able to express oneself on three attempts at the higher level.
Weak points
– Lack of explosiveness
– Quite unremarkable support
What risks costing Robinson playing time is above all his lack of explosiveness. In agile and versatile running back classes, the Tide player lacks a touch of madness in his game and does not really have lightning acceleration, despite notable speed (4.51 at the Combine over 40 yards ). His support and his changes of direction also lack fluidity, which could ultimately put him in the category of a simple brute of service in a committee backfield.
Possible destinations
Houston Texans, Kansas City Chiefs, New York Giants, Atlanta Falcons, Tampa Bay Buccaneers
Certain achievements, but an X factor that seems to be lacking. This is probably what made Brian Robinson wait so long in college and what risks penalizing him in the NFL. Without a doubt, his physique and his football IQ should quickly allow him to fit into the rotation among the pros, and his late use in Alabama will offer him a significant freshness, despite the frequent use of his size at the duel.
The Cotton Bowl MVP still retains valuable resources, such as an efficiency out of the backfield that could clearly surprise many. Like David Montgomery, a few seasons ago, this interesting potential could push a franchise to look into his case from the third round, in a homogeneous plateau behind the four gondola heads (Walker-Hall-Cook -Spiller).