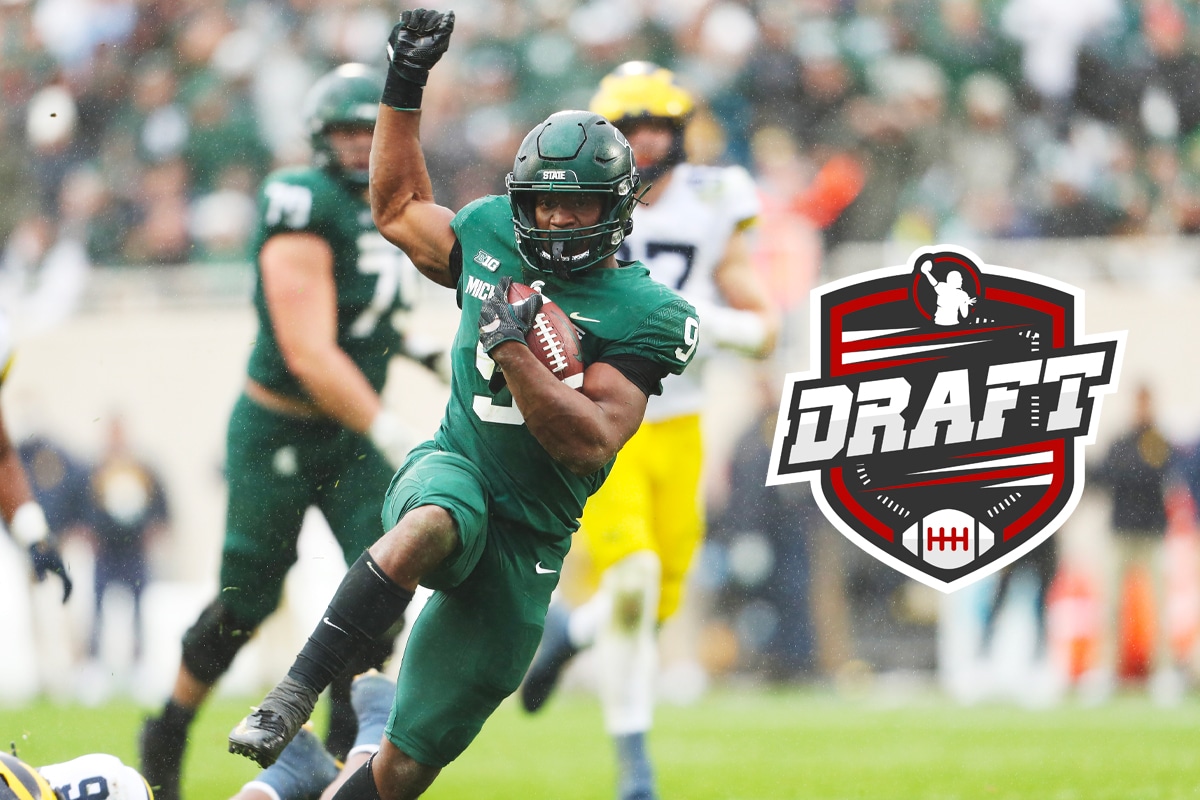 Kenneth Walker – Running Back – 21 – Junior – Michigan State
Cut : 1m75
Weight : 96kg
Estimated draft position: 2and – 3and round
Stats 2021: 12 games, 263 carries, 1636 yards, 18 touchdowns + 13 receptions, 89 yards, 1 touchdown
NFL Comparison: Mark Ingram
Strong points
– Change of direction
– Vision
– Ball protection
– Power
– Explosiveness
Transferred from Wake Forest to Michigan State at the end of the 2020 season, Kenneth Walker III had a meteoric rise for his last university campaign. His size allows him to play hard on contact and break tackles, which makes him hyper productive. So much so that he won the Doak Walker Award last year, a trophy rewarding the best running back in the country, and ranked 6and in the running for the Heisman Trophy (top college player)
He is nonetheless an electric runner, dangerous in space, with feet always in action. He excels in zone concepts because he has a formidable change of pace. He waits quietly behind the line to let the blocks settle in and put the defenders out of position when he sees the breach. Its short distance acceleration and sudden changes of direction make the difference.
If there is any space, he will find it thanks to an excellent reading. He may be able to attack the center with power, or bounce off the outside if the passage is blocked. And if he manages to pick up speed, he can quickly become elusive. He manages to chain several movements to slalom between defenders and maximize his reach. He will not be reluctant either to kiss the shoulder to make contact and gain a few extra yards. Despite a fairly physical approach, he arrives relatively fresh at the start of his professional career because he was not overused during his course.
Important point for a runner, Walker knows how to take care of the ball. He only lost one fumble during his college years. We can therefore trust him at the end of the match to wear the leather in order to make the clock tick, or when approaching the opposing end zone when it comes to finding the fault to score.
Weak points
– Aerial game
– Password Protection
– Plays too physical
For the moment, Walker is only a pure running back, capable of evolving only on running phases. He's got the size and physical style to handle a heavy workload, but he's yet to prove himself as a catcher (just 19 receptions in three seasons). He must work on the execution of the layouts and the reception of the balls to be considered a threat on the aerial game at the NFL level, therefore a player capable of evolving on 3 attempts.
On top of that, he doesn't appear to be a willing blocker in protecting his quarterback. He wasn't often used in that role with the Spartans and that's probably because he struggles to deal with opposing blitzes. His bouldering technique is also more than questionable. Walker does not approach his target properly, he tends to dive downward quickly with his head forward, often resulting in minimal contact at the point of impact.
Although he's capable of long runs, like his 75-yard touchdown against Northwestern last season, he won't be one of those runners with a devastating second acceleration. He has big wins because he runs with power and misses tackles. But sometimes he wants to do too much and play the hero, when he has nowhere to go. This style may not work as well at the higher level against taller, more disciplined defenders.
The stats
0.34 broken tackles per attempt and 4.5 yards after contact per attempt on average in 2021
Walker is a very hard to stop runner with an almost instantaneous acceleration on the first yards. He rushes into the gaps, overtakes his pursuers and breaks tackles. He finished in the top five Power Five running backs in broken tackles per attempt (0.34) and yards gained after contact per attempt (4.5), according to PFF.
Possible destinations
Kansas City Chiefs, Arizona Cardinals, Tampa Bay Buccaneers, Denver Broncos
In the near future, Walker could start from day one as an explosive runner with good vision and capable of gaining yards on his own. But, right now, he's not effectively protecting his quarterback and not being a consistent receiving threat to be considered a 3-attempt player. Yet the potential is there and feeding him on screen passes should be a role that fits his profile perfectly because he will be able to gain yards after reception. He represents a solid alternative within a committee and will earn his number 1 stripes once he has all the skills required for his position.
In Arizona, he can replace Chase Edmonds, who left during free agency, and form a solid and complementary duo with James Conner, capable of producing in all circumstances. Kansas City finished in the NFL soft underbelly in yards rushed, and runs on 1D attempt in 27.6% of cases (7and of the league). His presence behind a solid line would bring more consistency in production, especially with a Clyde Edwards-Helaire subscriber to physical glitches since his arrival in the league. The situation is similar to Tampa Bay, but the need is even greater. 26and ground attack on the ground last year, the group of runners must cross a threshold to make the attack less one-dimensional. He may be that missing link, capable of producing behind Leonard Fournette. At the Broncos, Javonte Williams made his hole as number 1 and was very successful in North Carolina within a committee. With Melvin Gordon gone, Walker has what it takes to take on the role of number 2.