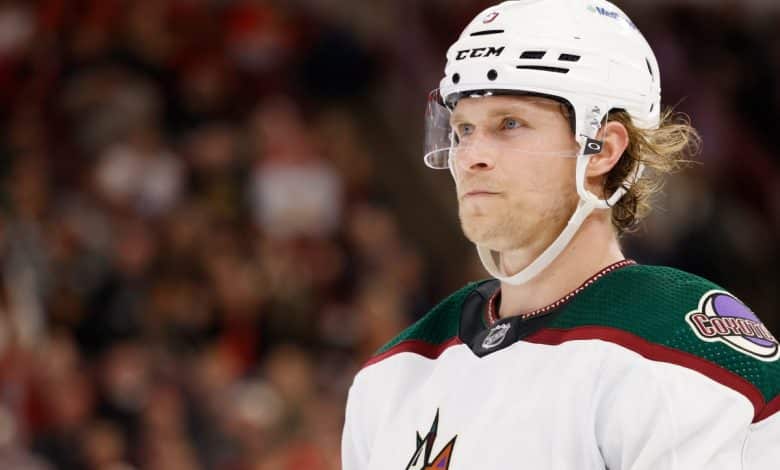 Although Jakob Chychrun has been released from the Arizona Coyotes roster "until something happens," no trade appears imminent.
TSN insider Chris Johnston reports the Coyotes made the decision to protect their asset in Chychrun, who was injured a few weeks before the trade deadline last season.
Johnston notes that the Los Angeles Kings remain favorites for the defenseman, but they could try to include a goaltender in the deal.
The Coyotes first scratched Chychrun from their roster for "trade market reasons" on Saturday against the St. Louis Blues and head coach Andre Tourigny said Monday that Chychrun won't play this week either.
Chychrun, 24, has seven goals and 21 assists in 36 games this season, his seventh with the Coyotes.
The American is in the fourth year of a six-year, $27.6 million contract he signed in 2018, which earns him an average annual salary of $4.6 million. The last two years of the contract have a modified no-trade clause.
Drafted 16th overall by the Coyotes in 2016, Chychrun has 60 goals and 170 points in 373 games during his career.
Four clubs interested in Kane
Now that the New York Rangers are no longer a potential destination for Patrick Kane, which teams might try to secure his services?
Journalists Scott Powers and Mark Lazerus of The Athletic report that four clubs have at least "confirmed interest" in the Chicago Blackhawks star player.
According to Powers and Lazerus, it would be the Carolina Hurricanes, Dallas Stars, Minnesota Wild and Vegas Golden Knights.
Chris Johnston argued last week that there were only a "small handful of teams" for which Kane would consider waiving his no-trade clause as he completes the final season of a contract. eight years with Chicago.
Darren Dreger, another TSN network informant, added that the Rangers had "some concerns" about a hip injury Kane reportedly suffered while considering a trade. Rangers eventually turned their attention to Vladimir Tarasenko, whom they acquired from the Blues.
Kane said he thinks his injury was exaggerated as the trade deadline approached.
Meier affected
San Jose Sharks forward Timo Meier admits the uncertainty surrounding him as the trade deadline approaches is affecting him.
Meier, an up-and-coming restricted free agent, would be one of the most attractive and sought-after players on the market today.
"It's definitely not easy," Meier told NHL.com. "It's a difficult aspect of our job. Sometimes you have to remember to keep your thoughts on the task at hand, not to get too crazy in your head, and to just hit the rink and have fun. "
The 26-year-old has 30 goals and 51 points in 54 games this season. It's the third time in his seven-year NHL career that he's reached 30 goals. He currently earns an average annual salary of $6 million. Unless they offer him a contract extension, the team that holds his rights will have to submit a qualifying offer of $10 million this summer to keep them.
Chris Johnston reported last week that the Sharks are looking to trade three assets for Meier, including a first-round pick, in any trade for the 2015 first-round pick.
The Hurricanes, New Jersey Devils, Golden Knights and Toronto Maple Leafs have been identified by Johnston as teams that could be in the running for Meier's services.