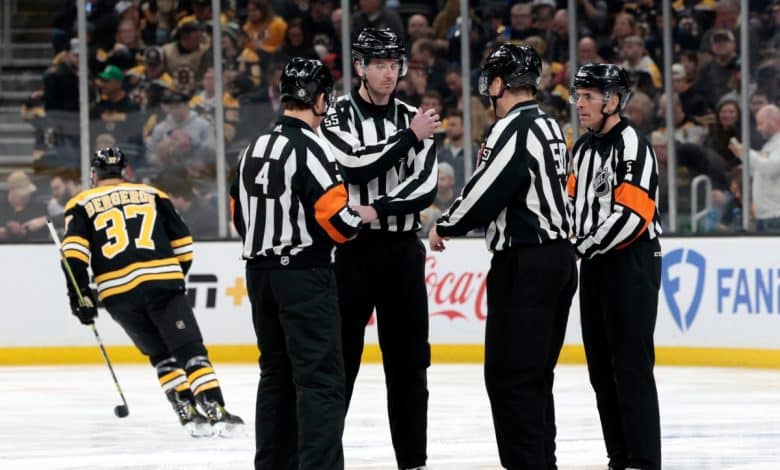 Confusion. Distraught players. Angry supporters. Experts commenting. Coaches who seek to understand.
The annual discussion on playoff refereeing in the NHL is well underway.
Unlike several other springs, however, when uncalled penalties compared to the criteria of the season fueled most of the discussions, those of the 2023 playoffs are different. Players are always trying to figure out where the line is drawn between acceptable and unacceptable, but from game to game.
Some teams sometimes found it difficult to identify what constituted a penalty and what was not.
"It's always a challenge (…) because it's a different sport," Toronto Maple Leafs head coach Sheldon Keefe said of hockey in the season and in the playoffs. Emotions are strong. It's not just the players who have to deal with this, the officials too. "
Edmonton Oilers defenseman Mattias Ekholm finds it difficult to find answers.
"Do I know exactly where the line is drawn now? Probably not. I don't think anyone knows. It's even more difficult when you have different referees night after night. Each referee has his own criteria, like every human being. It's natural. "
According to the NHL, up to Monday's games, there have been an average of 9.2 penalties per game, compared to 10.9 for the same period in 2022. In 2021, it was 8.7; 10.0 in 2020; and 8.9 in 2019.
The numerical advantages are also down (7.3 in 2023 against 8.2 in 2022) during these series which have already required 10 extensions. There were three at the same time last year.
"They're trying to stay out of the way," Tampa Bay Lightning head coach Jon Cooper said. The sense of urgency is growing, especially when it comes to matches in which a club can be eliminated. So everyone is on edge and nobody wants to make a mistake. "
The statistics are there, but the perception is that decisions are made differently.
Oilers forward Zach Hyman points out that there are more whistles for incidents away from the action.
"You have to eliminate penalties that have no effect on the game. The referees seem to call them more often. We need to know the criteria. "
There is also a lot of frustration.
Minnesota Wild forward Marcus Foligno lashed out at officials after Game 4 lost to the Dallas Stars when he felt aggrieved by two decisions.
"A real joke, he launched. It doesn't make any sense. "
Foligno found himself in trouble again 48 hours later when he was assessed a major penalty and a game misconduct for kneeing Stars center Radek Faska.
But some do not want to fuel this discussion. Like Lightning forward Pat Maroon.
"I'm not going to comment on that. It's a good story for you (the journalists). "
"It's a lot of talk, but if you're on the power play, be ready. If you're shorthanded, be prepared to block shots," added teammate Nick Paul.
Ryan O'Reilly, meanwhile, has sympathy for the officials, who find themselves in the limelight and whose decision can decide a team's season.
"Like the players, they try to find their bearings. The series are different. Everyone wants to go all out, but you have to find the limits. It's the same for referees. "
O'Reilly, who won the Stanley Cup with the St. Louis Blues in 2019, reckons it might take a series or two before he knows where that famous red line is.
"That's why it can sometimes seem fickle. But as a player, you have to do what you have to do and talk to the officials in order to take advantage of it. "
Lightning defenseman Nick Perbix, a rookie playing his first series, is very attentive to what is called, especially at the start of the game.
"You take a mental note: 'OK, maybe I can get away with this.' Every game is different. "
And the players look at which referees are assigned to their matches.
"You have to know who the referees are," Leafs winger Sam Lafferty said. We see them so often in season that we can draw certain conclusions. But every game evolves differently. You have to adapt. "
"It's one more aspect to manage," added Keefe. You have to keep pushing hard while being smart. "