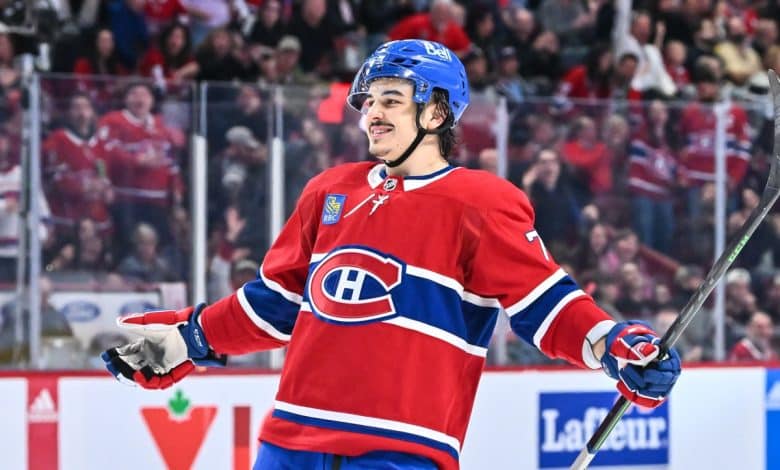 BROSSARD, Qc – The Montreal Canadiens have played six of their last seven games with a squad of 11 forwards and 7 defensemen. While the coaches admit they need to be a bit more alert on the bench in this situation, they also say they're happy to experiment.
Impossible to know exactly why the Habs stubbornly use such a formation, when it has room in its formation of 23 players and space under the salary cap to recall a Laval Rocket forward.
Asked about it, assistant coach Trevor Letowski said Wednesday that it was a question for head coach Martin St-Louis or general manager Kent Hughes, both of whom are unfortunately unavailable for the season. 'opportunity. A spokesperson for the Canadiens did not immediately get back to The Canadian Press with explanations.
Nonetheless, Letowski, a St. Louis adviser behind the bench, said he was fascinated by the 11-forward experience.
"It gives you more flexibility," he noted. You can give more playing time to a player who is having a good game. I do not know if Roby think the same thing though. "
Roby, it's defender coach Stéphane Robidas. Surprisingly, the Quebecer does not see many negative elements in having to deal with seven defenders in uniform, currently.
This notably allows the Canadian to offer a little playing time to an additional young defender, since it is the veteran Chris Wideman who has been scooping and watching the games from the bridge for some time.
"In our situation, every defender plays at least 10 minutes," Robidas said. Our veterans get their regular minutes. I don't see any downsides to it. I see it as a plus. "
Arber Xhekaj, Jordan Harris, Johnathan Kovacevic and Justin Barron therefore continue to have the chance to play regularly in the NHL, rather than having to skip their turn every now and then.
On the offensive side with 11 players, it should be noted that the line with a hole to fill for two games is the third, rather than the fourth, as is usually the case in this situation. It is therefore alongside Christian Dvorak and Evgenii Dadonov that there is a rotation.
"Whoever we send alongside them, we know it's going to give us a good line," Letowski said. Dvorak is a versatile player and everyone will do well with him. And we can give an extra presence to a center or a winger.
Meanwhile, Robidas makes sure each of his defenders doesn't spend too much time warming up the bench.
"You want to keep all the players in the game and not space their minutes too far apart," he admitted. But you have to take into consideration the confrontations, the special teams, the face-offs in the offensive or defensive zone. There are a lot of factors that will influence who we send to the ice. It gets a bit of a headache at times, but it's good for our defenders. "
However, the experiment should draw to a close. The Canadiens still have three games on the schedule before the All-Star game break. Forwards Sean Monahan, Jonathan Drouin and Joel Armia could then be close to a return to play when the Habs return to action on February 9.